"Ted Lasso" is paying tribute to late soccer journalist Grant Wahl, who became something of a friend to the show's cast and crew before his tragic death last year at age 49.
The Apple TV+ series, which tells the story of Ted Lasso, an American college football coach hired to manage a British soccer team, featured the message "In memory of Grant Wahl" during the closing credits of the show's April 5 episode.
Wahl died in December after suffering an aortic aneurysm while covering the men's World Cup in Qatar.
Wahl's widow, Dr. Céline Gounder, shared her gratitude to several of the show's stars, including Jason Sudeikis and Brendan Hunt, in a heartfelt message on Twitter.
"S3E4 of @TedLasso," she wrote, adding both smiling and brokenhearted emoji. "It ain't no use to sit and wonder why, babe... Thank you, @jasonsudeikis, @brendanhunting, @brettgoldstein. This episode means so much to me and my family."
Gounder added a follow-up tweet, which featured a photo from the episode showing Hunt's character, Coach Beard, holding a copy of Wahl's 2009 book, "The Beckham Experiment: How the World's Most Famous Athlete Tried to Conquer America." (The moment was filmed prior to Wahl's death.)
"This season of @TedLasso was inspired in part by @GrantWahl's first book 'The Beckham Experiment,'" she wrote.
Hunt, who is also one of the show's co-creators and co-executive producers, talked to The Hollywood Reporter about the tribute.
Hunt revealed that Wahl worked behind the scenes with the show's writers to help them craft their storyline about fictional journalist Trent Crimm (James Lance), who in Season Three is writing a book about the addition of soccer superstar Zava (Maximilian Osinski) to AFC Richmond.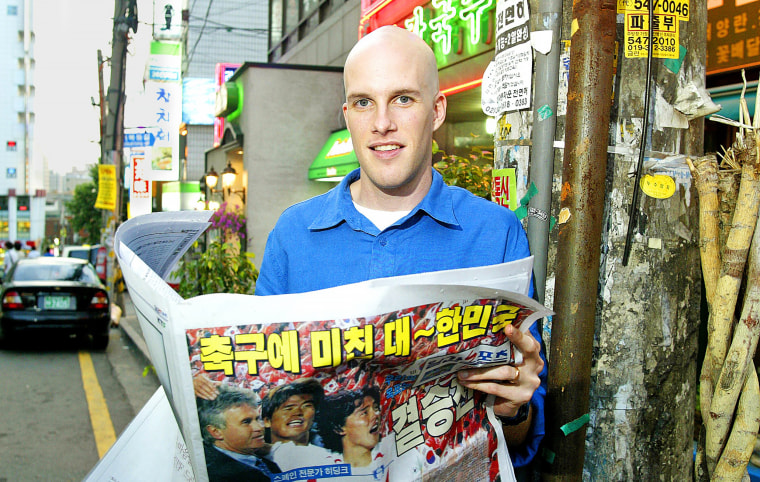 The writers sent Wahl a list of questions about how the arrival of a David Beckham-like figure might affect the team. "In what I now know to be his typical generosity with his time, he wrote very long, very detailed, very valuable answers to all our questions. He was hugely helpful," said Hunt.
In October 2022, Hunt and Wahl hung out together while Wahl covered a match between the U.S. women's national team and England.
"On his way to the airport he came to Richmond," Hunt recalled. "He came to my house, he met my family, I showed him around Richmond and we had a f------ great day talking about football.
"Like everyone," added Hunt, "we were all shocked and affected by his loss. To carry on the train of salutes to his memory was something we felt obligated to do."