Ever since her return to "Grey's Anatomy" in 2021, Kate Walsh has shared the screen with a new generation of co-stars. And in a new interview with Kelly Clarkson, Walsh said that she's embracing the experience — even if she sometimes feels like the most seasoned actor in the scene.
"It's incredible to be back," Walsh, 55, said. "But the younger actors that are the new set of interns, they grew up watching the show."
Walsh's character, Dr. Addison Montgomery, first appeared in the finale of Season 1 of the medical drama. She then left the show in 2007 to star in a spinoff, "Private Practice," but continued to make guest appearances over the years before her official return.
Walsh, who also stars in the latest season of "Emily in Paris," joked about the experience of being one of the older actors on set.
"It's funny to be the elder statesmen of the show," she said, drawing a laugh from Clarkson.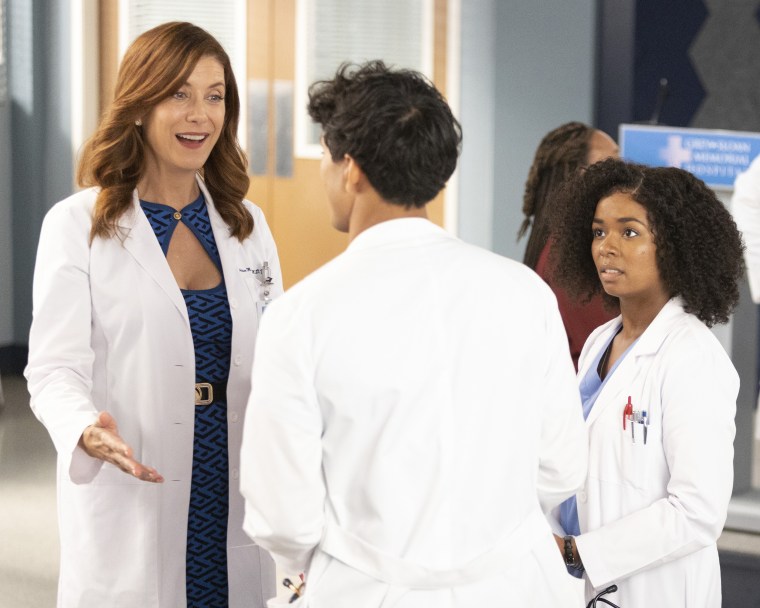 All kidding aside, Walsh said that "it's incredible to be back," adding that she's been impressed with the caliber of her co-stars' performances.
"All of them are such great actors," she said.
The actor also gave a nod to the show's writers for keeping the content fresh season after season.
"They've been there since the beginning, a lot of these writers," she explained.
Season 19 of "Grey's Anatomy" will pick back up on Feb. 23 with an episode honoring the departure of Meredith Grey, played by Ellen Pompeo, from Grey Sloan Memorial Hospital.
Looking ahead to the rest of the season, Walsh said she particularly loved one women's health storyline that she described as "so inclusive."
"It's just been incredible to play," she said.
In May 2022, Walsh spoke with TODAY.com about her "Grey's Anatomy" comeback and said that returning to set was like "going back to like your hometown."
Murmurings of her return started in March 2021, after Walsh's former co-star Patrick Dempsey made a surprise reappearance on the show. At the time, she told TODAY that she was leaving the door open for a possible return of her own.
"I would love to," she said. "It just would be a matter of how to do it and when. There was talk at one point in time, but it was conflicting with another shooting schedule I had ... I would love to if it was able to happen. I'd be totally into it."
Later that year, the actor announced on Instagram that she would rejoin the show for its 18th season, which premiered on Sept. 30, 2021.
"It's really happening," she wrote in the caption. "Dr. Addison Montgomery will see you shortly."