As the stars of "Ted Lasso" walked a very blue, AFC Richmond-themed carpet in Los Angeles on Tuesday night, each was pressed and prodded to reveal what they know about the potential end of the much-celebrated Apple TV+ show.
The questioning stemmed from a Deadline article shared on March 6, where the show's lead and showrunner, Jason Sudeikis, alluded to the potential end of the series.
"This is the end of this story that we wanted to tell, that we were hoping to tell, that we loved to tell," he told the outlet. "The fact that folks will want more and are curious beyond more than what they don't even know yet — that being Season Three — it's flattering. Maybe by May 31, once all 12 episodes of the season (have been released), they're like, 'Man, you know what, we get it, we're fine. We don't need anymore, we got it.' But until that time comes, I will appreciate the curiosity beyond what we've come up with so far."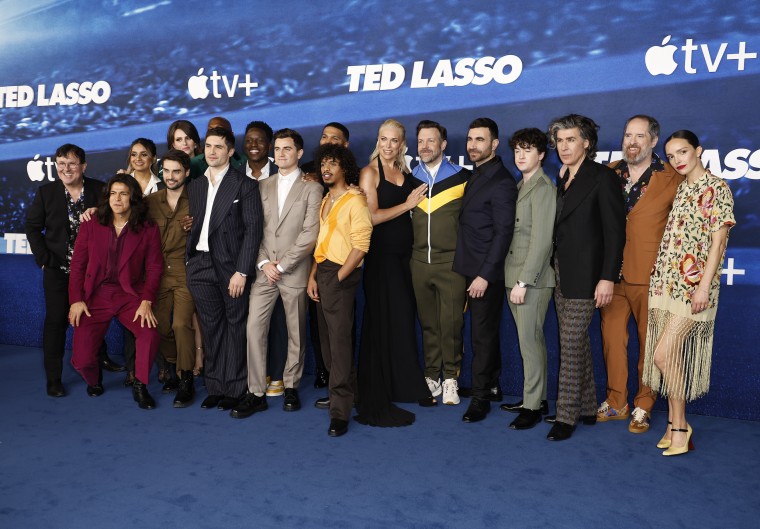 Deadline reported Sudeikis didn't go so far as to say the show will be ending after this season, but the cast who spoke to TODAY.com on the blue carpet on March 7 didn't seem to know what was next.
"I don't know!" Toheeb Jimoh, who plays AFC Richmond footballer Sam Obisanya on the show, told TODAY.com.
"I just feel like I love working with this group of people so if that phone rings and Brett (Goldstein)'s like, 'Yo, I'm doing a Roy Kent spinoff,' I'm gonna pull up. If Jason (Sudeikis) hits me up and is like, 'We're doing Season Four,' I'm gonna pull up."
Jimoh added that "right now, I'm just in the moment."
"I'm enjoying Season Three, but I can't say no to these guys. I love them, so we'll see what comes next."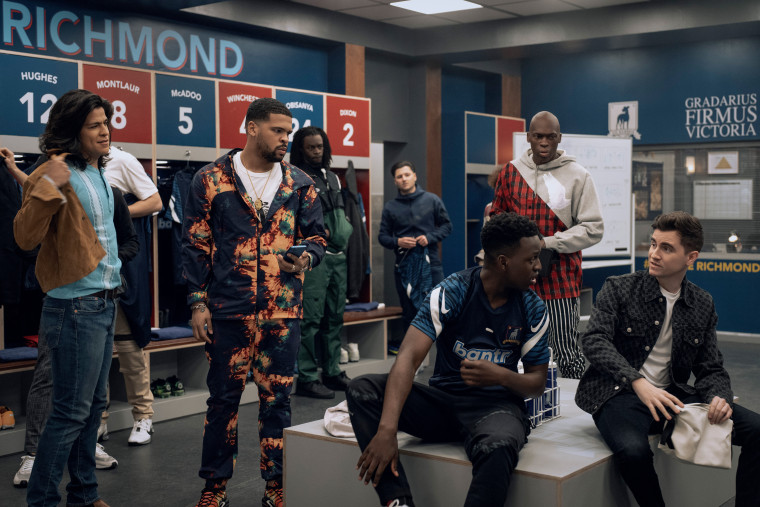 Jimoh was, however, able to say that his character goes through some more big life changes in the upcoming season. He said some of the consequences of Sam's past difficult choices in Season Two rear their heads.
"He decided to stay (at AFC Richmond), he decided to protest and stand up to a massive oil company, he decided to say no to a crazy Ghanaian billionaire and some of those decisions come back to... they come back to resurface," he said.
His Sam also got dumped by Hannah Waddingham's character, Rebecca Welton, in the previous season. While it didn't seem like the two would get back together — Jimoh called their characters' relationship "stained" — he said there would also be love between the two.
"Wherever they go in Season Three, I think the most important thing is that they just really care about each other, you know?" he said. "When you find someone that you kind of have that soul bond connection with, it's important to keep them around in whatever capacity. So I'm excited for people to see what comes of them, but just know that the heart is always there and they will always love each other and root for each other."
Andrea Anders, who plays Ted Lasso's ex Michelle, said she hasn't heard anything about a spinoff but would love it to feature her character back in Kansas. She also promised the upcoming season features suspense, excitement and will be "very touching."
Ellie Taylor, who plays Rebecca's best friend Sassy, also laughed when asked if she knew anything about a spinoff and echoed Anders' sentiments about the upcoming season. She told TODAY.com that she hopes viewers "get the same sort of sense of warmth and joy and optimism" they've experienced in previous seasons.
"And it's so lovely to watch something so un-cynical," she said.
"Ted Lasso" Season Three premieres March 15 on Apple TV+