Whenever Tom Hanks visits TODAY, you never know what you're gonna get.
One minute he might be providing an explanation of Malthusian theory, the next he might be explaining how "Saturday Night Live" flies by the seat of its pants each week.
On Monday, we got both as the two-time Oscar winner and star of "Inferno" (which hinges on the 18th century theory about overpopulation) talked about hosting "SNL" for the ninth time this weekend.
This season, the show's been feasting on presidential debate parodies. On Saturday, Hanks portrayed Chris Wallace moderating the most recent debate between Hillary Clinton (Kate McKinnon) and Donald Trump (Alec Baldwin).
To prep the sketch, the Oscar winner said "SNL" staffers gathered to watch the real debate and take notes.
MORE: Tom Hanks or Bill Murray? See the photo that has the internet talking
"Wednesday night we're watching the [presidential] debate on the 17th floor of 30 Rock," he recalled. "And for 90 minutes we're going, 'Hey that's good,' 'Oh we can use that,' 'Oh Alec will go nuts on this.'"
But the gem of the debate, he noted, came "in the last 30 seconds," when Trump revealed that he would keep everyone "in suspense" about whether he'd accept the election results.
Hanks called the moment "a gift," adding, "Holy cow... they were very happy up there."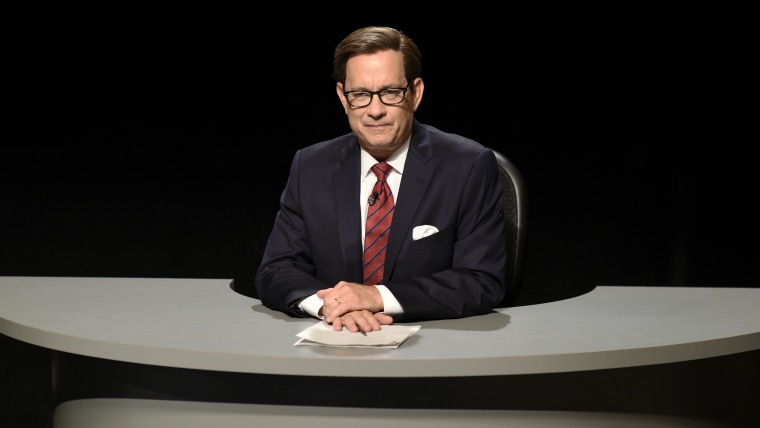 Later, the 60-year-old actor, whose first stint hosting was in the '80s, said he was still wowed by the show's high wire act.
MORE: Tom Hanks happens upon newlyweds' photo shoot, poses for delightful pics
"It's a very intricate puzzle," he said. "The excitement of it is to get those ideas on Monday and see how they transform right up until you walk out on stage.
"You honestly have seven seconds to look at the pages and just pray it's on the [cue] cards."
Fortunately, he added, "It's always on the cards!"
"Inferno," in which Hanks reprises his role of symbologist Robert Langdon, opens in theaters on Oct. 28.
Follow Randee Dawn on Twitter.