After first posting "The Kissing Booth" online, the novel by seventeen-year-old Beth Reekles became a sensation with over 19 million reads. The work of romantic fiction is now available as a paperback. Here's an excerpt.
We were working on the banner for the kissing booth. The letters were cut out and Lee had smoothed the edges; we just needed to paint them and then nail them onto the booth itself. We had some decorations back at my house, and the posters were ready too. We also had a couple of boards with the price on.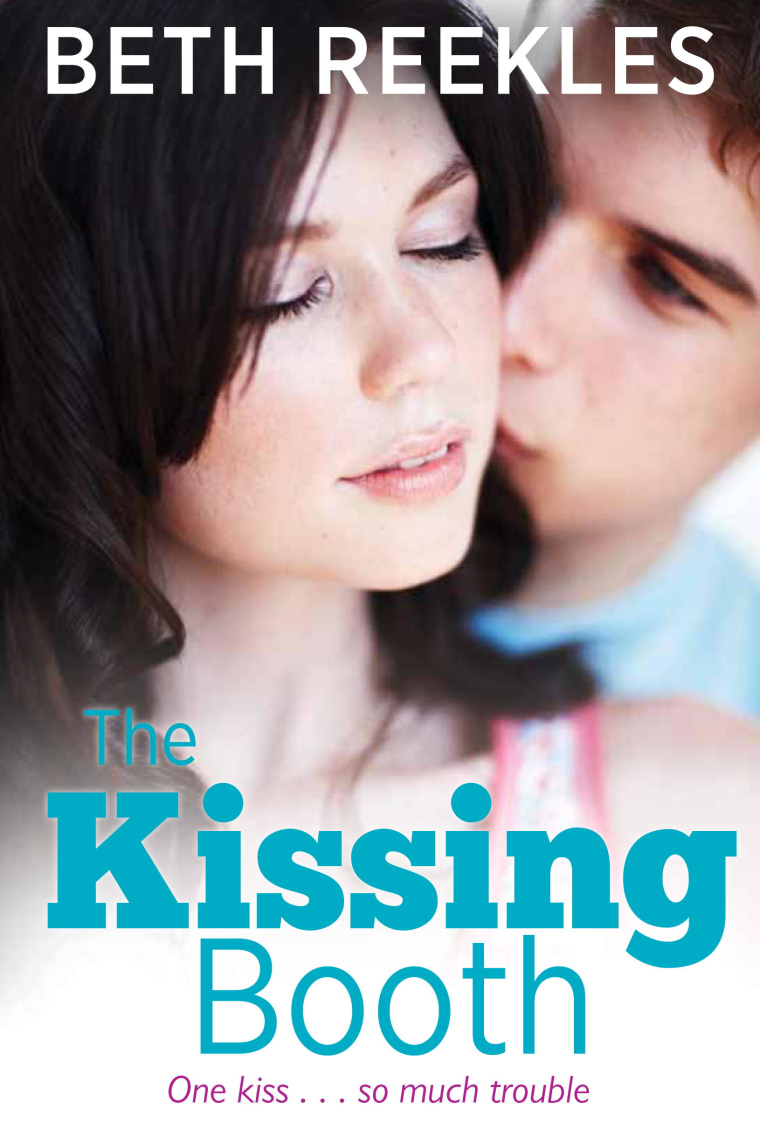 'Everybody's been asking me all week what happened with you and Cody,' Lee said to me. It was after school on Wednesday afternoon. We needed to hurry our asses up to get everything ready to set the booth up on Friday night.
'You haven't said anything too incriminating?'
'I haven't told them the truth, no,' he laughed, dunking his brush into the pink paint again. 'I don't know why you said you were sick though.'
'It was believable,' I defended myself. 'First thing I thought of.'
'Yeah, I guess. But loads of the guys reckon it's Noah scaring him off.'
'He did look pretty threatening when I was waiting for Cody,' I admitted, printing with my lipstick sponge onto one of the already dry letters.
Lee shrugged. It was a little while before he broke the silence again. 'Shelly . . .'
'Yeah?'
Teenager lands 3-book deal with record-breaking romance

'Does he ever scare you? I mean . . . I know he's not quite the Incredible Hulk or anything, but he can lose his temper kinda quickly.'
'That's just the way he is. I grew up with him around. He couldn't scare me – I know that he's . . . intimidating . . .'
'I guess,' Lee said, nodding. Suddenly he dropped his paintbrush into the pot, splattering me with pastel-pink paint – my face, my blouse, my tie, my hair . . .
'Lee!' I screamed.
'Sorry!'
I grabbed a brush and dunked it into the pot of black, totally prepared to flick it over Lee. But something cold and wet landed on my face and neck as he flicked me again, making me jump so much that I dropped my paintbrush, leaving a trail down my front.
Lee spluttered before collapsing into laughter. I scowled at him, waiting for him to stop.
'It's not funny, Lee!'
'Yes it is! You sh-sh-should've s-seen your . . . your face!' He was holding his side now. I glared and grabbed my bag. 'W-where you going?'
'The locker rooms to wash this crap off of my face,' I snapped. 'And stop laughing!'
'I can't help it!' he gasped, bent double. 'Your face!'
I stormed out, slamming the door behind me. I thought I had a spare blouse in my locker. We'd be going for a burger later and I did not want to go out looking like a Picasso.
I always thought the locker rooms at school were really weird: a big communal corridor, with notices and stuff pinned up, which led to the 'fitness suite', with its treadmills and weights, and the fields outside. The girls' were on the far left, the boys' on the right.
Just as I came into the corridor, the whole football team poured through the door. I'd already yanked off my tie and undone another button; I hadn't stopped to think I might not be alone.
The boys all slowed down seeing me, and I stopped in my tracks.
And then the laughter broke out, all of them finding me hilarious, apparently.
'What happened?' Jason asked, biting his lip hard to try and keep from laughing.
'We were painting the banner for our booth,' I said.
'Lee had a bucket of paint. Do I need to say anything more?'
'Aw, come on,' I said, doing a twirl and giving them a big grin – I'd rather make a joke out of it than be embarrassed. 'Do I look that bad?'
'Well, I'd pay to see you in the art gallery,' said one of the boys, laughing. I rolled my eyes at him and drifted down the corridor toward the girls' changing rooms, calling a goodbye over my shoulder.
A hand caught my arm, making me stumble backward, and then steadied me before I fell.
I turned to see who it was. Then the smile on my face dropped. 'Oh.'
'What're you doing?' hissed Noah. 'You don't walk around half dressed, Elle.'
'I'll walk around however the hell I want, thanks,' I snapped back, jerking my arm away. 'It's no big deal. It's not like I'm prancing around in my underwear, for Pete's sake.'
'Yeah but still . . .' His eyes trailed down me, then he gave me a stern look.
'Leave me alone already!' I exclaimed, glaring at him. 'Honestly, it's bad enough you're being so overprotective, but you don't have to be so . . . extreme!'
'So what happened with you and Cody? I know for a fact the whole "being sick" thing was a lie.'
I gaped. Was he blackmailing me? 'You didn't tell anybody, did you?'
He smirked, giving me a patronizing look. 'I don't
gossip. And no, I didn't tell them. Because I figured you had a good reason. So what went down?'
I shrugged. 'Nothing.'
'Something clearly happened–I know you well enough to spot when you're lying. So what's the truth?'
I bit the inside of my cheek, debating whether to tell Noah or just ask him to keep his nose out of it. But I thought maybe if I didn't tell him, he'd jump to the stupid conclusion that Cody had overstepped the line.
While I was debating this, I couldn't help but notice just how hot Noah looked in his football gear, with the shoulder pads and his helmet tucked under his arm. His hair was a little damp with sweat and he just looked . . . wow.
Excerpt copyright © 2012 by Beth Reek. Published by Delacorte Press, an imprint of Random House Children's Books, a division of Random House, Inc., New York. All rights reserved.