Kathie Lee and Hoda tried their hand at land paddling Friday, a new sport that Hoda called "good exercise for people of all ages." 
Helping the ladies get on their boards was the inventor of the sport, Steve McBride and his son Cory. 
After removing their heels, KLG and Hoda were ready for their first lesson using the Kahuna Big Stick, which is similar to a stand-up paddle.
"Keep your eyes up," Steve said to Hoda. "Don't look like you have anything to fear."
"I'm not," Hoda said. "I'm loving it." A natural, she glided easily across the studio. "Look at her go!" Steve said.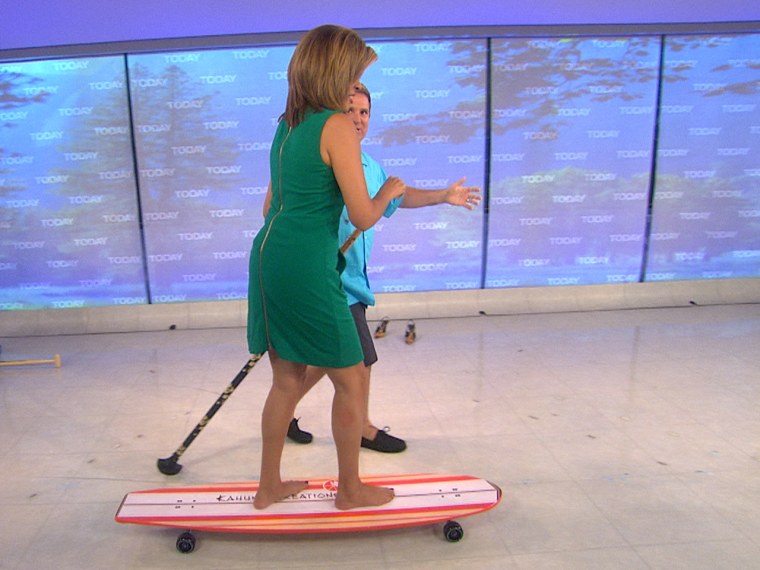 Hoda was impatient for KLG to hurry up. "Get over here," she said. "I'm still getting a lesson!" KLG said, making sure she was solid on her board.
"Annnnnd she's off!" Cody said.
Once KLG made her way across the studio she announced, "I'm exhausted."
TODAY.com contributor Jillian Eugenios would like to see KLG and Hoda race up Broadway on their new land paddles. 
More:
Unibrow: Will this be the new trend?
Kathie Lee and Hoda eat nearly $600 worth of hamburger
Does Hoda eat a weird amount of fruit?