It's getting hot in the Hamptons!
Season Seven of Bravo's "Summer House" has been off to quite the start. The foundation has been laid for the main drama of the season: The fallout between former besties Lindsay Hubbard and Danielle Olivera.
The reason for the fallout is murky, so viewers are eager to see what led to the unexpected friendship breakup — drama that will rock the 'Summer House' world as we know it.
TODAY has all you need to know, as well as an exclusive preview of next week's episode.
What you need to know about Olivera and Hubbard's relationship
Hubbard and Olivera have been on the cast since the early days of the show, alongside Hubbard's now-fiancé Carl Radke and married couple Amanda Batula and Kyle Cooke. Later seasons brought the additions of Paige DeSorbo, Ciara Miller, and Mya Allen. This season, Chris Leoni, Gabby Prescod and Samantha Feher were added to the mix.
Olivera and Hubbard have historically been a tight knit unit, often squaring off as a strong alliance against their castmates.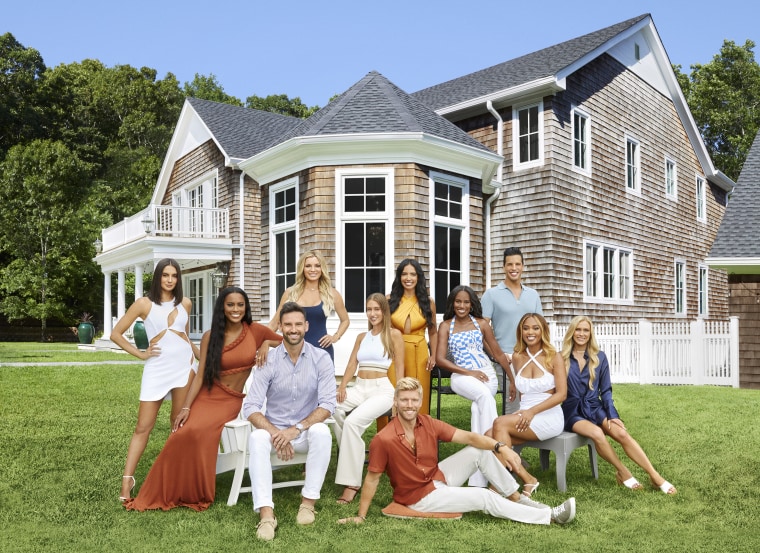 One of their biggest moments happened during Season Six, when Olivera got into a fight with Miller about Hubbard. Let's just say that glasses of wine were thrown.
The pair has been in lockstep so far during Season Seven, but their castmates have questioned whether Hubbard would extend the same level of support for Olivera if their roles were reversed.
A preview for Episode Six shows Olivera and Hubbard in a tense conversation, with Hubbard saying, "I want to have babies with this man, and he wants to have babies with me."
Olivera responds, "You're getting so f----g defensive, it's annoying."
Get a deeper look at what leads to Olivera and Hubbard's fallout
TODAY.com can exclusively reveal what leads up to Hubbard and Olivera's confrontation.
The preview teases a storm brewing between Olivera and Hubbard, as Radke tells Olivera, "I was telling Lindsay I really think you two should talk. She, you know, wasn't receptive to it. So, I just decided to not say anything, I walked away from it."
"You know what, honestly. For two of the most outspoken people, you guys sure internalize a lot of things," Olivera responds.
At the same time, DeSorbo and Hubbard chat.
DeSorbo asks, "Why hold it in? Why don't you just say, 'Hey, let's chat.'"
Hubbard responds, "But this is not just one thing, Paige. There's like multiple things. She literally told me that it's too soon that I'm moving in with Carl."
"Well, Danielle said that too," DeSorbo says.
Seemingly confused, Hubbard responds, saying "What?"
DeSorbo explains, "She was saying he's only a year and a half sober, they might get engaged, they moved into a very expensive apartment. I mean, she was like, 'I feel like they live in a fairytale.'"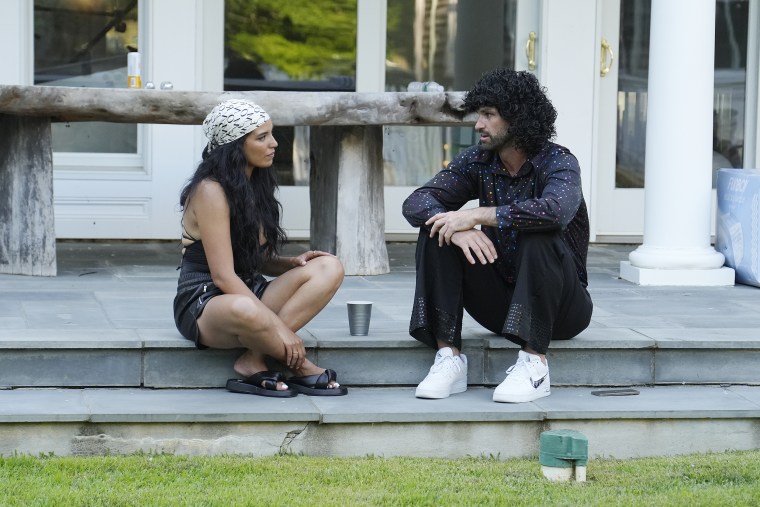 Referencing her own relationship, Olivera explains to Radke that, "It can't always be that great. Like I'm in a relationship with Robert (Sieber), like sometimes we fight, sometimes it's not great because he works all the f-----g time, like I hardly see him. I'm not going to cry, but like it is really hard."
"Being in a relationship with someone, it is hard, like Robert and I aren't always perfect, so when I see Carl and Lindsay, I want them to have a relationship where they can talk about the hard stuff. Just say it," Olivera explains in a confessional.
Cut back to Olivera telling Radke, "Be f-----g real. If you want to say something, f-----g say it."
Hubbard explains to DeSorbo, "That would be like me being like (to Olivera and saying), 'I'm nervous that your boyfriend is a chef.'"
"Right. That's valid, that's true," DeSorbo responds. "And she moved in with her boyfriend after two months," Hubbard says.
"I mean, she was concerned," DeSorbo says to Hubbard.
To which Hubbard responds, "Well, it seems like wild concerns."
"I was under the impression that you knew how she felt, like that's your best friend," DeSorbo says.
It seems there's bumps to come for these besties.
Summer House airs Mondays at 9 p.m. ET/PT on Bravo, and streams next-day on Peacock.