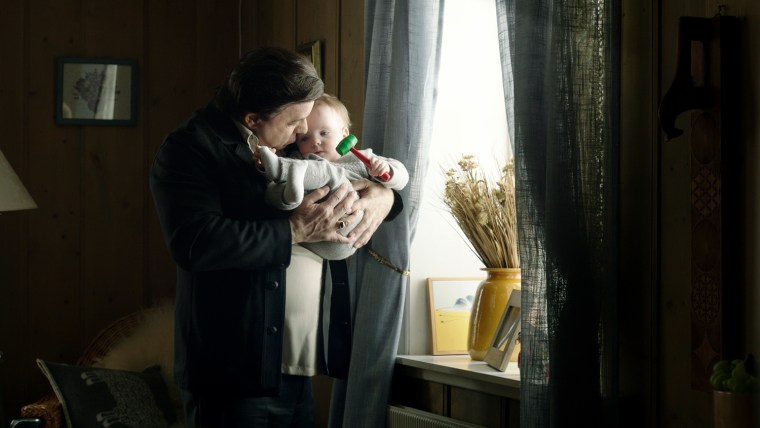 Before there was "House of Cards" there was "Lilyhammer" the Norwegian black comedy that became Netflix's first foray into original programming. Starring Steven Van Zandt, the well-known E Street Band guitarist who played Silvio on "The Sopranos," the series about a mobster who migrates to Scandinavia kicks off its second season on Friday with all eight episodes available for streaming. 
Van Zandt, 63, told TODAY in an interview that he was producing a Norwegian band called Cocktail Slippers when he was approached by husband-and-wife writing team Anne Bjørnstad and Eilif Skodvin about starring in a Norwegian television show they had created with him in mind. After six seasons on "The Sopranos," Van Zandt didn't think he'd be interested in going gangster again, but he was captivated by the idea of a mobster running away to a remote place like Norway.
His business managers had a different take about doing a foreign series with subtitles, the actor recalled.
"They go, 'Are you crazy?'" he said, laughing. "All of my people here were completely freaked out at the possibility of me going from the greatest TV show in history to a show in Norway. But the creators were listening and knew I needed to be very involved and they asked me to be part of the writing team and the producing team. That was enough protection. I felt if I can control the script to a large extent and act as one of the producers, I can do good work. The writing is the greatest stuff for me. This year, I also did the score. That's two major creative elements I'm engaged in now. The real super, super creative stuff is what keeps me interested."
Having ratted out his boss in the first season, Frank Tagliano (Van Zandt), went into witness protection and asked to be sent to Lillehammer, a city he recalled from the 1994 Olympics--"clean air, fresh white snow, gorgeous broads, and best of all, nobody, but nobody, is going to be looking for me there." Never mind Frank couldn't pronounce the city's name. Once he arrived, he took on a new name, opened a nightclub, and landed a girlfriend. But it wasn't long before his old life and new world collided. Now, after establishing his presence in his own special way and acclimating to his new country, "Johnny" is the father of twin boys whose mother wants nothing to do with him, his New York mob pals are still after him, and his new friends are causing big problems of their own.  

Q. The universe of the show is broader in the second season. What can viewers expect?
We wanted to evolve the whole thing a little bit and suggest at this point that he's more of the fabric of Norway, if you will. He'll never quite be integrated but we thought it would be interesting to have a little bit of a twist and instead of him being the invader, if you will, he's sort of being invaded now. He's become enough of the fabric of Norway where he's at his territory and he's partly Norwegian and being invaded by these outsiders. We're always going to balance the thing between exploring Norwegian eccentricities that people find interesting worldwide, because Norway remains quite a mystery, and also the personal stuff — various romantic things with Frank and certain conflicts with the basic job of being a criminal. 

And Johnny is a daddy now.
He's got twins and he's trying to be a good father. Of course, in Norway that's defined differently than here. They take fatherhood very seriously and they legislate the fact that you are going to take three months off of work and you're going to go off and be a father, whether you like it or not. The mother gets 10 months full pay. The father gets three months full pay. And you have to go home and be a father, which is a shocking revelation for Americans — to have responsibility as a father? Who ever heard of that? It's kind of fun.

How do you feel about working over there? Are you ever going to get to work in the summer?
Assuming we do a third season, which we are still discussing, I'm going to join [Bruce Springsteen] for five weeks in South Africa and Australia this year. So we'd probably be filming through June. You actually would see some Norwegian summer for the first time. The first two seasons I wanted to show that snow because that's Norway. Now, we can move past that. I want to try to get some of the fjords in there and have some fun with that. It's a challenge every year with a TV series. You want to keep evolving and keep it going. That's part of the fun.

What are some of the challenges you face on this show that you didn't have on "The Sopranos?"
Well a lot since I'm one of the producers, I'm a writer, and I'm the star. It's quite a bit different. Comparatively, 'The Sopranos' was like my acting school. Learning on the job with some of the best actors in the world, including one of the best actors in the world, Jimmy Gandolfini.  Sometimes just being in a scene with him made me a better actor when I walked away. That was pretty much learning a whole new craft. And this was sort of the first payoff.

People thought you were crazy to take this on but look at the success Netflix has had with original programming this year.
Netflix wasn't in the picture at first. We got a month into filming and realized that we'd written a show we couldn't afford to make. That called for an emergency situation. I assembled a quick trailer and ran to Hollywood for a few meetings. Netflix had just begun original programming and it turned out to be wonderful timing. And they made quite a statement by making their first original programming something that was a foreign show and had subtitles. It wasn't just lip service about this whole new global distribution world and international consciousness. It saved the day. We wouldn't have been able to finish the show without them. I'm very, very proud to have been at what I feel are two of the pivotal moments in this whole new Golden Era of television—one being 'The Sopranos' with HBO and now with Netflix expanding that whole HBO concept to the world and making it more of a global thing. It's been wonderful to witness that from those two vantage points.