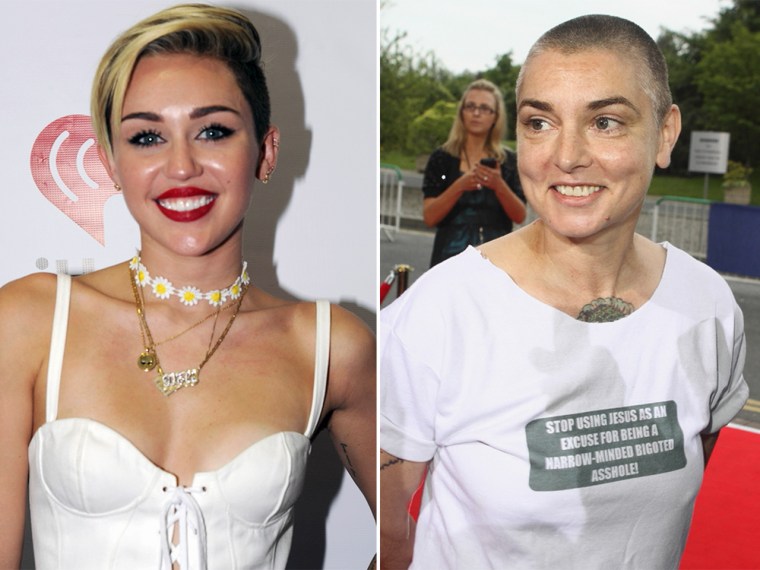 The back-and-forth between Miley Cyrus and Sinead O'Connor is back again.
It all began when Cyrus gave a nod to O'Connor in a recent interview with Rolling Stone, claiming her "Wrecking Ball" video was a "modern version" of O'Connor's iconic "Nothing Compares 2 U" clip. But O'Connor is no fan of Cyrus' stripped down video or the state of the music business that fostered it — which she plainly stated in a lengthy open letter to the former "Hannah Montana" star.
That sparked a reaction from Cyrus, who tweeted a screen shot of past posts O'Connor made when she was seeking psychiatric help and put it under the heading "before Amanda Bynes…. There was…."
Now? The situation seems far from over.
"You have posted today tweets of mine which are two years old, which were posted by me when I was unwell and seeking help so as to make them look like they are recent," O'Connor wrote in a second open letter to Cyrus, this time on Facebook. "In doing so you mock myself and Amanda Bynes for having suffered with mental health issues and for having sought help."
So O'Connor made a request.
"Remove your tweets immediately or you will hear from my lawyers," she wrote.
But the tweets remain, now joined by more comments from Cyrus.
In her next letter — open letter No. 3, for those keeping count — O'Connor responded, "I have no interest whatsoever in meeting you." She went on to blast Cyrus for "behaving in an anti-female capacity," and insisted that "legal proceedings" are almost a sure bet, since Cyrus allegedly "designed to damage" her career. 
But according to the Irish singer, there is still one way Cyrus can avoid a messy courtroom showdown — by issuing a public apology.