The biggest upset on "American Idol" Wednesday night wasn't anything the six remaining finalists did. It was that Ryan Seacrest managed to remain upright for the whole two hours.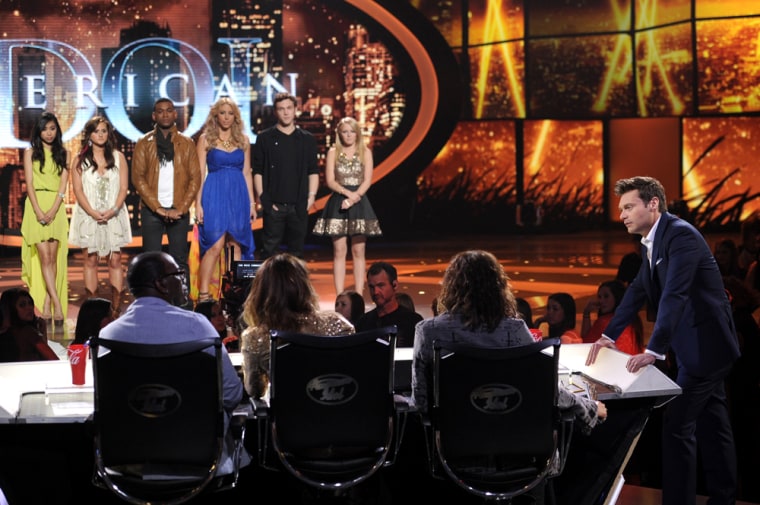 Pre-show rumors indicated that he was too sick to take the stage and would be replaced by a substitute host. While he soldiered on and fulfilled his contractual obligations, all the time in the world with the makeup folks couldn't keep him from looking like death warmed over or get him to stray far from either a chair or the judges' station. His usual dapper look also took a hit in the form of a missing tie and a rumpled-looking dress shirt that wasn't even buttoned all the way up. Even the presence of girlfriend Julianne Hough couldn't get him to his usual energy level, perhaps because (as Ryan explained it) she was a little too amped up to see Phillip Phillips sing.
Or perhaps the low energy level was because two hours is just too long for these episodes. Here's a tip: When you need two themes in a week (Queen and contestants' choice/wacky video clips this time), you're risking that the audience falls asleep or changes the channel before voting starts.
Based on what's happened over the past couple of weeks, predicting what's going to happen on Thursday's results show is a lost cause. "Idol" voters seem to be making their selections based on random number generators rather than doing the same thing every week. But considering that viewers have been unforgiving of strange song choices, both Phillip and Elise Testone have reason to worry.
Phillip finally picked a Dave Matthews song, embracing the obvious comparison to DMB, but it was "The Stone." That's not one of the group's better-known tunes, and Jennifer Lopez was afraid that it was too wacky to resonate with the "Idol" voters. Even his earlier rendition of "Fat Bottomed Girls," which was nothing but fun, wasn't enough to make J.Lo rest easy.
Elise went with Jimi Hendrix for her second song, but it was "Bold as Love" instead of one of the conventional Hendrix songs. Again, this had the judges concerned, though "I Want It All" might have been the best of the Queen covers of the night.
"You gotta do songs that people know. You can't pick cherries with your back to the tree," said Steven Tyler. Words to live by for anyone who's ever tried to pick cherries with their backs to the tree. Which would be "nobody."
It's funny advice from the "Idol" judges, urging people to play it safe. Clearly the back-to-back low vote totals from Jessica Sanchez and Colton Dixon unnerved them. Then again, with Randy Jackson saying things like, "You don't have to vote for just one person – you can vote for all of them," sometimes you have to wonder if the trio on the panel understands what the competition is all about anyway.
Jessica could well be in trouble again for her song choices, safe though they were. Sure, she laid it on very thick with "Dance For My Father" (did you know that her father is deploying for Singapore soon? And he'll be at Thursday's show? Vote for her or you hate all dads everywhere!) but "Bohemian Rhapsody" was very forgettable and understated. She also didn't do much to erase Jimmy Iovine's earlier criticism that she sings songs that are too old for her. She also sang first, so how many people actually remembered how well she did by the end of the night?
(And speaking of Jimmy ... where were his mentoring clips? We saw him briefly in the audience, but that's it. Free Jimmy Iovine!)
Hollie Cavanagh will be in danger every week until she's actually voted off, but getting to close the show with "The Climb" gives her every chance at staying on. Ryan called it the perfect song at the perfect time, which is always nice to hear. Meanwhile, both Skylar Laine and Joshua Ledet were lavishly praised, so it would be a major upset if they left.
But they can't rest easy regardless. For this year's "Idol" audience, major upsets are a weekly occurrence.
As for Ryan, he'll survive. "Feeling better now. Thnx throat coat," he tweeted after the taping. "Fun show tonight."
Should Ryan have taken a sick day? Do you think song choice will put Phillip and Elise in the bottom three Thursday? Share your thoughts on our Facebook page!
Want more "Idol" during "Idol"? Follow @CraigBerman as he live tweets each show.
Related content:
More in The Clicker: