Christina vamps like a burlesque stripper. Britney's gone from schoolgirl to slut. Pink is punk.
Many of music's reigning divas are partying like it's 1999, even though the world has become a darker, more uncertain and more anxious place since September 11, 2001.
With the economy in a funk and record sales down for three years running, even established artists are sexing it up -- no doubt encouraged by edgy industry executives.
The problem is, the public just doesn't seem to be in the mood for it, and the recent mediocre album sales by Spears, Pink and similar artists may reflect a classic case of mismarketing.
"When social and economic times are more threatening and pessimistic, we actually prefer others with more mature facial, body and personality characteristics," says Terry Pettijohn, a Ph.D. social psychologist at Mercyhurst College in Erie, Pennsylvania.
If Pettijohn's observations are accurate, then industry executives who are pushing artists to "tart it up" are miscalculating the market and could be damaging careers.
"Audiences are listening to lyrics more," says Ron Vos, president/chief executive of Hi Frequency Marketing in North Carolina. "They're focused on content and story line, not dancing and having fun, and they want the artist to reflect that."
Post-9/11 soul searching
Indeed, female artists who are succeeding on the radio and on the charts have tapped into the nation's post-September 11 soul-searching.
Vos, whose firm worked with Avril Lavigne and Norah Jones, says these artists are writing music that's about being in touch with your values. They portray themselves as self-made people who write about their feelings, he says.
Sex certainly sells. The concept has been around as long as advertising. But Lavigne and Jones reflect a different kind of sexuality that's much subtler, more genuine and thus more alluring in a time of crisis.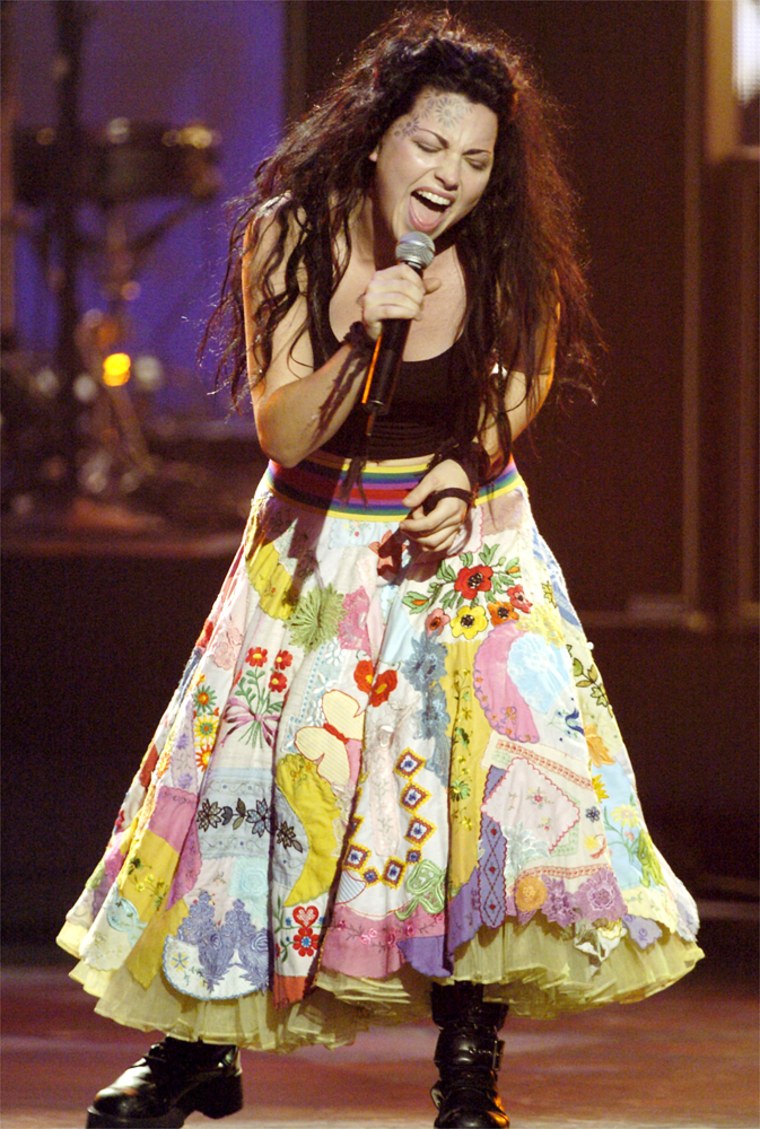 Given the national mood, such nuances could easily be the difference between strong and mediocre sales.
One of the hottest breakthrough groups of last year, rock band Evanescence, is fronted by Amy Lee, who is appalled by the crass marketing of some pop stars. "Talking bad about Britney is like beating a dead horse; I won't even go there," she says.
But what really bothers Lee are female artists who are good writers or good singers but have gone from being "really classy and cool to just stripping it all away."
Jewel, for example, has gone from folk songstress to cover girl, and 40-something Sheryl Crow struts onstage in hot pants even as she bemoans that other artists are being marketed like "porn stars."
"Obviously, sex is the most basic thing that you can sell," Lee says. "I mean, you sell yourself, and I just hate it."
Trampiness trendFrom Spears' kiss with Madonna at the MTV Video Music Awards to Pink's onstage antics at the Billboard Music Awards, the trend toward trampiness shows no signs of abating.
But some academic research suggests that it runs counter to current economic, social and demographic trends.
Last spring, Pettijohn and University of Georgia professor Abraham Tesser presented a paper to the American Psychological Society in Atlanta that examined how the social and economic environment affects human preferences.
"In times of trouble, strong, stable, supportive people are favored," he says. "When times are good, we tend to favor the fun person."
To reach that conclusion, the researchers studied the public's preferences for actresses between 1932 and 1995.
Individuals preferred smaller eyes, thinner cheeks and larger chins in bad times, and women with larger eyes, fuller cheeks and smaller chins in good times, the study found.
"The U.S. is always going back and forth between our puritan values and our need for indulgences," says Sharon Livingston of the Livingston Group, a Windham, New Hampshire, marketing and research firm.
Currently, songs with a mellow, introspective approach are finding a receptive U.S. audience, in part because of the confusion and sense of change in the wake of September 11, according to Ball State University pop culture expert Richard Aquila.
That mood plays into the resurgence of the singer/songwriter, where audiences are eager to hear what the individual has to say, he says.
"There's been a turn toward traditional values," Aquila adds.
Alicia Keys is representative of the trend. Her songs are introspective and soulful. Her image, while sexual, also exudes strength and character. Not surprisingly, her latest album is doing well on the charts.
'Constructive use of her libido'
Norah Jones is sexy, Livingston says. But "she's using libido in a gentle way and talking about relationships. It's a more constructive use of her libido, but she's still creating interest and intrigue."
She's saying, "'Come be with me, and you'll feel good about yourself,"' she explains.
Spears, of course, has played the sex card most often and most blatantly in the face of declining sales.
Her biggest single, "... Baby One More Time," cut when her image was more wholesome, spent 39 weeks on the singles charts in 1998, including seven weeks in the top spot.
Her last single to hit No. 1 on the charts was "I'm a Slave 4 U" in 2001. It spent one week at the top.
Despite massive hype, Spears' latest album is posting only so-so sales. And Pink's latest release is suffering as well. Sales of "Try This" have fallen far short of her previous blockbuster album.
According to a source, her label is privately worried that she has been tarting it up too much. For her part, Pink says artists are just using what they've got.
"I don't think there's anything wrong with being sexy, but people use what they have," she says. "If people have a great voice, then you use your voice; if you have a great mind, then you speak a lot; if you have a great body, then you take your clothes off."
That may work if you're 20-something, but Evanescence's Lee isn't the only person who finds the trend disturbing among such established, talented female artists as Toni Braxton, Liz Phair and LeAnn Rimes.
Gina Vivinetto, pop music critic for Florida's St. Petersburg Times, noted in an article last summer that it's as if someone had issued a memo to every woman in rock. "No matter how seriously she once took herself, no matter how good her voice or her level of talent, she must start looking like a tramp."