It's almost that time again! On Thursday, the TODAY gang will show off their timely, funny or just plain frightening Halloween costumes. But what will they wear?
That's what Jay Leno wanted to know when Savannah Guthrie paid him a visit on "The Tonight Show" Tuesday, but she wasn't about to give away the big surprise.
"I'm not going to tell you that," she insisted. "No, it's a huge secret. In fact, I don't even like you asking me, because I'm afraid I'm going to blurt it out by accident!"
No worries there. Guthrie kept her lips locked. But that didn't stop Leno from making a few fully illustrated guesses (with the help of a bit of photo editing).
Maybe she and Matt Lauer could give the Robertson family a Halloween tribute with dueling "Duck Dynasty" costumes?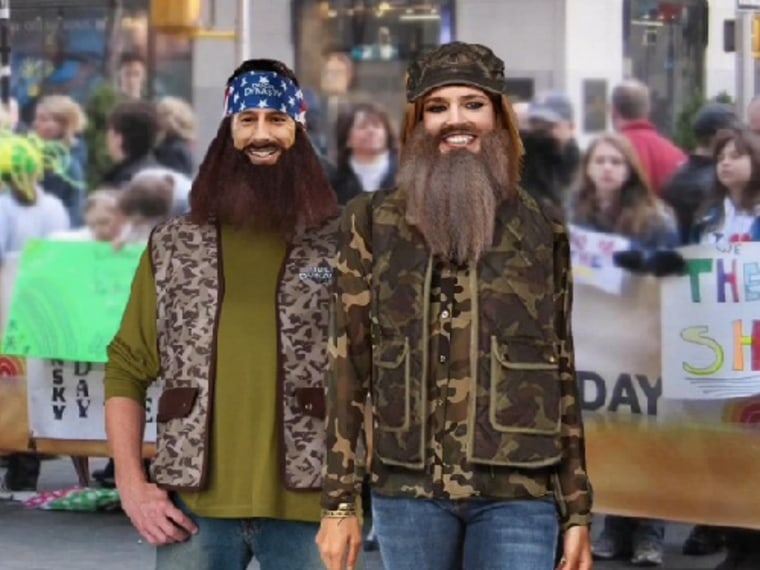 Or, since "Breaking Bad" recently came to an end, perhaps this is the perfect time for them to channel Jesse Pinkman and Walter White?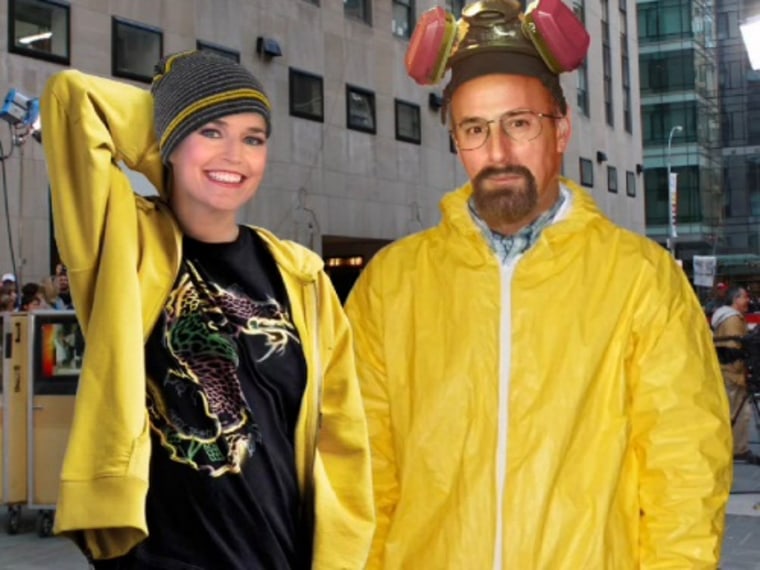 Or maybe not.
No matter what duds the anchors dress in, expect lots of fun. As TODAY viewers know, Savannah loves a good laugh. But what they may not have known, until seeing her segment with Leno, is that some of her favorite laughs come at the expense of the guys in her life — particularly Lauer and fiancé Mike Feldman.
Guthrie explained her glee when Lauer was recently heard raving about one of his favorite singers, "Estelle."
When Savannah couldn't place the name, Matt explained: "She's one of the biggest acts in the world right now. I interviewed her. She did the James Bond theme song!"
But, of course, that would be Adele.
"It was the greatest moment of my life!" Guthrie laughed. "It was so great, because Matt is so wonderful and he's such a maestro at the job. … I was like, 'Oh, you know what song I love? "All the Single Ladies" by Bertha.'"
As for Savannah's fiancé Feldman, well, his recent birthday party featured cocktail party napkins embossed with an embarrassing childhood photo (complete with turtleneck and a sweater vest), courtesy of Guthrie, as well as some good-natured live-tweet ribbing the next day.
But as it turned out, Feldman got the last laugh. When Leno reached out to him before the show, he offered up an embarrassing childhood photo of Guthrie for late-night viewers to see.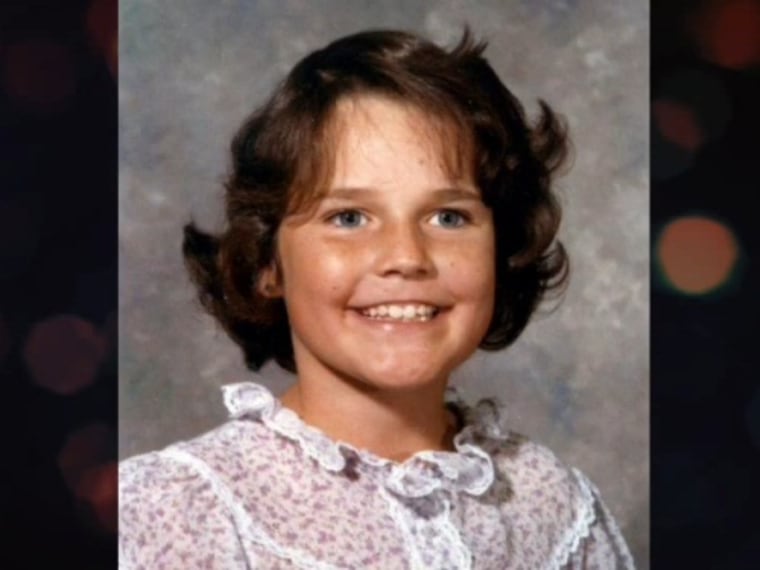 Check out "The Tonight Show" clips to see all the fun.