/ Source: msnbc.com contributor
The lights dim. The crowd roars. Musicians take their places in darkness. Suddenly, a spotlight hits center stage. Madonna walks out, pushing a stroller. A few roadies set up a playpen. Somebody in the band yells, "Hit it!" but Madonna isn't ready yet because little 2-year-old Rocco won't stop crying. He's afraid of his mommy's costume with the pointy bra. They have to start over.
Nowadays, when this 45-year-old pop star embarks on a concert tour, the term "boy toy" refers to her kid's Wiggles doll.
There's nothing wrong with a woman at her age touring, mind you. For heaven's sake, the Rolling Stones soon will be pushed onstage in wheelchairs with blankets covering their legs. Bob Dylan doesn't play the harmonica as much as he wheezes it these days. And Ozzy Osbourne — who happens to be touring this summer in "Ozzfest" along with Judas Priest, Slayer and Slipknot — is looking like something unearthed in an archeological dig.
But times certainly have changed. Madonna is now married to director Guy Ritchie. She's the world's most famous soccer mom. She has two kids, Lourdes, 7, and Rocco. She has embraced the Kabbalah, a religious philosophy based on Jewish mysticism. She's writing a series of children's books.
When Madonna tours now, it's still a hot ticket, but fans are less likely to see her vamp it up like the days of "Vogue" or "Erotica," and instead will witness a Material Girl showing off her new material. After all, it's hard to perform "Like A Virgin" convincingly when you're approaching menopause.
Re-inventing herself againMadonna — whose "Re-Invention Tour" began Monday and runs through August 2 — is only one headliner in a rather active summer of major summer tours. Like big-budget Hollywood popcorn movies, these artists literally bank on the disposable income of the idle young who crave the kind of live entertainment that X Boxes and iPods just can't deliver.
Like Madonna, Prince has undergone an image makeover. His "Musicology" tour began in March and is set to run through August 31. Fans are glad to have His Purpleness back, although he too has found religion and is much less inclined to indulge in songs having to do with the randier end of human experience. Prince is a Jehovah's Witness, which means it's O.K. to let him ramble on inside an arena, but if you let him into your living room to do so, he may never leave. Still, a Prince concert is a fun time, featuring enough funk to keep the purists pledging their eternal devotion.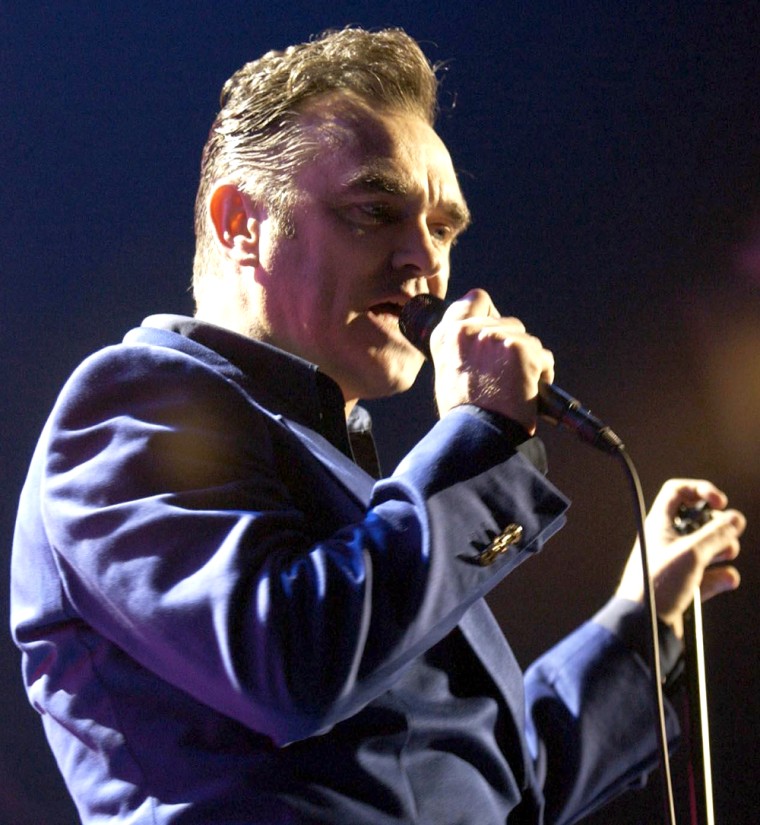 Van Halen kicks off their summer tour on June 11. This assemblage does not include front man David Lee Roth, but rather Sammy Hagar. Personally, I prefer Roth, even with his cheesy theatrics. I guess he was too busy playing poker on "The Sopranos" to consider this gig seriously. Then again, he is about as welcome in the band as Ralph Nader would be at an Al Gore testimonial. Hagar brings peace and harmony. He also brings a shrill, ear-piercing screech that passes as vocals. Most of the die-hard Van Halen fans who will plunk down good money to see Eddie's wild riffs and hear touchstone selections from their vast catalog have lost most of their hearing anyway, so it shouldn't matter.
Time to bang your head
If heavy metal is your passion, you may want to check out "Ozzfest." Starting July 10, it will include enough head-banging music to send you into the streets itching for a riot. Ozzy had spinal surgery back in December, and if I know Oz, he'll be heavily medicated for these shows, which should please the traditionalists. Judas Priest, Slayer and Slipknot fill out the bill. Here's a thought: If they set up metal detectors outside the concerts, nobody would be allowed in.
Lollapalooza 2004 will feature Morrissey, Sonic Youth, The Flaming Lips, Modest Mouse and others. This is the resurrection of a series of alternative-rock shows of the 1990s, and what better way to launch it than with Morrissey, the dean of the dour? Each stop is a two-day festival event. This type of extravaganza  is an iffy money-maker, so the focus will be on box office as much as on the music. Whether this is a financial success or not, you can be sure that either way Morrissey will be depressed about it.
In that same vein, there are two other significant festivals. Projekt Revolution Tour will begin July 23 and include a blend of rock and hip-hop with artists like Linkin Park, Korn and Snoop Dogg. Then there is the Vans Warped Tour, geared toward the new age Jeff Spicolis. This gathering speaks mostly toward the mainstream punk scene, with acts like New Found Glory, Simple Plan, Bad Religion, Good Charlotte and others. The promoters will have skateboarding apparatus nearby, so that if fans don't injure themselves pushing their way to the stage in a rowdy rush, they can get a second crack at breaking their own bones on a skateboarding ramp.
Also, No Doubt and blink-182 are double-billing, starting on June 1. Apparently these bands like each other and had such a good time touring together about 10 years ago that they've decided to collaborate again. They're even setting up a side stage in some of their shows to give a few relatively unknown acts a shot.
Maybe in another 10 years, they can all tour with Madonna's kids.
Michael Ventre is a Los Angeles based writer and a regular contributor to MSNBC.com.