/ Source: The Associated Press
An estimated 29.5 million Americans tuned in for the season's final "American Idol" with Jordin Sparks winning the prize — a sharp drop from last year's finale, according to preliminary ratings from Nielsen Media Research.
Last year, 36.4 million people watched Taylor Hicks win. And even though Hicks was featured singing during Wednesday's two hour-plus episode, that represents a 19 percent decrease.
That estimate, however, was sure to be adjusted later Thursday. The preliminary numbers only measured Fox's telecast from 8 to 10 p.m. EDT — and Sparks wasn't announced as the winner until 10:03 p.m.
Sparks grew up on "American Idol," watching the show since she was 12 years old and telling her mother it was what she wanted to do.
"Now I'm actually doing it," the 17-year-old told reporters backstage after winning the competition The Arizona teenager bested Blake Lewis, 25, the beat-boxer from Washington at the Kodak Theatre.
"I've just been trying to top myself each week," Sparks told The Associated Press. "I would sing my song and after I was done I was like, 'OK, what am I going to do next week that's going to be ... either just as good or better."
Sparks, with a floor-length gown and movie-star hair, gushed like a teenager when her name was called.
"Thank you so much for everything," she told the crowd. "Mom, Dad, I love you. Nana, Papa, P.J., thank you guys."
Then she began "This Is My Now," the tune picked by viewers in a new online "American Idol" songwriting contest. Both she and Lewis performed the track Tuesday, and judge Simon Cowell reiterated Wednesday the song sold him on Sparks.
"If I'm going to call it, based on the last song, congratulations Jordin," Cowell said, before the winner was announced.
The contest came down to the stronger singer, Sparks, or the better entertainer, Lewis. Sparks delivered her songs simply and powerfully; Lewis' flourishes included beatboxing and sharp dance moves.
Lewis said backstage that he didn't mind coming in second.
"I picked Jordin Sparks at the top 24 as the 'American Idol' winner," he said proudly. "I was actually going to try to wear a 'Vote for Jordin Sparks' T-shirt last night but they wouldn't let me do it."
Lewis compared his sound to Michael Jackson and Jamiroquai and said his forthcoming album will be "like electro pop, very danceable."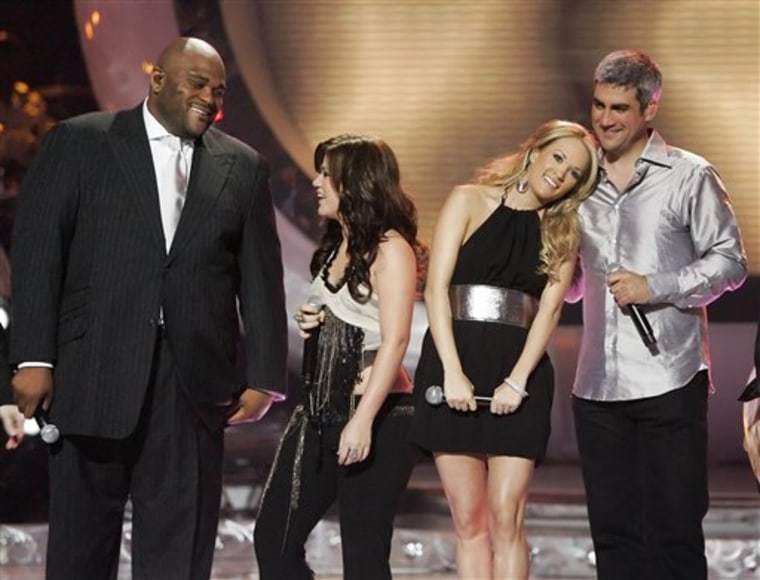 Sparks won a recording contract as part of her "Idol" prize, but Lewis hasn't yet secured a deal.
"Hopefully some creative minds would like to work with me," he said.
The finale pulled out the stops and the stars, with Gwen Stefani, Smokey Robinson, Tony Bennett, Bette Midler, and Green Day among the performers.
Stefani sang her new single, "4 in the Morning," via satellite from a tour stop in Massachusetts.
Midler took the stage as the show drew near its close, singing "The Wind Beneath My Wings."
Past "Idol" winners and this season's contestants got a hefty share of attention, starting with first-season winner Kelly Clarkson. She performed her new single "Never Again," the gritty rock song matched by her black dress and thigh-high boots.
Carrie Underwood, the fourth-season winner, sang "I'll Stand by You" and was honored by legendary music mogul Clive Davis for reaching 6 million in sales for her debut album, "Some Hearts."
Hicks, last season's winner, also had his moment, as did Ruben Studdard, the winner from year two.
Motown great Robinson performed "Being with You" after the top six male contestants, including fan fave Sanjaya Malakar, sang "Ooh Baby Baby," a hit for Robinson and his group the Miracles.
Backstage, Robinson said Sparks deserved to win.
"She is an awesome singer. She sings so good it's hard to believe she's 17," he said. "To sing like that, you would have to have lived for a long time. She's an old soul."
Blake, whose beat-boxing scored with viewers and brought a hip-hop element to "Idol," performed with veteran rapper Doug E. Fresh on his old hit, "The Show." It was a signature moment for a contest that has introduced young viewers to Gershwin and other standards.
"True originals," host Ryan Seacrest said of the duo.
Backstage, Fresh called Lewis "an incredibly talented, good guy."
"He just has such an incredible energy and he loves hip hop so much," Fresh said from behind aviator sunglasses.
Gladys Knight took the stage with the six female finalists, belting out "I Feel a Song" and "Midnight Train to Georgia." Bennett performed a mellow version of "For Once in My Life" that ended with a big finish.
"A true idol, Tony Bennett, ladies and gentlemen," gushed Seacrest.
Melinda Doolittle, arguably the best contestant to miss out on the finale, returned to impress the crowd again as she sang "Hold Up the Line" with gospel stars BeBe and CeCe Winans.
"She has proven in the last few months to be spectacular," BeBe Winans said backstage of Doolittle.
The show took a serious turn when Green Day performed "A Working Class Hero is Something to Be," a single from "Instant Karma: The Campaign to Save Darfur," a fundraising album for the embattled region.
Viewers cast more than 74 million votes in making Sparks the winner. Hundreds of "American Idol" fans lined Hollywood Boulevard leading up to the theater before the show.
On Tuesday, judges Cowell and Randy Jackson made it clear Sparks was their favorite. Diplomatic Paula Abdul kept her counsel as usual, praising both singers. Although the judges didn't have a say in the decision, their opinions can sway voters.
The show took a serious turn when Green Day performed "A Working Class Hero is Something to Be," a single from "Instant Karma: The Campaign to Save Darfur," a fundraising album for the embattled region.
The finale also had its share of filler, including bits such as the "Golden Idols," an award saluting the oddest of odd auditions, or the worst. The winners included Margaret Fowler, who proudly accepted her trophy and recited poetry after smooching Seacrest.