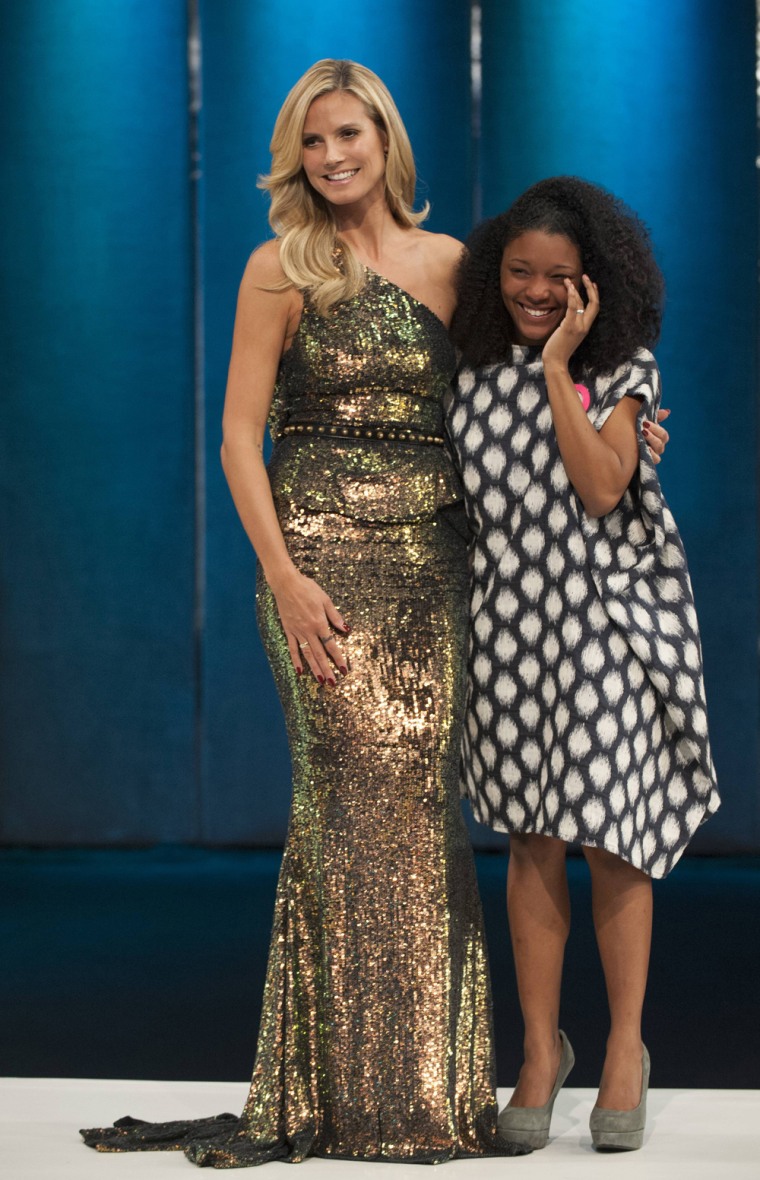 Philadelphia-based designer Dom Streater's edgy fashion line helped her snag the win on Thursday's "Project Runway" finale, but it certainly wasn't an easy victory. 
While season 12 brought some tough design challenges, it will most likely be remembered for the abundance of drama among the contestants, something that Streater said she worked hard to stay out of.
"You guys got to see the bulk of the craziness, but it was a lot more dramatic in real life," Streater told TODAY. "Those fights lasted a lot longer than you saw on TV. Those things went on for hours!"
Streater, who had been working two jobs before the show, said that distancing herself from that drama helped her stay focused on winning.
"I never really let any of that negative energy get to me," she said. "I knew why I was there and I knew how important this was to me. I mean, I was poor, I didn't even have a job in fashion before this, so I knew how badly I needed this. I made sure to keep that as my main focus, everything else was background noise to me."
Some fans were surprised when, on part one of the finale, Streater's friend Helen Castillo was eliminated, leaving Streater to battle Bradon McDonald, Justin LeBlanc and Alexandria von Bromssen at New York Fashion Week for the win. Streater said that she, too, was surprised at the final four.
"Don't get me wrong, Alexandria's great but I never understood why the judges chose her collection over Helen's," Streater said. "I felt like Helen's was more accessible and unique. I just never took to Alexandria's collection, and I didn't really see what the judges saw in it."
The often-abrasive von Bromssen, who ended up finishing in second place, certainly contributed her share of this season's drama.
"Alexandria is an ... interesting person," Streater said. "She doesn't mean any harm when she does or says things, but sometime she definitely rubs people the wrong way."
Now that the season —and the drama — is over, Streater said she's excited to finally have the time to focus on designing.
"I almost never had time. There would be nights that I came home from the restaurant at 11 at night and would just stay up all night sewing because that was the only time I had," she explained. "I was literally squeezing in time to design so it's nice to not to have to do that anymore."
Streater has since quit her day job as an animal-care technician, but because she has not received her $150,000 prize money yet, is still currently working as a restaurant hostess. In the meantime, the 24-year-old is designing her fall/winter line for next year, and is working on specialty design work for a musician to wear in a music video. She said she hopes to create looks for celebrities in the near future, including "Runway" host and judge Heidi Klum.
"I promised Heidi and (judge) Nina (Garcia) that I'd make them something, so I have to get on that," she said. "No celebrities have reached out to me ... yet. However, I have not checked my emails or voice mails since last night so you never know!"

"Project Runway: All Stars" premieres Thursday, Oct. 24 at 9 p.m. on Lifetime.