Although Paula Deen was diagnosed with diabetes last year, the Food Network star has said that she won't give up her beloved butter. And now she won't have to: The cooking queen has just released a line of her latest product, "finishing butters."
The five butters (Southern Grilling Butter, Lemon Dill Butter, European Style Butter, Sweet Citrus Zest Butter and Garden Herb Butter) made their debut at Wal-Mart this week, and will soon be available at Walgreens and on QVC.
So, what exactly is a finishing butter? Deen explains that the products "let cooks bring a wonderful fresh butter taste to various dishes while just adding butter to the end of the cooking process."
The Sweet Citrus Zest butter, for example, is the "perfect butter to have in the morning," according to Deen's website, while she refers to the European Style Butter as "Bread's Best Friend."
Earlier this year, Deen showed off a 40-pound weight loss, and her new line of butters suggests she sees them fitting into her fitness plan because they're so packed with flavor that cooks won't need to overload on calories.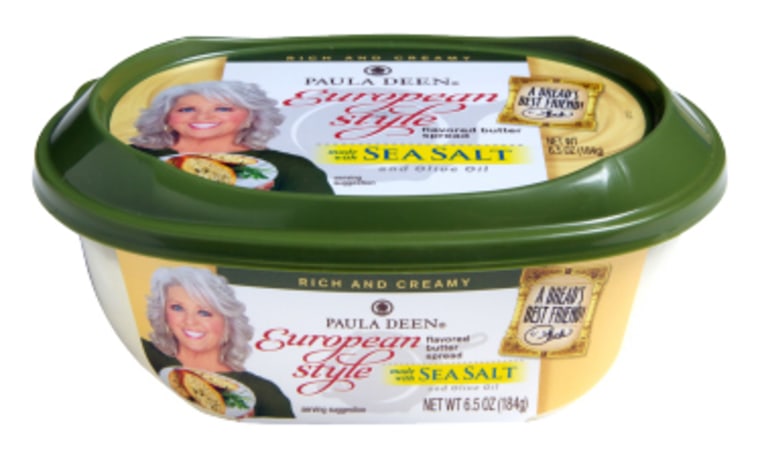 Butter's not the only thing Paula Deen has up her sleeve. Her commitment to getting and staying healthy post-diagnosis is reflected in her new Paula Deen Foods line, which includes the butters as well as vegetable tortilla chips and low-fat chocolates.

A portion of proceeds from the new finishing butters will also go toward Deen's charity, The Bag Lady Foundation, which provides meals for women and children in need.
That issue is one close to Deen's heart, as she and her sons struggled through tough times before the success of her Savannah, GA restaurant The Lady and Sons and her subsequent Food Network fame.
"It is such an honor to be able to not only let the everyday cook bring special fresh meals, quality ingredients and great-tasting snacks to their tables to share with their friends and families, but it is an overwhelming joy to able to give back to communities across the country through The Bag Lady Foundation," Deen said in a statement.
In other words: guilt-free eating, y'all.