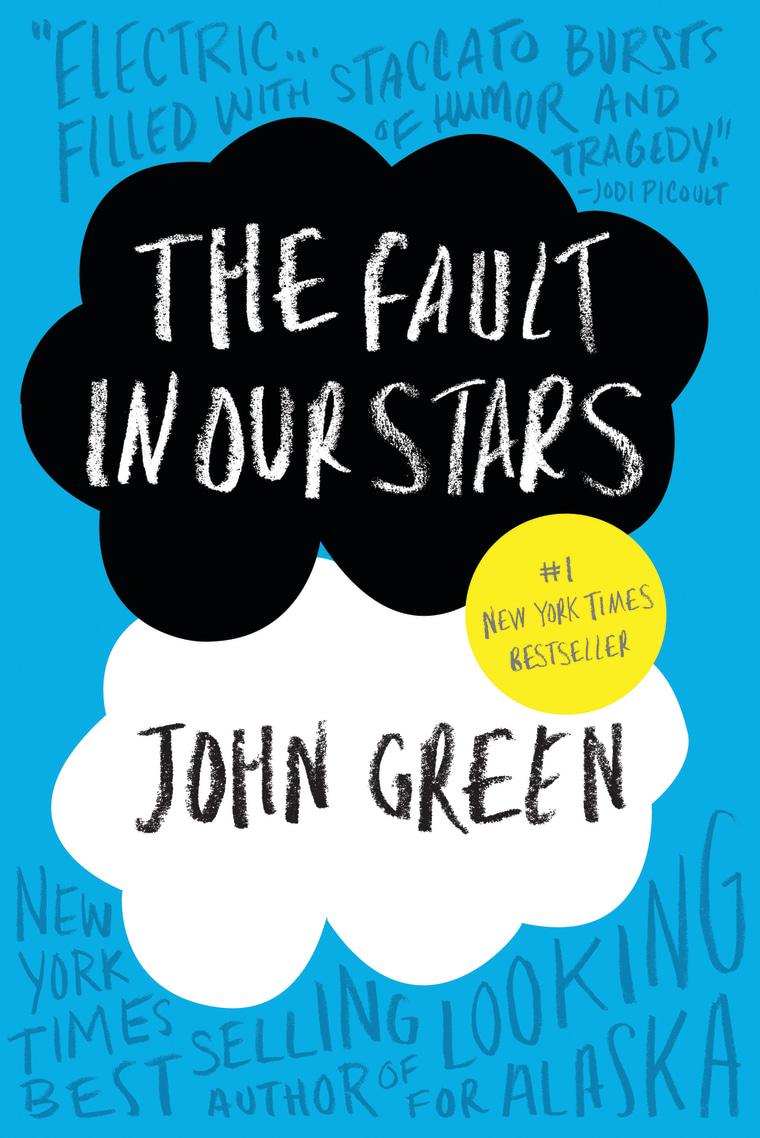 The fourth TODAY Book Club pick is "The Fault in Our Stars" by John Green. Share your thoughts about Green's beloved young adult novel by joining the TODAY Book Club community, a fresh and interactive discussion series, and tweeting with #TFiOSTODAY. 
TODAY Book Club members will have the unique opportunity to participate in a Google+ Hangout live from the premiere of the film adaptation of the book. RSVP to the Google+ Hangout with Willie Geist, John Green and the cast of "The Fault in Our Stars" on Monday, June 2 at 6 p.m. ET. Be sure to follow @TODAYsBooks and stay up to date with the TODAY Book Club newsletter.
When did young adult fiction go so dark? Lois Duncan, Robert Cormier and Judy Blume dealt with tough issues in their classic fiction — divorce, coming-of-age, bullying — and they all took place in the real world. But these days it's easy to feel as if the genre got swallowed by dystopian stories of oppressive futures in which bloodshed, bombast and a gifted young person are needed to save the day.
Fortunately, quality YA books are still written in the "old-fashioned" way, like "The Fault in Our Stars." Focusing on two young people who forge forward with a relationship despite cancer diagnoses, "TFIOS" has become an enormous bestseller — and it takes place in the real world. Additionally, by focusing on issues that may brush the lives of modern young adults, John Green's sensitive novel makes some of its bigger, badder brethren seem callow in comparison.
But what if you haven't yet read TODAY's May Book Club pick? It's not too late to get acquainted with the love story of Hazel Grace Lancaster and Augustus Waters, though make sure you keep your tissue box handy: You're gonna need it.
What is "The Fault in Our Stars" about?
Inspired by a Shakespeare quote (from "Julius Caesar"), "The fault, dear Brutus, is not in our stars/ But in ourselves, that we are underlings," the story is told by a 16-year-old with cancer named Hazel. She meets August in a support group, and the pair bond over their diagnoses (Hazel has thyroid cancer, now in her lungs; Augustus is in remission but lost his leg to osteosarcoma) and books, especially one called "An Imperial Affliction," about a girl with cancer. 
How has it sold?
Since it was released in Jan. 2012, "TFIOS" has been on the New York Times best-seller list for no fewer than 119 consecutive weeks; 49 of those in the No. 1 slot. It has been translated into 46 languages and a movie based on the book, starring "Divergent's" Shailene Woodley and Ansel Elgort, will hit theaters on June 6.
Who is John Green?
Author Green is a bigger star than even his book: "TFIOS" is his fourth novel, but he has a massive following as one of the VlogBrothers, whose YouTube channel videos feature John and Hank rapid-talking their way through any number of personal and educational topics. They have over 2 million subscribers and their videos routinely rack up at least 300,000 views. The Greens are behind other shows on YouTube, including "The Lizzie Bennett Diaries," which won an Emmy for original interactive program in 2013. John's Twitter page (@realjohngreen) has over 2.3 million subscribers.
What inspired him to write "TFIOS"?
Green has talked about working as a student chaplain at a children's hospital, and being inspired by the children he met there. "We have a habit of imagining the very sick or the dying as being kind of fundamentally 'other,'" he told The Atlantic in 2013. "I guess I wanted to argue for their humanity, their complete humanity." He was also inspired by his friendship with a teen with thyroid cancer, Esther Earl, who he met at a Harry Potter conference in 2009. "I could never have written this if I hadn't known Esther," he told GoodReads in 2012. Posthumously, Earl's parents have published some of her writing, and the book is dedicated to her — but Hazel is not meant to be Esther.

Why does it hook so many teens?
Need you ask? Doomed teenagers who deal with their issues with insight and caring yet come across as real and three-dimensional are catnip to readers. The book has inspired a trove of fan fiction, and after an exclusive trailer debuted on TODAY in January, fans went bananas on Twitter (some revealing that teachers even let them watch the trailer during class). It hits all the soft spots, is well plugged into social media, and has a movie set to lend the whole enterprise another dimension.
What else do we need to know?
There's not a single explosion or oppressive regime in the tale. That, in and of itself, is worthy of applause.