Warning: This post contains spoilers for "My Big Fat Greek Wedding 3."
Like the two movies before it, "My Big Fat Greek Wedding 3" features a love story and big, fat, Greek wedding — one that makes the Portokalos family even larger.
While the first two films take place in Chicago, Toula Portokalos (Nia Vardalos) and her family go international in the third movie to deliver her father Gus' journal — who died in the series following the real-life death of the actor who played him, Michael Constantine — to his childhood friends in the Greek village where he grew up.
They're hoping to meet Gus' friends at a village reunion organized by the self-appointed town mayor, Victory (Melina Kotselou).
In addition to their daughter, Paris (Elena Kampouris), who's now in college, Toula and Ian (John Corbett) are joined by Aunt Voula (Andrea Martin), Theia Freida (Maria Vacratsis), Toula's brother Nick Portokalos (Louis Mandylor) and Paris' old fling, Aristotle (Elias Kacavas). Toula's mom Maria (Lainie Kazan), meanwhile, stays back in Chicago, as she deals with memory loss.
Read on to find out what happens when the Portokalos family arrives in Greece in "My Big Fat Greek Wedding 3," and learn who gets married.
First, who got married in the other 'My Big Fat Greek Wedding' movies?
In the first movie, Toula and Ian marry each other — and their families — in an epic, chaotic Greek bash.
The sequel focuses on Toula's parents, Gus and Maria, who find out they were never legally married after finding their unsigned marriage certificate.
What is the love story in 'My Big Fat Greek Wedding 3'?
When the family makes landfall in Gus' village, they realize only a handful of locals still live there, and tracking down Gus' old pals won't be a simple feat.
While figuring out a game plan, the group starts to get to know the locals and discover a family secret: Gus had a son, Peter (Alexis Georgoulis), with the now-default village matriarch, Alexandra (Anthi Andreopoulou). So essentially, Toula meets her half-brother.
Peter also has a son, Christos (Giannis Vasilottos), who is holding onto a secret of his own — he is romantically involved with a Syrian refugee named Qamar (Stephanie Nur), but he keeps it hidden out of fear that his family won't approve.
Their relationship is a callback to Toula and Ian's love story in the first installment, and the challenges of a cross-cultural relationship. Like Toula, Christos knows his father and grandmother would prefer he end up with a Greek partner.
However, when Nick spills the beans at a big family dinner, hiding their relationship is no longer an option.
Christos and Qamar decide to go forth with an engagement, despite Peter and Alexandra's disapproval. But eventually, after a few deep family conversations, everyone is on the same page and realizes that, well, we're all just fruit!
So, who gets married at the end of 'My Big Fat Greek Wedding 3?'
At the end of the film, everyone gets together to throw the ultimate bash for the Christos and Qamar — infusing both Greek and Syrian wedding traditions.
Christos and Qamar are both in different locations when the ceremony starts. Surrounded by friends and family, they each walk through the streets to the sound of music, and they eventually meet in the middle for their matrimony.
Then, the big, fat, Greek-Syrian reception gets underway, complete with dancing, laughter and, per usual, plenty of twists and turns that only makes the Portokalos family stronger in the end.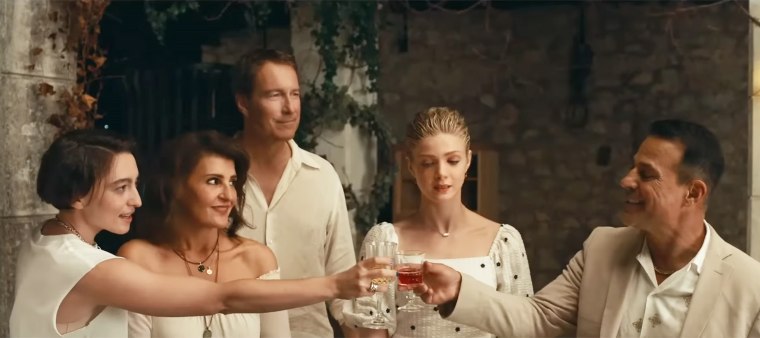 What else happens at the end of 'My Big Fat Greek Wedding' 3?
A lot! Victory pulls off her unlikely reunion, against all odds, thanks to the help of Toula's cousins Angelo (Joey Fatone) and Nikki (Gia Carides). With the town full of life again, Victory has the idea to fill up the unused houses with migrants seeking homes. Alexandra agrees to her plan.
Paris reveals that she failed her first year of college. She and Aristotle decide to move forward on the tension that's been brewing between them (as Aunt Voula predicted), but only if they take it slow.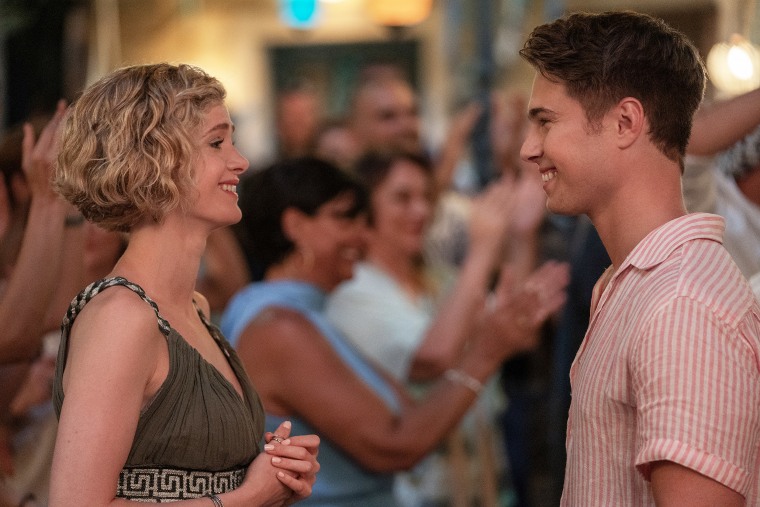 The night of the wedding, Toula, Peter and Nick bury a portion of their father's ashes at the oldest olive tree in the village.
With their father dead and their mother declining from memory loss, Toula and Nick decide to split "head of the family" duties.
The family returns to Chicago and brings Peter, their new relative, with them. Maria, back in Chicago, is looking forward to meeting her late husband's long-lost son, and Toula's making dinner.