When five-time NBA champion Magic Johnson stopped by TODAY to talk about his new projects, Hoda took the opportunity to get him onto the basketball court.  
Magic was more than happy to oblige, saying wife Cookie "won't let me hold nobody else's hand but you two."
"Frank always showed you the football, I know that," Magic said to KLG, referencing Kathie Lee's husband, an NFL champion. "He's showed me a lot of things," KLG quipped back, mentioning that those were not things to be repeated on Magic's new TV channel Aspire, which will provide family content geared towards the African-American community.
Kathie Lee got in the game right away, reaching up for a slam dunk. The first try was unsuccessful. "My Spanx are showing!" she said. 
Hoda made a basket on her second try. "We gonna sign you up," Magic said. 
Hoda's skills didn't end there: She grabbed the ball and spun it around on one finger.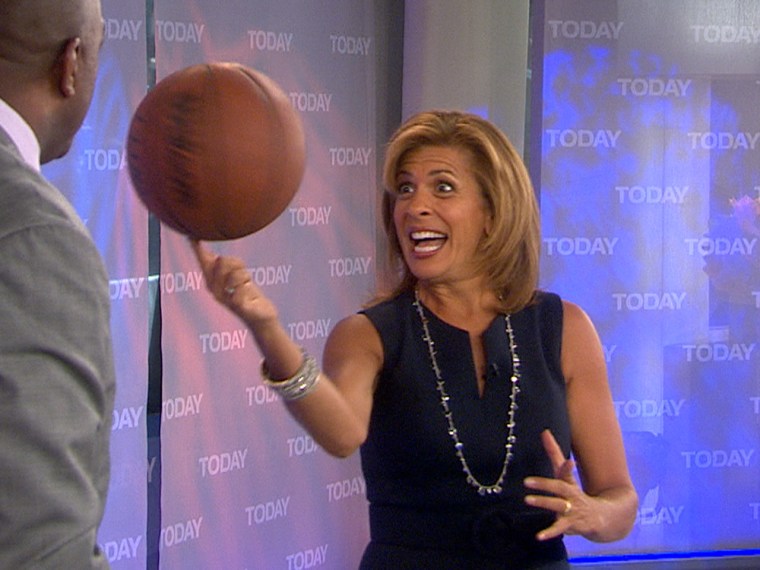 Magic said even he couldn't spin. "We're going to sign you up for the Lakes or the Lakers, one or the other. They both need help."
TODAY.com contributor Jillian Eugenios did not know that Hoda is a basketball star in disguise. What else is she hiding? 
More: Nick Cannon, Howie Mandel judge fourth hour's drunk talents
Betty White vs Kathie Lee: Who's got better hula-hoop skills?