/ Source: The Associated Press
The album "Car Wheels on a Gravel Road" is the work that introduced Lucinda Williams to most of her fans. It won a Grammy. Rolling Stone and Spin called it one of the top discs of the 1990s. It has sold twice as much as anything else she's done.
An undeniable career highlight, it's been a straitjacket for its creator, too.
"Ever since 'Car Wheels' I've been struggling with where do I go now? What do I do?" she told The Associated Press. "I was defined by 'Car Wheels' and everything I've done since gets compared to 'Car Wheels.'"
"West," released Tuesday and her third collection of new music since that 1998 landmark, may be the disc to set her free. Produced by Hal Willner, it's a sonic departure with tight writing and experimental song structure. Williams' weathered voice and depressing subject matter sound familiar, but it's miles away from the gravel road.
Frozen by the pressure of following up her signature disc, Williams went nearly five years without writing a thing. She kept touring, playing the same songs over and over.
Like so many other songwriters, she took a specific inspiration from Bob Dylan — in this case his late-career resurgence started by the 1997 "Time Out of Mind" album. Williams, 54, saw it as Dylan moving forward and not worrying about topping classics like "Blood on the Tracks" or feeling he had to write in the same way.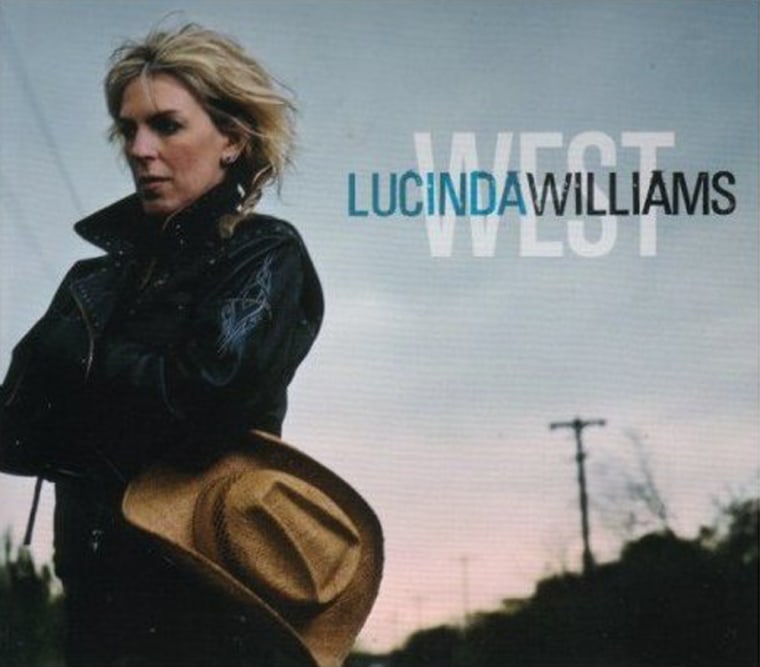 "I felt like I was going through a similar kind of thing at the time," she said. "I just gave myself permission to kind of simplify my writing a little bit and not feel like every song had to be 'Drunken Angel' or 'Car Wheels on a Gravel Road' or 'Lake Charles.' It took a long time to write those songs. I had to practice letting go."
For an artist with a reputation for skating the line between perfectionism and paralysis — one sensitive enough to precisely quote from years-old negative reviews — that did take some work.
Her 2001 composition "Lonely Girls," a succinct song built around repetition of the title phrase, was another key moment for Williams.
'Can I put it on a record?'"I thought, 'Can I do this? Can I get away with this and put it on a record? What are people going to think?'" she said. "It did draw some mixed reviews. It took a while. That's what's happening with my stuff. At first people are not quite sure."
That may be the case with "West," a smoldering disc that moves at a slow pace, with only two full-out blues rockers. Willner's background is more avant garde than alt country, with Lou Reed, Bill Frisell and tribute albums to Charles Mingus and Thelonius Monk on his production resume.
Willner surrounds her songs with new flavors. Strings and an organ often swirl beneath Williams' voice and guitar, all anchored by Jim Keltner's apocalyptic drumming.
The rocker "Come On," a blistering put-down of an ex-lover's sexual inadequacies, has already been alternately described by critics as hilarious or juvenile.
The songs' inventiveness and sturdy character on the new album unfold during repeated listenings. Several steer clear of traditional structures. "Mama You Sweet" opens with the repetition, four times, of the line "I love you mama you sweet," moves to lyrics detailing the psychic toll of pain, then ends with the same phrase, again, repeated four times.
"Wrap my Head Around That," essentially a nine-minute rap, is another new song some fans might find jarring.
"I've always had an eclectic approach to things, but it took a while to getting around to making it happen," she said. "I'm just more serious now. I'm more confident as a writer. I'm not afraid to leap over into different styles."
The album's themes are dominated by the death in 2004 of Williams' mother, and the dissolution of yet another ill-advised relationship. On her best new song, "Are You Alright," it's easy to imagine Williams putting that question either to her mom or an ex-lover. It was actually neither: she was addressing a brother who has become estranged from the family since their mother's death.
Williams' father, poet Miller Williams, gets the bulk of attention when her family is brought up. While she inherited his literary sense, her piano-playing mother instilled a love for music.
"Genetically, I guess I got my musical talent from her," she said.
The album's title and optimistic last song is a reflection of Williams' mood since moving to the Los Angeles area from Nashville. Although most of the songs on "West" tread deep and disturbing topics, she's actually quite happy now. She's engaged to a man, Tom Overby, who works in the business side of the music industry, meeting him after all the songs on this album had been written. She had recorded them with her band but was interested in finding a new producer. Overby encouraged her to work with Willner.
Most of the producers she had worked with previously were musicians first, people like Steve Earle and Charlie Sexton. She felt comfortable with that shared language, even turning down an overture a few years ago from Rick Rubin, who won a Grammy Sunday for producer of the year and is known for his sympathetic handling of Johnny Cash.
Willner stripped off everything from Williams' original recordings except her voice and guitar, and they built from there.
"I'm not sure if it was the right move on my part, but I'd always shied aways from working with a quote-unquote producer for fear that I might be over-produced or whatever," she said. "Now that I've gone in and worked with Hal Willner, the difference is remarkable. I was listening to this record and saying, 'Why didn't we do this before?'"
She feels that "it's absolutely the best album, sonically, I've ever made."
Confident and happy with her work, Williams did run into one unexpected hurdle. Her former company released a deluxe version of "Car Wheels on a Gravel Road" late last year packed with extra tracks.
"Rolling Stone gave it five stars and I thought, 'Oh, great, now I'm going to be competing with myself,'" she said. (The same magazine gave "West" four stars). "What are you going to do? You can't please all the people all the time."