Lorne Michaels, creator and executive producer of "Saturday Night Live," is heading up a star-studded extravaganza Sunday night to celebrate the show's 40th anniversary.
With just days to go, Michaels found the time to sit down with TODAY's Matt Lauer to talk about the job's highs, the challenges, and what it's like to hear "Live! It's Saturday Night!" nearly 800 times — and still have it put a smile on your face.
1. He's a guy who takes his funny seriously.
"I'm a serious guy," he admitted. "[Steve Martin] called me yesterday and he was going over the jokes in the monologue. ... [Y]ou can get lost in detail and then you go, 'Oh, right, that's the reason we're all here ... we're gonna make people laugh and that generally starts with you laughing [at] yourself.' And that's ... joy."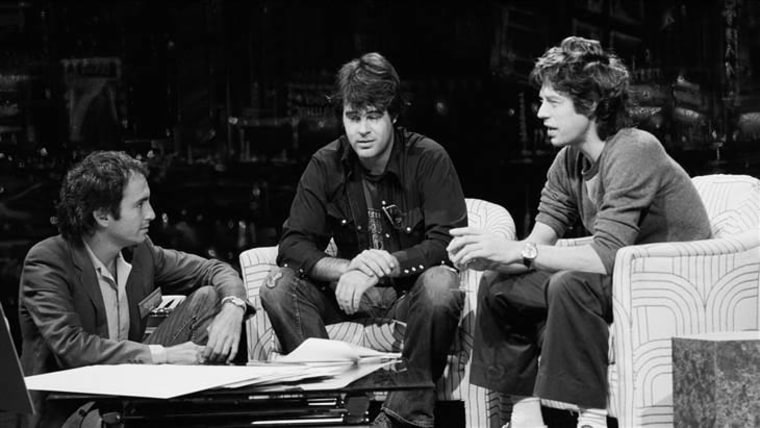 2. The "SNL" environment is terrific for new talent to flourish, but it's harder in the real world.
"The weirdest part about the show is you're just here and you don't much leave the building except to go home," he said. "So when people go away or people go to Hollywood ... [I]t's a different power structure out there."
3. He gets why people claim that "SNL" was so much better back in their day.
"Generally when people talk about the best cast I think, 'Well, that's when they were in high school,'" said Michaels. "Because in high school you have the least amount of power you're ever gonna have. ... Staying up with friends later on a Saturday is great, and people attach to a cast."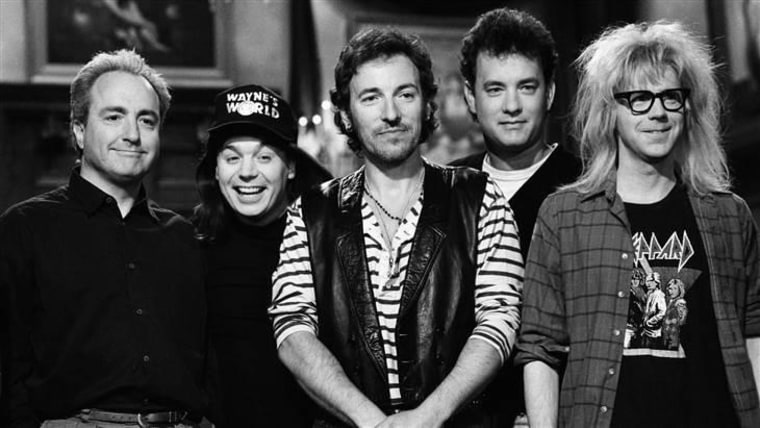 4. Don't worry about his legacy: He's not.
"The moment you begin to first of all talk about yourself in the third person or ... worry about where your museum is going to go ... it means you're out of the game, and I love the game too much," he said. "And why would you want to leave the game if you — if you're good at it?"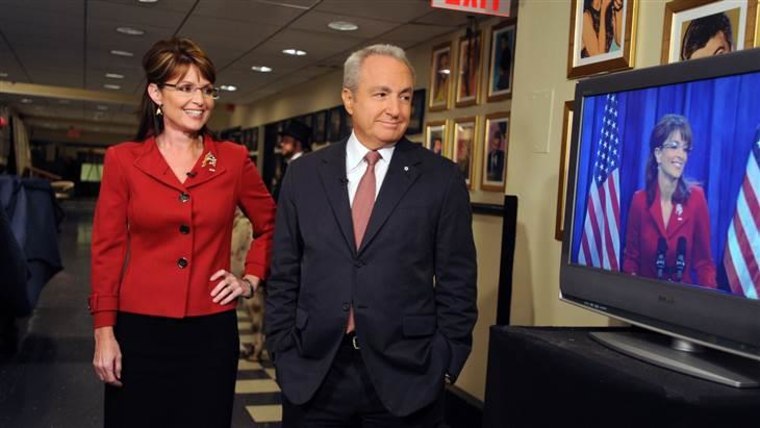 5. He should definitely be around for the 45th anniversary.
"I would expect so," he said, but added: "I wanna make ... it through to the 40th right now."
The "SNL 40th Anniversary Special Red Carpet" airs on Sunday, Feb. 15 at 7 p.m. ET on NBC (hosted by the TODAY anchors); and the main anniversary event kicks off at 8 p.m. ET. Wondering who's expected to make an appearance in one form or the other? Worry no longer; here's your list:
50 Cent
Adam Sandler
Aidy Bryant
Alec Baldwin
Amy Poehler
Andy Samberg
Arcade Fire
Backstreet Boys
Beck Bennett
Betty White
Bill Hader
Bill Murray
Billy Crystal
Bobby Moynihan
Bradley Cooper
Candice Bergen
Catherine Zeta-Jones
Cecily Strong
Charlie Day
Cheri Oteri
Chevy Chase
Chris Kattan
Chris Parnell
Chris Rock
Christopher Walken
Colin Jost
Colin Quinn
Dakota Johnson
Dan Aykroyd
Dana Carvey
Darrell Hammond
David Spade
Deborah Harry
Derek Jeter
Eddie Murphy
Edward Norton
Ellen Cleghorne
Elliott Gould
Elvis Costello
Emma Stone
Fiona Apple
Fred Armisen
Garrett Morris
George Lucas
Gilbert Gottfried
Glenn Close
Governor Sarah Palin
Horatio Sanz
J.K. Simmons
Jack Nicholson
Jack White
James Franco
Jane Curtin
Jason Sudeikis
Jay Pharaoh
Jerry Seinfeld
Jim Carrey
Jimmy Fallon
Joe Piscopo
John Goodman
Johnny Knoxville
Jon Bon Jovi
Jon Lovitz
Julia Sweeney
Justin Timberlake
Kanye West
Kate McKinnon
Keith Richards
Kenan Thompson
Kerry Washington
Kevin Nealon
Kristen Wiig
Kyle Mooney
Laraine Newman
Larry David
Leslie Jones
Louis C.K.
Ludacris
Martin Short
Maya Rudolph
Mayor Rudy Giuliani
Melissa McCarthy
Michael Che
Michael Douglas
Mike Myers
Miley Cyrus
Molly Shannon
Norm Macdonald
Paul McCartney
Paul Rudd
Paul Simon
Pete Davidson
Peyton Manning
Rachel Dratch
Rob Schneider
Robert De Niro
Sarah Silverman
Sasheer Zamata
Sean Hayes
Senator Al Franken
Seth Meyers
Sigourney Weaver
Steve Martin
Steven Spielberg
Taran Killam
Taylor Swift
Tim Meadows
Tina Fey
Tom Hanks
Vanessa Bayer
Victoria Jackson
Will Ferrell
Will Forte
Zach Galifianakis
Follow Randee Dawn on Google+ and Twitter.
This article was originally published Feb. 13, 2015 at 9:15 a.m. ET.