It was a night when country music devotees declared their favorites with the American Country Awards, which are given based on fan votes, but LeAnn Rimes stole the show with her tribute to legend Patsy Cline.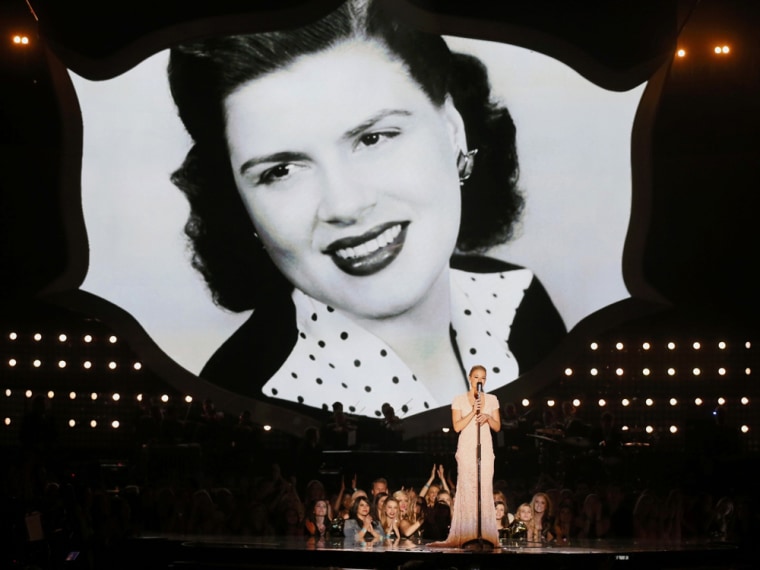 During a subdued and emotional performance during the ceremony held at the Mandalay Bay Resort & Casino in Las Vegas Tuesday, the "How Do I Live" singer performed a medley of Cline's songs that included "Crazy" and "Leavin' on Your Mind." The latter was released just months before the iconic singer's death in a plane crash at age 30 in 1963.
Prior to the show, Rimes had expressed her excitement about the performance.
Rimes was in tears when she finished, but it was a performance that reminded viewers why they fell in love with her when she first rose to fame as a teenager in 1996.
Trace Adkins, who co-hosted the show with NASCAR star Danica Patrick, was equally impressed with the performance.

"I just want to say it takes one great singer to take a Patsy Cline song and LeAnn Rimes just reminded us she is one great singer," he praised. "I take my hat off to her."
Other performers of the night included Darius Rucker with Sheryl Crow, Kellie Pickler, Justin Moore, Florida Georgia Line and more.
Luke Bryan was one of the big winners of the night, snagging both male artist of the year and artist of the year. Of the latter award, the "Country Girl (Shake It For Me)" singer declared it "amazing." "We are having so much damn fun bringing our show to your towns," he told fans in his acceptance speech. "We love the opportunity to play for the most honest, hard-working people in the world, good country music fans, good Americans."
Blake Shelton was up for both awards as well, but didn't go home empty handed. "The Voice" coach, who was unable to attend, won the blue guitar trophy for album of the year for "Based on a True Story." In a video message from Los Angeles, the superstar said that he was "beyond honored and blessed" for the win.
"This particular album — 'Based on a True Story' — seemed like the impossible album to create," he said. "I've never worked harder on a project. ... My heart and soul are still invested in country music."
The show, which aired on Fox, featured some of the biggest names in the genre.
Grammy winner Dwight Yoakam was on hand to present the video visionary award to Brad Paisley for his elaborate creations.
"Tonight, we honor Brad for changing the way country looks, creating some of the funniest, smartest and most audience-accessible videos in country music history," Yoakam said before the "Waitin' on a Woman" crooner took to the stage to perform "The Mona Lisa."
After accepting the award, Paisley joked that the blue guitar trophy was "horribly out of tune" before thanking his record label "for spending so much money" on his videos.
Olivia Newton John presented the ceremony's first ever worldwide artist award, which went to Taylor Swift. Of the young artist, the actress/singer said that Swift had "taken country music places it has never gone before."
Appropriately enough, Swift was not in Vegas to accept her award, but taped a thank-you speech from Sydney, Australia, where she was scheduled for a concert.
"I am so happy that you've decided to honor touring worldwide," Swift said. "It's been such an amazing part of my life writing songs and getting to play them all over the world to audiences who are singing every word back to you whether or not it's an English-speaking country. It's really cool for you to honor that."
Though the big names were a draw, the show did have some setbacks – most notably with the hosts. Adkins and Patrick lacked chemistry, and their bits often fell flat. At one point, the 6-foot-6 country star even slipped into a Vegas showgirl outfit, complete with sequins and feathers, and Patrick forcefully winked at the audience to prompt them for laughs.
There was also an embarrassing goof toward the end of the show that viewers caught. As Bryan was walking to the stage to accept his trophy for artist of the year – the final award of the night – the show played the song "Round Here" by fellow nominees Florida Georgia Line instead.