Avril Lavigne has explained why the lyrics to her songs were also so angry: she was eating too many carbs.
The "Complicated" singer is out promoting her new album, "Under My Skin," and has given this reason for her former angst. "I was eating bad stuff," Lavigne said. "Lots of sugar and carbs, junk food all the time. It makes you very irritated. I spent some time with a nutritionist and learned I had low blood sugar. Now I eat accordingly."
It would seem that the lack of carbs is now going to her head. "I have always known I was going to be a star," Lavigne continued, according to the London Mirror. "I knew this was my destiny so things have fallen into place."
Lavigne dismissed rumors that she's dating Justin Timberlake and is commenting on those evenings she's been spending with shock rocker Marilyn Manson — though she denies they're romantically involved. "When we're in the same city we get together and he's so cool," Lavigne said. "One time, we hung out in his room and watched movies. I went to his show a couple of times and we hung out on the tour bus after. When we're together it's really cool because we just sit there and totally talk. It's so healthy when I can sit down and talk to another artist who's doing what I'm doing."
Watch itSwatch has a new watch that Janet Jackson might want to wear.
The trendy timepiece company — which recently caused a furor by plastering a billboard of bunnies in compromising positions in Times Square — is releasing a limited-edition series of watches with full frontal nudity.
Multimillionaire philanthropist Henry Buhl won the right to design a Swatch watch at auction, and chose the erotic photograph "California Finger Nails Hollywood" by famed fashion photographer Helmut Newton as the graphic. The design will be unveiled next week and one watch will be auctioned off.
The daring folks at Swatch are eager to push the envelope. Chortles one insider: "This [watch] is even racier than our Bunnysutra one."
Notes from all over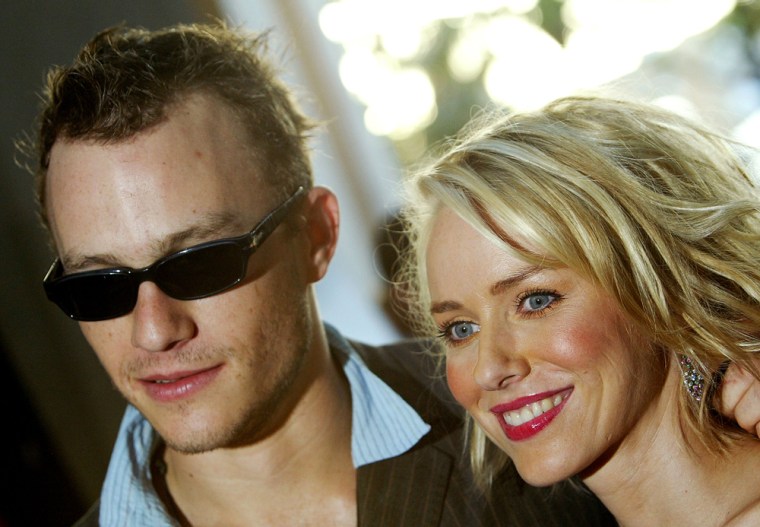 Naomi Watts and Heath Ledger have confirmed that they're no longer an item, which comes as no surprise to gossip fans who've read that Ledger was recently been spotted in a lip lock with Winona Ryder.  . . . Top Swedish TV personality Richard Sjöberg refused to interview Ozzy Osbourne because he didn't care to talk to the Prince of Darkness. "To me, Ozzy is so strongly associated with a questionable lifestyle, Satanism and evil messages that I felt I couldn't do the job justice considering the format of these interviews. It would have just strengthened his position," Sjöberg told the newspaper Aftonbladet.  . . .Isaac Hayes didn't have high hopes for "South Park." "[Creators Trey Parker and Matt Stone] told me, 'Isaac Hayes, we're fans of yours, you're gonna be this chef and you're gonna mentor these little kids," the soul legend recalled at Smithsonian Magazine's "Most Interesting Person We Know" series. Hayes read the script, he recalled, got back to Parker and Stone and said, "Is this for real? Ya'll got insurance for this? Ya'll are crazy white boys."
Mondays through Thursdays on MSNBC.com