Kylie Jenner confirmed in the Season Three finale of "The Kardashians" that she had a breast augmentation before her pregnancy with daughter Stormi.
"You know, I got my breasts done before Stormi," she told longtime friend Anastasia "Stassie" Karanikolaou in the last episode of season 3. "Within six months of having Stormi, not thinking that I would like, have a child when I was 20. Like, they were still healing."
Jenner, 25, and rapper Travis Scott, 32, welcomed Stormi, 5, in February 2018. The former couple also share son Aire, 1, who was born in January 2022.
Jenner reminisced on her pre-surgery body and expressed regret at having gone under the knife.
"I had beautiful breasts, like natural tits. Just gorgeous. Perfect size, perfect everything," she said. "I just wish obviously I never got them done to begin with. I would recommend anyone who is thinking about it to wait until after children."
She also shared her concern for the message that having plastic surgery sends to her young daughter.
"I have a daughter, too, and I would be heartbroken if she wanted to get her body done at 19," Jenner said. "She's the most beautiful thing ever. I want to be the best mom and best example for her. I wish I could like, be her and do it all differently, because I wouldn't touch anything."
Jenner has fielded plastic surgery rumors for years. After previously denying any tweaks, Jenner admitted on an episode of "Keeping Up With The Kardashians" in 2015 that she had gotten lip fillers.
"I have temporary lip fillers, it's just an insecurity of mine and it's what I wanted to do," she said. "I'm just not ready to talk to reporters about my lips yet because everyone always picks us apart."
Jenner's sister and fellow "The Kardashians" star Khloé Kardashian also weighed in at the time.
"Kylie decided to plump her lips and I don't think there's anything wrong with that," she said in the episode. "I think if you've done something though, it is right to cop up to it."
Jenner has discouraged her young followers from imitating her in light of the viral "Kylie Lip Challenge" that involved sucking in on a shot glass to achieve fuller lips.
"I'm not here to try and encourage people/young girls to look like me or to think this is the way they should look," she tweeted in April 2015. "I want to encourage people/young girls like me to be YOURSELF & not be afraid to experiment w your look."
Jenner's breasts have also been a frequent subject of plastic surgery speculation in the past.
In 2015, she denied having undergone a breast augmentation in a promotional video for her now-defunct website Lyfe.
"I don't share this with a lot of people, but everyone thinks I've gotten breast augmentation recently, but I haven't," Jenner said. "I just use the Bombshell by Victoria's Secret. It's life-changing. I've gotten all my sisters on it and all my friends."
She then changed into the Bombshell bra.
"Clearly, it's like 10 times bigger — no contouring, no nothing," she said. "This is all padding. I think it makes your breasts look great and girly. This is it. No breast implants. No surgery. Nothing. It's amazing. So if you guys want this look, here's my secret."
Jenner again denied having a breast augmentation to her followers on Twitter in August 2016.
She responded to a commenter that she had "never" had the procedure, instead crediting her increased breast size to being on her period.
In October of that year, Jenner told followers on her app that her physical changes were due to weight gain. She said that she had thought about getting breast implants, but ultimately decided against it.
"I'm like, why ruin it?" she said. "I have really good boobs naturally and they're a cute little size. I'm not against it, but right now, it's a no from me."
Jenner also denied having buttock implants.
"No ass implants," she said. "I used to be 120. I was like 16, I was really skinny ... Now I'm pushing like 136 but it's alright, I like the chunkiness."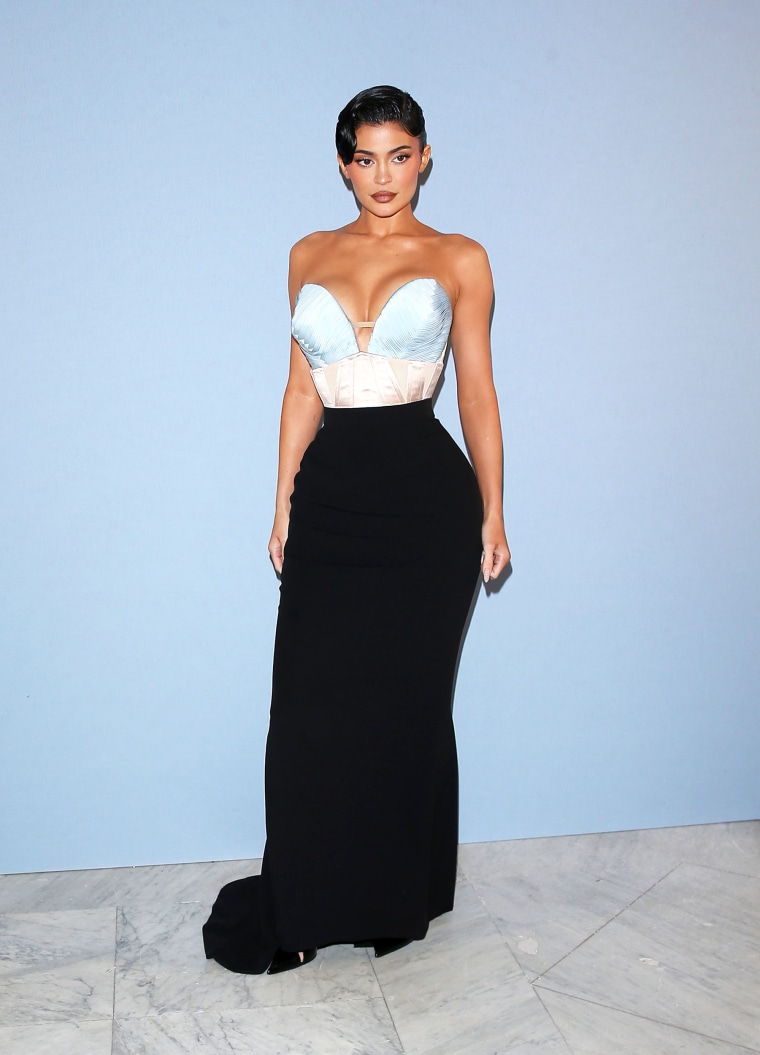 She instead pointed to photo "angles" for giving her the appearance of a fuller figure.
"It's good to know your angles. Always know your angles. I don't think I really have the fattest ass, but I know my angles."
Lately, Jenner cites fillers as the reason for her facial transformation over the years.
"People think I fully went under the knife and completely reconstructed my face, which is completely false," she said in a 2019 interview with Paper Magazine. "I'm terrified! I would never. They don't understand what good hair and makeup and, like, fillers, can really do."
She opened up to Vogue Australia in 2018 about how becoming a mother changed her approach to beauty.
"I feel like having a daughter, and thinking about beauty in the future, has definitely changed me. I feel like it has made me love myself more and accept everything about me," she said.
Jenner shared that she had previously been insecure about her ears, but learned to love them when she saw that her daughter had the same features.
"Even my ears, I always felt like they stuck out too far, and (Stormi) has the same ears as me and so now I love my ears. It's just having a different outlook on life so I can pass that on to her," she said.
"I want to be an example for her," Jenner continued. "What kind of example would I be if she said she didn't like her ears, and then I didn't like them either? I just want to teach her that. I'm trying to love myself more."