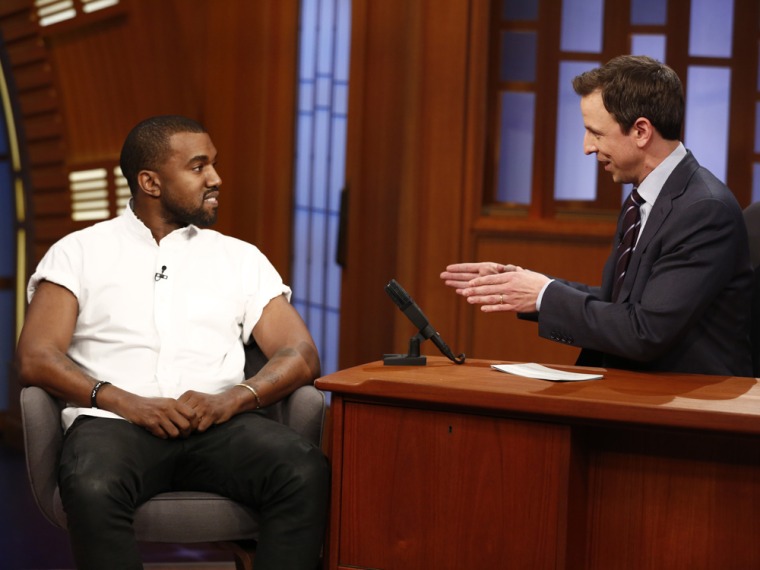 Kanye West didn't just drop the mic on "Late Night With Seth Meyers." He tossed it over his shoulder — and the microphone stand, too. 

After an unusually mellow interview with Meyers (obviously a fan), Yeezy unleashed a tsunami onstage with an electrifying five-minute medley of his greatest hits in chronological order by album: "Jesus Walks," "Touch the Sky," "Stronger," "Heartless," "All of the Lights," "Mercy" and "Black Skinhead." The last he performed before a throbbing strobe backlight — which formed the perfect silhouette for his dramatic exit. 
The controversial hip-hop superstar did wonders for his image on Meyers' second show (dubbed "Late Night: The Deuce!" by the host) with a charming, funny and typically enigmatic interview before he left it all — including the mic — onstage. 
When Meyers asked the clothing designer how he compared fashion to music, Kanye philosophized, "Everything in the world is exactly the same" — drawing laughs from the audience and a big grin from Meyers. 
"All right, great," joked the host, "I don't think we're done, but I'm gonna sign off."  
But Kanye wasn't going anywhere. He had a lot to say, and Meyers gave him two segments to pontificate about everything from fatherhood (his daughter with fiancée Kim Kardashian, North West, is 7 months old) to creative expression. He compared himself to Michelangelo (because of course), describing his music as "sonic paintings" in contrast to the "sculpture" of his fashion endeavors. 
When Meyers asked the new dad and notorious F-bomb dropper whether we could expect more "kid-friendly songs" in the future — "Are you the new Wiggles?" — Kanye said that cursing was "definitely necessary" in many of his lyrics. 
"It would be like if you (asked) Quentin Tarantino, 'You going to make G-rated movies?' It's Quentin Tarantino!"

That said, Meyers applauded him for modifying his lyrics for his five "SNL" performances.
"Dropping cursing is the least of my worries creatively," Kanye responded with a laugh.
But the hip-hop star contributed more than profanity-free songs on "SNL": Meyers pointed out that Kanye himself came up with the idea for a sketch about interrupting winners at award shows (in the aftermath of his infamous "Imma let you finish" stage crash during Tyler Swift's VMA acceptance speech). 
After re-airing the "SNL" parody — in which Kanye crashed a state fair pumpkin contest — Meyers expressed his surprise that most people don't appreciate the "Yeezus" singer's sense of humor. 
"You laugh to keep from crying," he responded philosophically. 
"Life is life and there are ups and downs," he added, with a hilarious shout-out to his "SNL" skit: 
"They will give an 8-year-old the best pumpkin at any time, and you just have to be prepared for these types of things."
Happily, no one interrupted Kanye's musical mashup. Maybe he didn't take the prize for best pumpkin, but he definitely scored a win on his "Late Night With Seth Meyers" debut.