Justin Timberlake has a lot to celebrate this week. On Wednesday, the singer turned 37; on Friday, he released his first new album in five years; and still to come over the weekend, he'll headline the halftime show at the Super Bowl.
And Thursday night, in the midst of it all, he dropped a new music video that showcased something else he has to celebrate — his love for wife Jessica Biel.
In his "Man of the Woods" video, Timberlake belts out romantic lyrics while looking straight into the camera, which is filming from Biel's perspective — at least until he grabs her hand and pulls her into the picture.
That's when the couple cozy up in a log-cabin bar and take a twirl across the dance floor.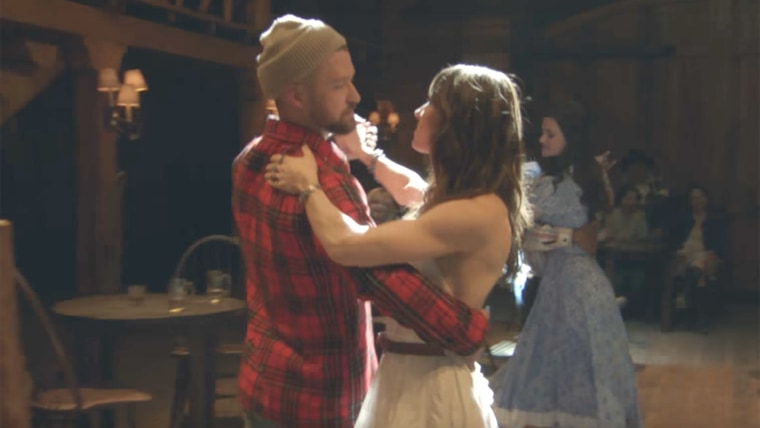 "How do I ever explain what I've got with you? / I try to find the words but they hide and that's the truth," he sings. "And nobody ever will understand what we do / There's only one me and you."
Well, there is one other person who's just as important to both of them — their 2-year-old son. And in a chat with NBC sports anchor, Dan Patrick, Timberlake revealed that little Silas likes to move to the music, too.
"I was at rehearsals (for the halftime show) a couple of days ago," he said. "My wife brought my son, and he's almost 3. Seeing him run all over the field and, you know, when certain songs would come on, he's dancing on the field. And that's when you feel like this has already been a success."
You can check out more from that interview when it airs Sunday during the Super Bowl pre-game show.
But if you just want to learn more about JT as father, you don't have to wait at all. Biel had plenty to say about that on his birthday.
"You're a super hot dad," she wrote in a post on Instagram. "A ninja dad. A kiddie teeth brushing, Jedi sleep mind tricking, intimidating dad voice disciplining SUPER HOT DAD. I love you, you hot dad.. I'm here, right by your side, OG fan girl #1."
That's enough to make anyone want to get up and dance!