Chris Pratt takes a break from being a guardian of the galaxy to go up against killer dinosaurs in the newly released trailer for "Jurassic World." The summer 2015 release is a much-anticipated return to the world Steven Spielberg first introduced us to in 1993.
The giant CGI beasts we grew to love and fear in "Jurassic Park" look as familiar as ever as the gates open on "Jurassic World." Here are the best bits out of the trailer: 
This quote from a mom sending her young son off to visit a dinosaur island: "I'm really proud of you for going on this trip. You're going to have so much fun. And remember, something chases you ... run."

Two kids in a gyrosphere get to cruise through a field with gigantic brontosauruses trudging about.
For your Sea-World-type amusement, a plesiosaur leaps out of the water in front of spectators to snatch a giant shark off a bait line.
"You just went and made a new dinosaur? Probably not a good idea," says Pratt's leather-vested character Owen to Bryce Dallas Howard, as scientist Claire.
"She's a highly intelligent animal. She will kill anything that moves," Owen says as we see someone being dragged through the jungle, in a rainstorm of course.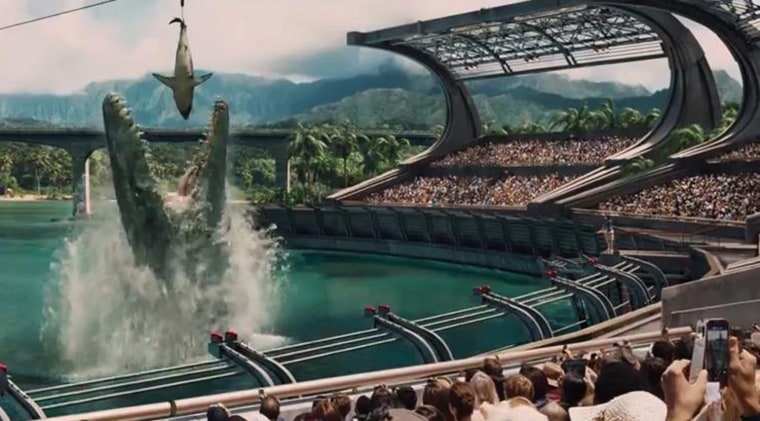 Throw in a couple more scenes of park visitors running for their lives and a crouching kid hiding from a beast in the shadows and the trailer does the trick for drumming up "Jurassic" anticipation for a whole new generation.
"Jurassic World," with Spielberg as executive producer and Colin Trevorrow directing, will hit theaters June 12.