Each year, medical errors claim the lives of about 98,000 patients. Patient-safety advocate Sorrel King tells the story of how she turned the consuming grief of her daughter Josie's death into a crusade aimed at eliminating deadly mistakes in "Josie's Story: A Mother's Inspiring Crusade to Make Medical Care Safe." The following is an excerpt.
The PictureI took the lens cap off my new Nikon thirty-five millimeter camera that Tony had given me for my birthday and stood on the porch of the beach house, looking across the lawn to the ocean. The sun was beginning to lower itself toward the horizon, casting a warm glow onto Middle Pier, the dock we swam at every day. It was the last day of summer vacation. The bikes were on the back of the car, the refrigerator had been emptied, and the bags were ready to be loaded into the car the next morning before we caught a 7:00 a.m. ferry off the island.
"Look at the light," I said to Tony as I squinted through the camera lens. "It's perfect. Do you think we can get a Christmas card?"
He walked over and stood next to me. "You know how they hate it when you take their picture," he said. He looked at the four children swinging in the hammock. "We're gonna have to trick 'em." We handed them each a small plastic bag and told them we'd go on one last sea glass hunt.
Six-year-old Jack and five-year-old Relly grabbed the bags and raced down the dirt road to the pier. As I reached down to pick up Eva, who was three, her younger sister Josie pushed her away, grabbed my leg, and said, "mine, mine, mine." Josie had just turned one and, being the youngest of four, she had figured out early on how to get her way. Tony stooped down and threw Eva onto his shoulders just as she was about to give Josie a shove. He trotted behind Jack and Relly, Eva bouncing up and down on his shoulders. All three held their bags up to the sky, filling them with air. I followed behind with the camera slung around my neck and Josie in my arms.
When we got to the beach we told them that we'd look for sea glass later. "You guys sit on the bench and let me take a few pictures."
They knew they had been tricked and immediately started complaining.
"Don't you want to have a nice picture for Santa Claus?" I asked. They followed me to the end of the dock and sat on the white bench with sour looks on their faces.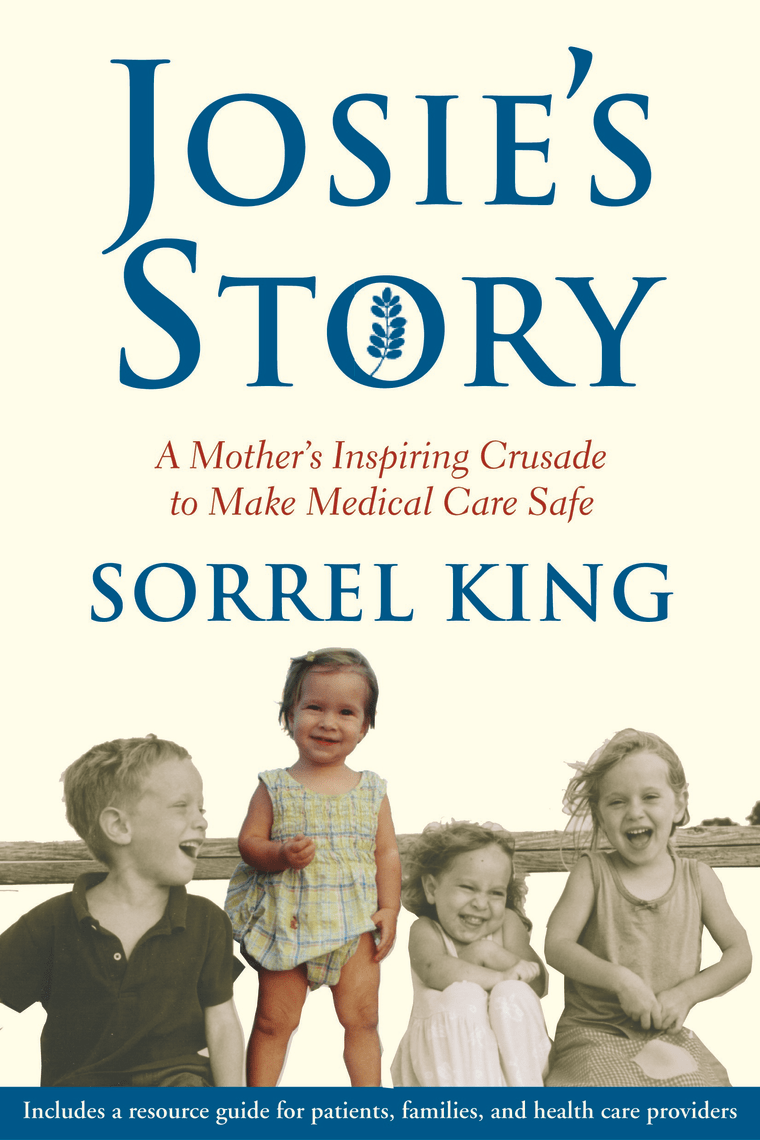 The "say cheese" thing never seemed to work when it came to picture taking; neither did "cheeseburger." Even switching to more enticing words like "I love Christmas" or "Santa Claus" never seemed to tickle them enough to force their lips into smiles for the camera. We needed real comedy to make the four King children stop poking each other, stop whining, and smile.
"Are you ready?" Tony asked as I pulled out the camera.
"Yep," I said, stepping back five paces. Tony danced and made silly faces behind me as I looked through the camera lens waiting to catch a smile.
"Are you getting any good ones?" he asked. I could hear him jumping around.
"No, they're not laughing."
"I know what'll work."
The children and I watched him run down the dock. He grabbed something from the beach and ran back, hiding it behind him.
"Okay, get ready," he said.
I held the camera up to my eye, finger poised, and watched through the lens as the four children began to laugh. I could feel drops of water on my neck as Tony dangled wet seaweed over my head, then lay bits of it on my shoulders, and I yelled at him helplessly to stop. I was getting smiles, but waiting for the wind to stop blowing Relly's hair in her face, waiting for Eva to take her finger out of her mouth.
I lowered the camera and paused to watch Josie grab her brother's shoulder and stand up. She spread her chubby legs, balancing herself perfectly, and looked at me. There it was. Four children smiling and laughing, the soft summer sun setting on their happy faces. I pushed the auto-focus button and snapped, capturing the perfect moment. That was the last picture I took of my four children together.
Six months later, Josie was dead and our lives as we had known them were over. The photograph would be pasted onto the little wooden box that held Josie's ashes and would be buried far beneath the ground. The same photo would be flashed on screens behind me as I spoke to hundreds and thousands of health care providers from all over the world. For the months and years following Josie's death, it hurt to look at the picture, to see Josie's face. It hurt to think about that day on Middle Pier.
It was not a typical family portrait with hair ribbons, pretty dresses, slicked-back hair, and blazers. It was our family portrait. Relly is shrieking in laughter and pushing her tangled hair out of her face as her father, who is also laughing, plops more seaweed onto my head. Jack is turning his head to look at her. Eva is scrunching her knees up under her light-blue sundress and has taken her finger out of her mouth.
And Josie is standing firm in her plastic lion sandals, one arm against her side as if at any minute she might raise it and say, "Okay, pick me up now." In her other hand she is clutching a soggy graham cracker that has oozed all over her pale green sundress. Her brown hair is held back by a yellow clip that Relly put in moments before. She is gazing steadily at the camera, through the lens and into my eyes. She is cocking her head and smiling at me, a half smile.
It's been six years since she died. When I look at the picture now, I no longer feel searing pain. I can marvel at how Jack, Relly, and Eva have grown. Still, Josie's eyes seem to look through me. Holding the picture close and looking into her serene, smiling face, I can't help but wonder if that day on the pier she knew something the rest of us didn't.
Excerpted with permission from "Josie's Story: A Mother's Inspiring Crusade to Make Medical Care Safe" by Sorrel King. Copyright 2009.