Jon Hamm couldn't wait to be married to his wife and "Mad Men" co-star, Anna Osceola.
During a June 27 appearance on iHeartRadio's "Table for Two" podcast, which was recorded before Hamm, 52, and Osceola, 35, walked down the aisle, Hamm said it was "exciting" to think about being a married man.
"It's exciting because it's all potential. It's all possibility and it's all positive," he said.
"I suppose there are two ways to look at anything like that, which is like, 'Oh, what if it's terrible?' But the other way is like, 'This is meant to be something wonderful,'" he said. "And, so you lean into that aspect of it, which I have been, and it's the reason why I really wanted to do it and really leaned into it (because) it's like this is the thing that leads to the next thing of life and that's what I hope. It's the journey and it's exciting."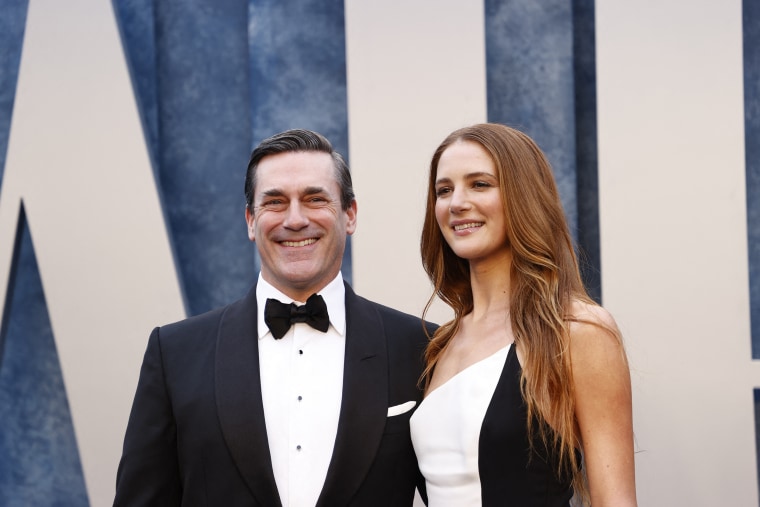 Although Hamm said that planning their wedding could be "mind-numbing," he said he started to come to an understanding of it when he walked his dog one day.
"This sort of calm settled over me," he said.
"I was like, alright, I'm going to look out and I'm going to see this whole group of people, and it's not a very big group of people. It's well, under 100 people, but a group of people that are all there because they're supporting me and Anna," he said. "And that's great! I think the last time that happened to me was high school graduation."
Hamm also shared how marriage has the ability to add value to a relationship.
"This is the exciting part of life and it's a signpost and a signifier of the next chapter and phase," he said. "And ideally, it gives you and your partner a sense of stability and comfort and an identifying capacity that is better, deeper, richer, than 'it's my girlfriend' or 'my boyfriend' or what have you."
As far as what's next for the actor and his now wife, Hamm stayed tight lipped when asked about if the couple plans to have kids.
"TBD… TBD," he said.
TODAY.com has previously reached out to Hamm and Osceola.