John Goodman usually sports a full head of hair, but for his upcoming flick, "The Gambler," he left his locks behind. That was just one of the topics he bonded with TODAY's Matt Lauer over on Monday morning.

"It's liberating, wasn't it?" asked Lauer, who knows a thing or two about a slick 'do.
(Sure, the anchor's letting his facial hair grow for Movember, but he's still keeping things mostly smooth up top.)
"It was!" Goodman admitted, though he added that he's happy to have his hair back now.
"You're never going to have to worry [about real baldness], though," Lauer assured him. "I was looking at you as I walked by you — you've got the full head going."
"I've got other stuff to worry about," Goodman quipped back.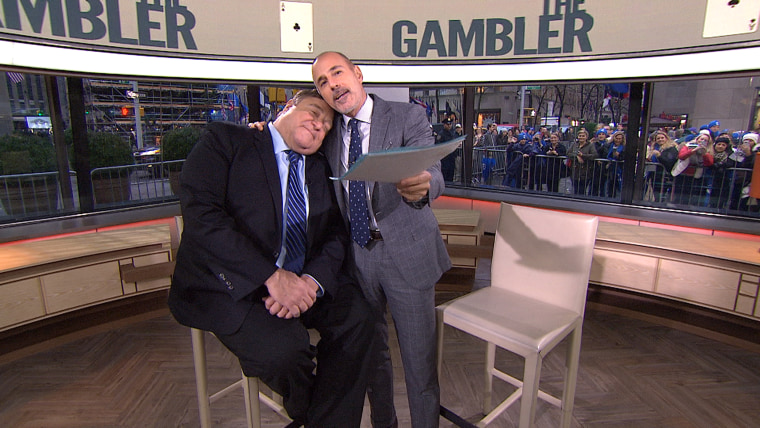 Like what? Well, there's that bad temper of his — which fortunately is only for the cameras. 
The Wall Street Journal once described the affable actor as a "master of a certain type of role: the potentially menacing regular guy; the teddy bear you don't want to annoy because you might remind him he is a bear." 

"Any fat guy in a movie is going to be called a teddy bear," the star shrugged, but Lauer didn't let him off the "menacing" hook that easily. Instead he introduced the actor to a video compilation called "John Goodman loses his [expletive]." 
(Check it out, but be warned: There's no bleeping out the tough talk in this big-screen supercut.)

Lauer said he could watch that "on a loop all day."
We could, too. As for Goodman? "I think I will!" 
See more from the man in "The Gambler," which opens in theaters nationwide Dec. 19.
Follow Ree Hines on Google+.