For the Season 5 finale of Jerry Seinfeld's "Comedians in Cars Getting Coffee" web series, the comic didn't stop at picking up Jimmy Fallon in a classic Chevy; he decided to take him out on the water, too.
At the start of the two-part "The Unsinkable Legend" episode, Seinfeld picked up Fallon in a 1956 Chevrolet Corvette convertible. Seinfeld described the cascade-green car as "colorful, energetic, happy," and compared it to his guest. "I thought this would be the perfect car … for my very special guest this week … the irrepressibly enjoyable host of NBC's 'Tonight Show,' Mr. Jimmy Fallon," Seinfeld said. "When you're around Jimmy, you're having a good time. I don't care who you are."
Seinfeld said he related to one of Fallon's tendencies.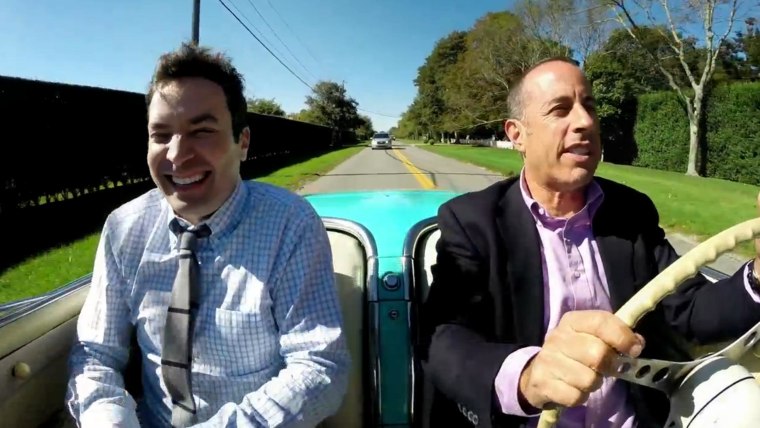 "It's interesting to hang out with other comedians," Fallon said. "Don't you find — because I've found this — that every time you go to a party, whatever party it is, if there's another comedian there, I'm immediately going right in the corner with the comedian, and I hang out, and I talk to the comedian the whole [time]."
And it was only a matter of time before Fallon busted out his Seinfeld impression. Although, in fairness, when Fallon concluded he wouldn't pay $200,000 for the original "Born to Run" sheet music that Bruce Springsteen himself wouldn't pay for, Seinfeld mused, "You're doing me again."
Imitating Seinfeld, Fallon riffed, "He doesn't want it! He's the one who wrote 'Born to Run.' He doesn't want it! What am I going to do with it? Now, I'm stuck with it!"
WATCH: Jimmy Fallon — "The Unsinkable Legend" Part 2
A mere land vehicle couldn't contain all of Seinfeld and Fallon's antics, so, they took to the high seas in a boat — to Fallon's surprise. Right before they took to the water, things got a bit cheeky.

"Now, the next thing I'm going to do is, I'm going to take off my pants," said Seinfeld, who revealed colorful swim trunks in the process.
Replied Fallon, "See, I knew it was going to get weird; I just didn't know how weird."
Ashore, Fallon told Seinfeld about the joy of landing the "Tonight Show" gig; the struggle to keep it a secret until the issuing of a noon press release; and the relief of keeping his staff in New York City, rather than a potential move to Los Angeles, for the transition from "Late Night."

The twosome finally grabbed coffee at a pancake house on Long Island, where they both admitted to impostor syndrome, even as established comedians.
"Do you ever just feel like, 'I don't belong out there?'" Seinfeld asked.

Replied Fallon, who'd just admitted to stage fright until the curtain opens at a performance, "I think once it opens, [I feel like] this is exactly where I should be."
Fallon's impressions returned for hilarious anecdotes about his Seinfeld mimicry on "Saturday Night Live," the late Don Pardo's legendary voice, and Jack Nicholson's Cracker Jack prize ennui.
In the "Coffee" epilogue, Fallon revealed he'd sneaked into the taping of the final episode of "Seinfeld," and gone home with a souvenir.
"I took a toothbrush out of your [set's] bathroom," Fallon said. "The blue toothbrush with white bristles."

Follow TODAY.com writer Chris Serico on Twitter.