/ Source: The Associated Press
Artist Constance DeJong folds, cuts, layers and etches metals and colors them with chemicals. Rods are bent, contrasting straight lines on paper. She bends wire into spiderlike legs mounted on paper, lets the line of the rods compete with lines drawn on the paper — and with spidery shadows. DeJong, who teaches art at the University of New Mexico, applies mathematical formulas to each project, lets the work evolve as the math allows, selects what rises to art, then edits. Applied math has helped create 30 years of work — montage, collage, painting, sculpture.
She picks angles, builds on them with bronze, steel, aluminum or copper, using ratios that occur in nature. Angle sets the axis for each work, which she has made as small as jewelry and has designed as big as a football field.
At a recent retrospective at the Albuquerque Museum, her works were hung in such a way that they were "shadow-assisted" — like a two-step sculpture that adds two shadow steps. Each piece could be seen as two-dimensional graphic art or three-dimensional sculpture.
Together, it was a progression of experiments, far from random.
"Hers is a particularly unified and coherent body of work," says Arden Reed, an English professor at Pomona College in California who wrote "Metal," a book about DeJong. "You might think of her career as one extended and controlled investigation."
After graduating in 1972 from Bowling Green State University in Ohio, DeJong apprenticed with a jeweler in nearby Toledo — a renaissance tradition dating back to Brunelleschi and Donatello, once apprentice goldsmiths. DeJong wanted to apply a jeweler's precision to sculpture.
When she offered some of her early work for a juried exhibition, it was deemed jewelry and rejected as nonart. So she took components of jewelry, mounted and framed them and called it Steel Drawing.
It was 1980, and a corner had been turned. Steel was folded over on itself, layered, bolted, riveted, cut in shapes squared or rounded, nothing wasted.
"Whatever got cut out got put back in," DeJong said in an interview with The Associated Press during a walk through her retrospective at the Albuquerque Museum. The show, one of the last organized by Ellen Landis, the museum's just-retired curator of art, ended last week.
It's one show Landis had wanted to offer for years. Landis said DeJong, an associate professor of art and art history, has had a "huge influence" over countless students.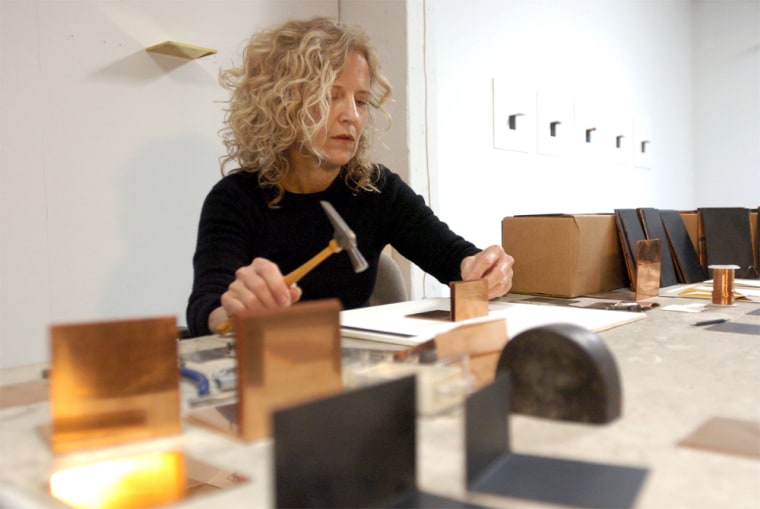 After working years in steel, DeJong found the weight of large-scale steel pieces cumbersome.
She tried aluminum, which was much lighter but did not stain like steel. DeJong used machine dye and burned it off repeatedly to give aluminum some depth. Still, she said, "I missed the earthy organic quality of steel."
In 1987, she tried copper — folding, bending, cutting shapes and riveting, staining it black, then carving through the black for the vibrant color contrast of copper. The Copper Drawings are small, mounted on black in small black frames.
Copper is more reactive than aluminum, more like steel in that sense, she says.
Nature on nature's termsDeJong uses chemicals almost as paint. When using chemicals, she wears an oxygen mask connected to an air purifier.
Using science to manipulate her materials, DeJong consciously seeks to remove elements of whim and self-blinding emotion from her work. She tries to use nature on nature's terms, to let nature speak for itself.
"I'm after something bigger — the way everything is one thing," she says.
Sounds like Zen, and DeJong acknowledges using Zen in much the same way as math: "It has helped me step out of my work. It's not my law; it's the cosmological law. It's the same rules that create everything."
As for the progression, she says, "In all my work before, it was all about discovering form." Now it's about space and light.
Beyond the shadows created by her steel and aluminum, DeJong also uses the orange light that reflects off copper. It projects from "Cross" (1991) and other works.
"Falling Light" (2001) offers two small sheets of copper, two inches apart above and below, with the shape of a flock of birds punctured into the upper sheet, each bird a pinhole. Little dots of light sprinkle the lower sheet — a flock of light that brings DeJong to her monument.
Once built, the 100-yard-long sculpture will be full of light that escapes through pinholes punctured in celestial patterns. Funding is earmarked for an undisclosed site.
DeJong's work has shown in New York, California, Colorado, Texas, Kansas and Iowa as well as New Mexico.