The entertainment world has lost a legend. Pioneering comedian Joan Rivers, the queen of "Can We Talk" gossip, has died, her daughter, Melissa Rivers, said Thursday.
"My mother's greatest joy in life was to make people laugh. Although that is difficult to do right now, I know her final wish would be that we return to laughing soon," Melissa Rivers said in a statement.
While a new generation of fans may have known the 81-year-old best for her spot-on snark on E!'s "Fashion Police" or her endlessly quotable brushes with the paparazzi, those things barely scratch the surface of the late comedian's career.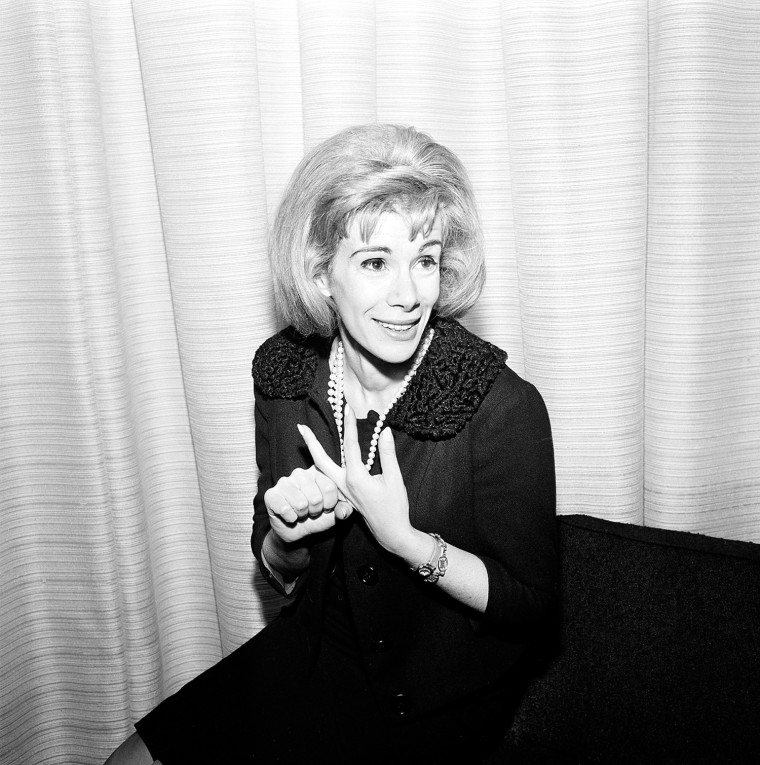 That's important to remember, because Rivers' career wasn't simply a long and successful one — it was also a groundbreaking one. Whether she realized at the time or not, in her early days, while Rivers was busy carving out her spot in Hollywood and beyond, she paved the way for the women who would come after her.
RELATED: 8 ways the comedy legend laughed at herself
Rivers launched her career as both an actress and a stand-up comedian in the 1950s, when female standup acts were exceedingly rare. Rivers counted Woody Allen, Richard Pryor, Rodney Dangerfield and other then-rising male comics as being part of her "group."
"But I never was one of the guys," she told The Hollywood Reporter in 2012. "I was never asked to go hang out; I never thought about it until later. ... Even though I was with them, I wasn't with them."
The men found real fame before her, and eventually, she realized why: "I was the last one in the group to break through, or to be allowed to break through. Looking back, I think it was because I was a woman."
Not that she let that discourage her.
By the mid-1960s, she added TV writing to her repertoire, and then she took on a role today's female entertainers still find it difficult to break into.
After a short stint on her own daytime talk show, called "That Show," the woman who had become a frequent guest on Johnny Carson's "Tonight Show" transitioned to late-night host. Well, guest host — at first.
Rivers remained Carson's go-to replacement act, under contract, until the two had a falling out after she transitioned to her own late-night program in 1986 (which led to her 26-year absence from "The Tonight Show").
While Rivers shattered that late-night glass ceiling, she didn't benefit from the act for long. Seven months after launching "The Late Show Starring Joan Rivers," she was out of a job.
But she was never out of a job for long. In addition to making hundreds of late-night and daytime TV appearances, numerous guest spots on prime-time dramas and sitcoms, continuing an anything-but-bashful stand-up career and creating and starring in reality TV shows, Rivers reinvented herself in the '90s as a celebrity-skewering fashionista.
It's that knack for reinvention — and for refusing to fall in line with the status quo when it came to the kind jobs offered to the women of Tinseltown and the kind of material deemed appropriate — that made Rivers so revolutionary.
She was virtually peerless when she started, with her closest — though far from the same — competition being fellow trailblazers Phyllis Diller and Carol Burnett.
Now, it's impossible to imagine today's brand of bold, smart, funny women, including the likes of Tina Fey, Sarah Silverman, Chelsea Handler and so many more, having the chance to make us laugh had it not been for all the barriers Rivers broke down.
The legendary laugh-getter once offered advice for those women who wanted to follow in her footsteps to fame.
"My advice to women comedians is: First of all, don't worry about the money. Love the process. You don't know when it's gonna happen," she told The Hollywood Reporter. "Also: Ignore your competition." 
That last bit of advice she continued to follow through the years, even when the competition was one of the women she inspired and admired.
When asked about Silverman — who carries on River's tradition of blunt, no-topic-is-too-controversial humor — during a 2010 chat with New York Magazine, Rivers pretended she "really haven't seen her" before admitting, "She's terrific. She's very funny and very pretty. But why should I admit it?"
Pioneering female stand-up comic and TV host was the queen of "Can We Talk?" gossip.
Follow Ree Hines on Google+.