You have seen movies like "The Heat." But you've never seen a movie quite like "The Heat."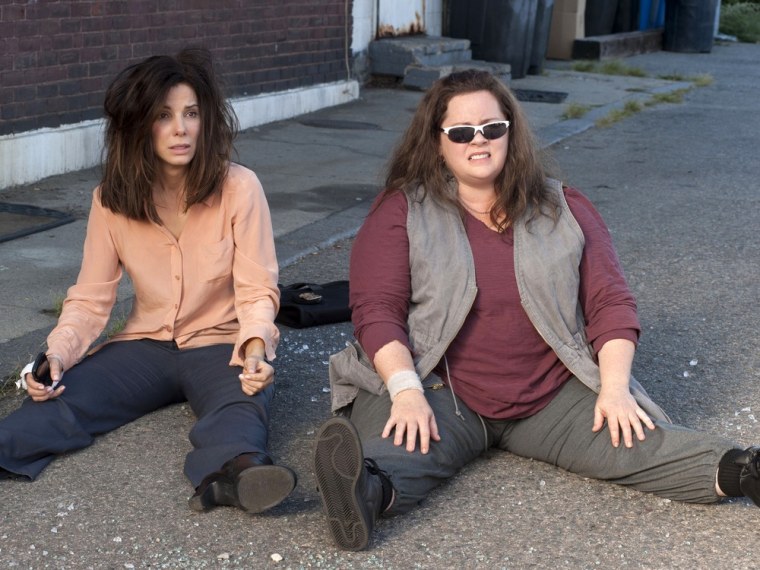 The buddy cop comedy, opening Friday and starring Sandra Bullock and Melissa McCarthy, features a familiar plot, but a new twist. The buddies are both women.
These are not women who brunch and talk about their guy troubles or dream of getting married, or are planning pregnancy. These are tough single women who live for their law enforcement jobs and curse. Well, one does. McCarthy's Det. Mullins is vulgar and wild and relishes making others uncomfortable. Bullock's FBI Agent Ashburn is arrogant, uptight and doesn't have much of a sense of humor. If they remind you of the guys in "Lethal Weapon" or "48 Hours," you're not alone.
"It's just a fun comedy that you can swap two men for the women, and in that way it's remarkable," said Yael Kohen, author of "We Killed: The Rise of Women in American Comedy." "It really is a very risky movie and exciting in a way. It's not high-brow like 'Bridesmaids,' which also had an undercurrent of how women behave and relate. This movie doesn't have any of that."
When "Bridesmaids" became a box-office smash in 2011, earning $300 million worldwide, critics declared it the beginning of a new era for women in leading roles. But two years later, most of the comedic roles for women are still of the romantic variety, with a sweet actress paired up with a leading man. "The Heat," which was directed by "Bridesmaids" Paul Feig, has now inherited the pressure. Even before the film hit theaters, screenwriter Katie Dippold ("Parks and Recreation") was put to work on a sequel.
"At the end of the day, it's a money question," Kohen said. "If 'The Heat,' does well, you're more likely to see more (female buddie comedies) and you're more likely to see the sequel."
Comedies with two leading ladies were more popular in the 1980s than they are now, Kohen points out. Bette Midler starred in "Outrageous Fortune" with Shelley Long in 1987 and in "Big Business" with Lily Tomlin in 1988. That same year, Rebecca De Mornay and Mary Gross starred in what could have gone down in history as the first female buddy comedy but "Feds" was a flop so no one remembers it. "Thelma and Louise" in 1991 broke ground for women in film and had comedic elements though it was essentially a drama.
But, recently, Hollywood has been more apt to pair someone like Kate Hudson with Gael Garcia Bernal than with a female protagonist. Tina Fey and Amy Poehler stood out in 2008 when they starred in "Baby Mama," which won its opening weekend and grossed $60 million worldwide. But there hasn't been a lead comedy female duo since.

"Hollywood thinks that men aren't going to be interested in seeing the two women on the big screen," Kohen said. "They always want a leading man to help the woman open a movie. If 'The Heat,' doesn't do well, I don't think it's necessarily that two women can't open a movie. It could just be that people are not interested in that particular movie. But we know that's not how it's going to be viewed."

"Heat" screenwriter Dippold, 33, told Kohen in an interview in Marie Claire that she wasn't thinking about gender barriers or Hollywood tropes when she wrote the script. Growing up, she loved "Running Scared" and "Lethal Weapon," and says, "I always felt like those guys, the buddy cops, were so cool and badass and funny, and I always wanted to see two women like that."
Actress-producer-philanthropist Sandra Bullock has played an astronaut in trouble, a feisty FBI agent and more.
In that same vein, Bullock told Marie Claire that she was attracted to the script because Dippold did not restrict her character's behavior according to gender expectations. "Katie wrote a story that required two human beings to be uncensored and not mind looking like idiots, something both women and men do on a daily basis," Bullock said.
Bullock must have really liked what she read. Both she and McCarthy signed on to star in the movie just 10 days after Chernin Entertainment bought the script for $600,000. The movie is opening at record speed, only 20 months after Dippold completed the script. But even with such positive buzz, there's still plenty of doubt among studio executives about whether two women can open an action buddy comedy, Kohen said.
"It's hard enough to prove that one woman can open a movie let alone a duo," Kohen said. "It's very ballsy for a movie to do and for a studio to make that decision. Executives are usually concerned with whether the audience will be overly estrogenized with two women in the lead. Well, 'The Heat' certainly is not that."