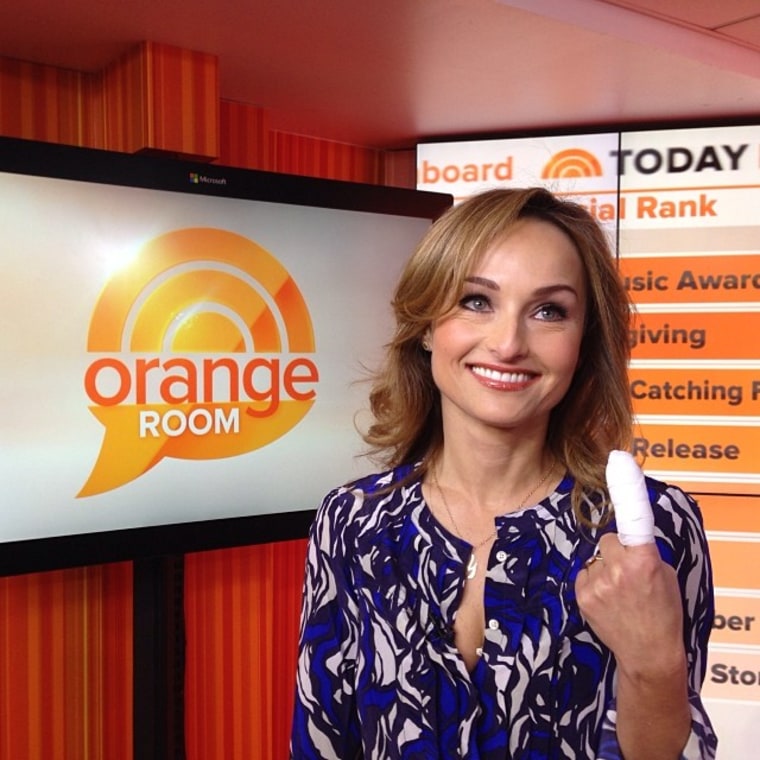 Cooking accidents happen even to the best of chefs and Giada De Laurentiis is no exception.

The celebrity chef and TODAY contributor sliced deeply into her left index finger during a live Thanksgiving special Saturday on the Food Network.
The accident happened during a commercial break, when De Laurentiis sliced into some hot turkey to feed it later to her fellow celeb chefs, Bobby Flay, Alton Brown and Ina Garten.
"I guess I just sliced through my finger at the same time," she said Monday on TODAY. "When I realized it, I went to the sink to put pressure to see how big it was."
The scene got pretty bloody, pretty fast, she said.
"I think everybody kind of freaked out. We don't do live television usually on Food Network . These things usually just get hidden," she said.
But this time, "it couldn't get hidden."
De Laurentiis briefly left the set to get medical attention. The before-and-after photos she posted of her finger on Instagram and Facebook got thousands of comments — with fans sharing their well wishes and tips for recovery.
"I got several stitches on this little tiny finger. The problem is I sliced into my nail bed," she told TODAY's Tamron Hall. "And you know I love my manicures."

De Laurentiis said her injury seems to be healing.
"It's all right. It throbs a little bit. And I have to sleep like this and basically walk around like this," she said, holding up her bandaged finger in the air.
Although Hall called her "the Tom Brady of cooking," De Laurentiis seems to be accident-prone lately. She pricked her finger with a skewer last Wednesday during an on-air cooking segment on TODAY. However, she was mishap-free on Friday when she returned to the show to make the same turkey prochetta dish that landed her in the hospital over the weekend.
"Honestly, I've been doing this a long time. I've never cut myself like this," she told TODAY anchors.
Still, Savannah Guthrie couldn't resist the opportunity to poke some fun at De Laurentiis.
"Does that turkey prochetta recipe call for finger or no?" she said to groans.