An all-expense paid trip to Europe? The latest iPod? A new didgeridoo? Forget about it. Graduation is the time to get serious about the future. And that means a gift that will help the new grad land their first job, set up an office at home or, dare I say, start thinking about their retirement.
Even though many businesses now let their employees "dress down" at work, old school rules when it comes to the interview. The rule goes something like this: No matter what position you are seeking, wear traditional business attire at the first meeting. Traditional garb for women is a tailored blazer, a mid-calf skirt and a soft blouse with modest pumps … and yes even, pearls, says Todd Lyons, the author of "Lands' End Business Attire for Men" and "Lands' End Business Attire for Women"  (See review of  Lands'  End books in "Great books for grads.") For men, she suggests a single-breasted jacket, pleated pants, a crisp white shirt and "a tie with a pattern that's been popular since your grandfather's day."
Your grad's first briefcase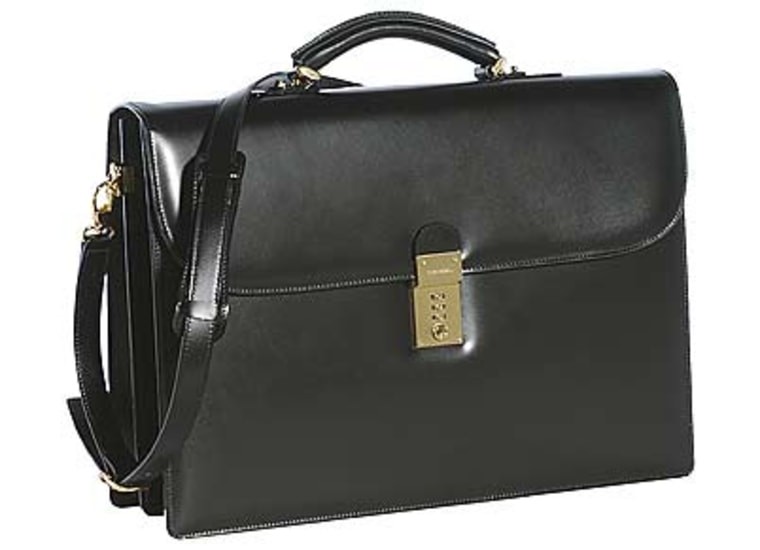 You're on your own for the outfit. But a classic briefcase is a must and makes a great graduation gift. In that department, two shops come to mind: Brisbane, Calif.-based cyber-and-catalog shop tshipley.com and tanthony.com, a high-end leather goods store with brick-and-mortar locations on Park Avenue in Manhattan and in Short Hills, N.J.
At tshipley.com, prices range from $99.95 for a simple leather portfolio with a zipper, designed to hold a laptop, to $695 for a textured leather briefcase from Milan. The company also stocks the classic lawyer's briefcase with the big brass buckle, in black or tan, for $199.
Briefcases at tanthony.com come with a slightly heftier price tag. Carry alls can cost as much as $2,000 at the brick-and-mortar shops, says Michael Root, the company's president.
For the recent grad, Root recommends the basic flap briefcase, which will only set you back $575. The classic carrier, made of Italian calf leather, is elegant and formal at the same time, says Root. A less formal option is the computer flap briefcase, made of textured leather and priced at $595. It looks great both with a suit or jeans, Root says. Most briefcases at tanthony.com also can be engraved at no extra cost, he adds.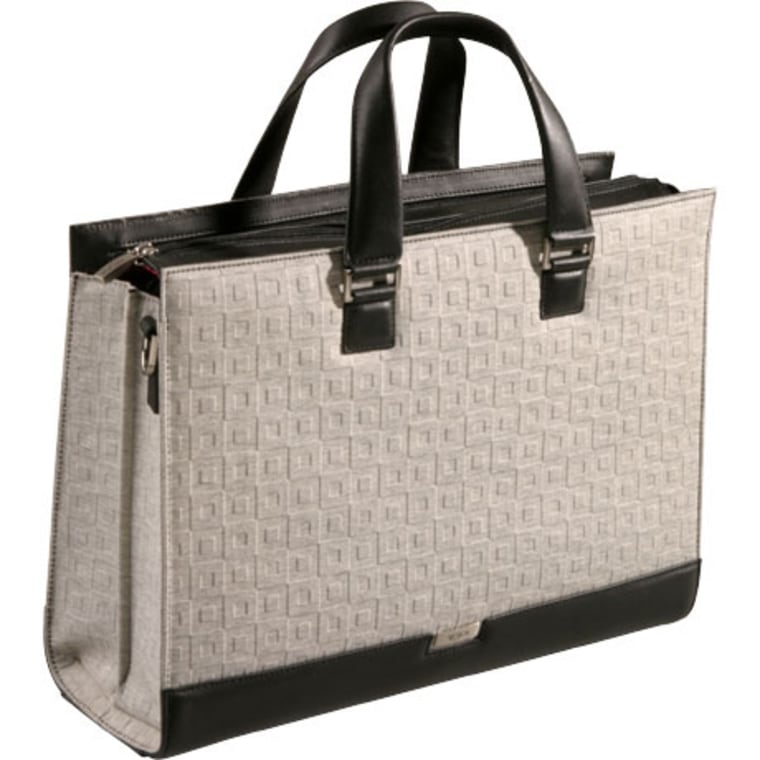 For women, formal does not have to mean masculine. Stylish business bags are a lot harder to find than you think — perhaps, why many women now substitute a tote for a classic attaché. This spring, tumi.com, best known for its luggage, introduced a series of business and casual totes for women. The large gray business satchel, priced at $325, is the perfect interview bag — its offers no hint into your real personality. The classic textured tote with a leather trim also matches almost any outfit.
A bit flashier yet still proper is Tumi's Newport tote. The classic leather tote with a handle comes in tan and pond blue, and in two sizes — small ($225) and large ($375.) I'd stick with tan for an interview. Tumi totes are available online, at Nordstrom and specialty stores nationwide. Check the online store locator for a store near you.
Executive seat
In the cyber age, many 2004 grads will opt to or have to work from home. In that case, one of the best investments for the future is a good ergonomic chair.
The most talked about ergonomic chair is Herman Miller's Aeron chair, designed by Don Chadwick and Bill Stumpf for Herman Miller in 1994. In the heyday of the Internet boom, the simple yet stylish chair was a status symbol: An Aeron chair meant you had arrived.
The Aeron chair continues to be popular mostly because it was designed to fit the human body — and its varied activities through the day — rather than try to have the human body conform to the chair. A series of videos on the company's Web site explains exactly how the sleek chair was developed and ways to adjust it to your body.
The only complaint about Aeron chairs seems to be the price. The basic model runs $699. The top-of-the line chair, fitted with the company's new, improved back support, sells for $829.
If you dish out that much for a chair, you might as well get one with a college logo. Toptierdesigns.com, a cyber-only shop started by two former Herman Miller executives, is the only company with the right to sell Aeron chairs with college insignias. "People look for ways to show allegiance (after graduation) and it's hard to something that's elegant with a college logo," says Bob Dentzman, co-founder of the recently launched Zeeland, Mich.-based shop. The Aeron chair fit the bill.
Currently, the list of schools is limited, by licenses, to about 28 colleges, including the following universities: Arizona State, Columbia, Michigan State, Seton Hall and Texas A & M. Recent additions to the list include Ohio State, Notre Dame, Purdue, Northwestern and the U.S. Air Force Academy.
The basic chair with a logo starts at $699 and works it way up to more than $899. Prices vary with the type of lumbar support and style choices, such as leather arms versus vinyl or padded casters instead of standard casters.
Give your grad the moonLooking toward retirement, what about something for the recent grads' nest egg? Framed stock certificates are not only passé but also hard to acquire now that most investors trade electronically. But deeds to land on the moon sell for as little as $29.99 an acre at lunarlandowner.com.  A framed certificate costs $59.99.
The cyber shop is able to sell land on the moon through a loophole in the 1967 UN Outer Space Treaty, which prohibits governments from owning extraterrestrial property but makes no mention of individuals, according to the company's Web site. So in 1980, entrepreneur Dennis Hope was able to claim ownership to the entire surface of the moon. Ever since then, Hope has been able to sell certificates for lunar plots.
How valuable lunar land will eventually become is obviously questionable. This just may end up to be the equivalent of purchasing a Pet Rock or swapland in Florida (see this related story). And buyers beware: you can't charge NASA if they land on your property. This is because of a clause which gives NASA the legal right to in the treaty that says the moon is "the heritage of all mankind, for the purposes of exploration," which in the long run, is actually a good thing.