"Fifty Shades of Grey" stars Dakota Johnson and Jamie Dornan, who play Anastasia Steele and Christian Grey, visited TODAY on Thursday. And on Friday, TODAY's Natalie Morales returned the favor, dropping by the movie's Vancouver, Canada, set for an exclusive tour — and she learned a new naughty word in the process.
Natalie dropped in for a day of filming at Vancouver's historic Fairmont Hotel, even sneaking a peek at some key elevator scenes. "There's a lot that happens in this elevator," she joked to director Sam Taylor-Johnson.
Both stars told Natalie they're fans of their characters. "She's a good woman," Johnson, herself the daughter of Hollywood stars Don Johnson and Melanie Griffith, said of Anastasia. "I can see a lot of myself in her, and I can see a lot of her in me."
Dornan wasn't sure at first if he had anything in common with Christian Grey, the handsome billionaire with a secret sexual side. "I mean, look, there's always something about any character that you play that you're drawn to because you feel that it relates to something within you," he said.

Trilogy author E.L. James has been a constant presence on set, watching her characters — and fantasies — playing out in front of the camera. "Sons of Anarchy" star Charlie Hunnam was originally cast as Christian Grey, but withdrew from the film, but James doesn't mind having two lesser-known actors in the roles. "From the very get-go, I said it would be great to discover two unknowns," she said.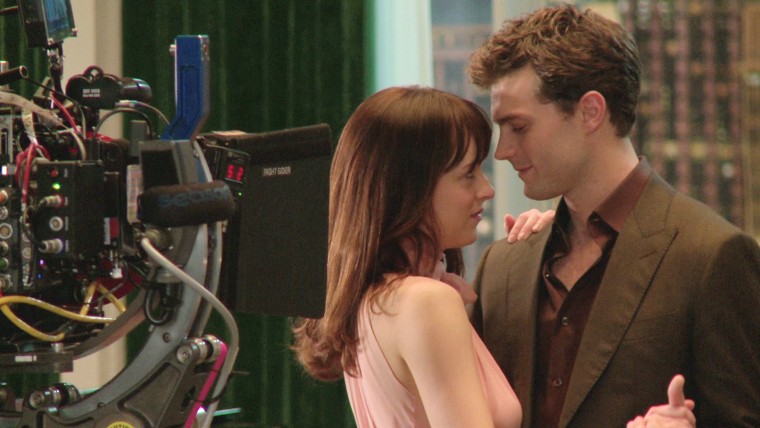 James also hinted to Natalie that fans expecting lively bedroom scenes won't be disappointed. "What I've seen hasn't been particularly watered down, so, um, yeah, I thought it was interesting," she said with a laugh. "So that's all I'll say about that."
Not a date movie: Why 'Fifty Shades' will be a girls' night hit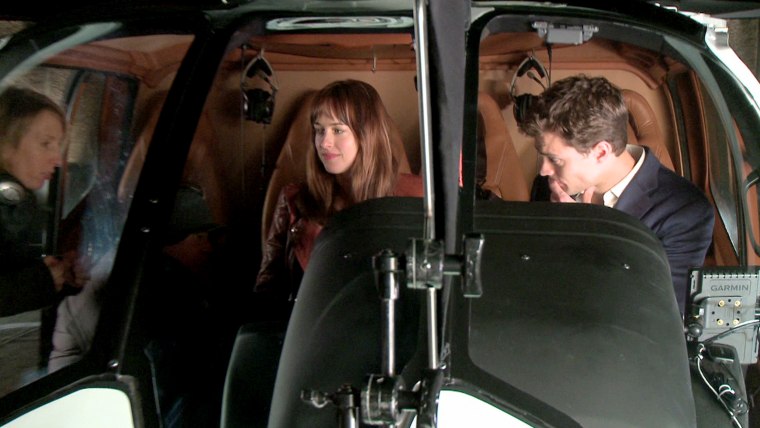 The stars were a little more forthcoming when asked how explicit the film would be. "It's going to be sexual and everything, but it's not going to be something that's going to be hard to watch," Dornan said.
And Johnson acknowledged that with so many fans of the book series bound to buy tickets, the pressure for accuracy is on. "90 million people have really vivid ideas of how these scenes go down," she said.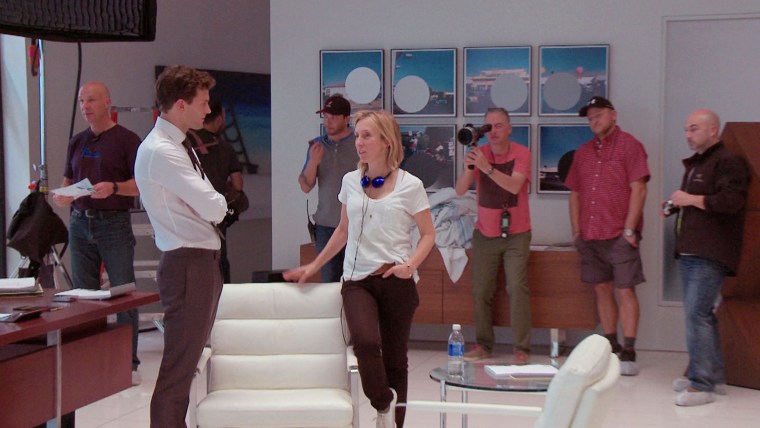 From 'Simpsons' to 'SNL,' pop culture loves 'Fifty Shades'
But in a clip we couldn't share on TV, when Natalie wanted to know how the stars were able to find the right mindset for certain scenes, she got a little more than she bargained for. Check out the video to watch the exchange.
"Fifty Shades of Grey" comes to theaters on Feb. 13, 2015.