/ Source: The Associated Press
The red carpet blossomed with spring colors as stars donned ladylike gowns for Sunday's Golden Globe Awards, with one glittery exception: Nicole Kidman in a backless, cut-down-to-there gold sequin dress.
The "Cold Mountain" star stood out among the pretty pastel dresses and safe black gowns at the 61st annual awards show in Beverly Hills, Calif.
Kidman's gold sequin bodice, with a neckline that plunged to her waist, was held together with nude fabric and paired with a flowing, pale chiffon skirt. Her loose curls were held back with a gold headband.
"I need a coat, though," Kidman told Joan Rivers on E! Entertainment Television. "I sort of like that it's got a sort of slight Salome feel to it."
Kidman's gown, designed by Tom Ford in his last collection for Yves Saint Laurent, will likely be the most-talked-about dress of the evening, said Kevin Lennox, associate fashion editor for Glamour magazine.
"I like her for wearing what she's wearing," Lennox said. "She's like 6 feet tall or something and 10 pounds. It's great that she takes chances and doesn't just do the run-of-the-mill."
J.Lo re-emerges, Thurman impresses
The other surprise of the evening was presenter Jennifer Lopez, who wasn't expected to appear on the red carpet. Days after her breakup with fiance Ben Affleck was announced, Lopez strolled by fans appearing effortlessly chic in a tangerine goddess gown with silver straps, her hair pulled up in a loose ponytail.
"It looked very pretty on her. Sometimes she doesn't play up the pretty softer side of her, she wears harsher things," Lennox said.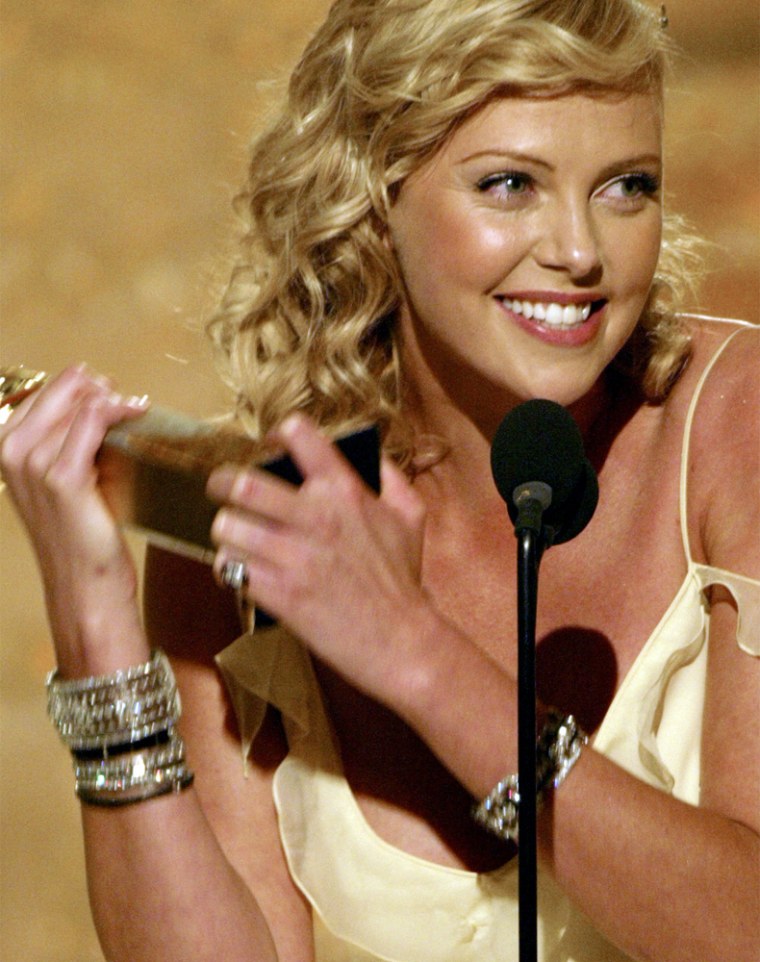 Goddess gowns also gave a romantic flair to Kim Cattrall of HBO's "Sex and the City" in vintage Valentino and "Lost in Translation" director Sofia Coppola in Azzedine Alaia.
"It's just very cool," Lennox said of her black vintage gown. "I think it looks great, but looks great from a different perspective."
Most stars played it safe in gowns that revealed just enough to be sexy but not enough to steal the spotlight.
Lennox loved Uma Thurman's satin lavender gown and Charlize Theron's ultrafeminine, pale yellow ruffled gown.
"She is my favorite for the night," he said of Theron, who transformed herself to look like serial killer Aileen Wuornos in the film "Monster." "Especially because you have the contrast of her in that movie and the way she looks tonight."
Fashion don'tsBut what about the fashion disasters? Lennox said the "don'ts" were in short supply.
"I love Diane Lane but I did not love her dress tonight. It's not like a huge 'don't' but it's like, eh," Lennox said of Lane's floral print strapless gown, one of the few patterned dresses of the evening. "It's sort of disappointing when you know how much amazing stuff is out there."
Gwen Stefani's mod, cap-sleeved white gown was another disappointment, Lennox said.
"It was hard to distinguish her hair from her dress," Lennox said of the platinum blond singer's outfit. "But that's kind of her role, she's the rocker chick coming into this."
Diane Keaton wore all white in a funky getup with gloves, boots and a jacket buttoned high on her neck. Wearing all black was Sharon Stone, whose spiky platinum hairdo Lennox called a "don't." But that's not always a bad thing, he said.
"As Lara Flynn Boyle demonstrated spectacularly last year, sometimes when you're a bit of a 'don't' you get more attention if you're a 'do,"' Lennox said.
Spring colors, fresh facesYouthful, fresh looks were plentiful on the red carpet, like the nude-colored corset gown worn by 19-year-old "Lost in Translation" star Scarlett Johansson, a fashion enthusiast who sang a song as part of Cynthia Rowley's spring runway show in September in New York.
Elisha Cuthbert, 21, of Fox's "24" wore a 1950s inspired, ladylike look with a strapless, pale pink organza cocktail dress by Monique Lhuillier, accessorized with a small bouquet of roses at the waist.
"It's a little prom queen but I love it," Cuthbert told Melissa Rivers on E! "I wanted to do simple, I didn't want to do too crazy."
Evan Rachel Wood, 16, of "thirteen" wore a simple metallic gray spaghetti strap gown, with minimal, radiant makeup and loosely pulled up hair, and "Joan of Arcadia" star Amber Tamblyn, 20, wore a pale apricot corset gown with handkerchief train by designer Reem Acra.
Carson Kressley, the fashion guru on Bravo's "Queer Eye for the Straight Guy," got into the spring spirit, wearing a pink jacket.