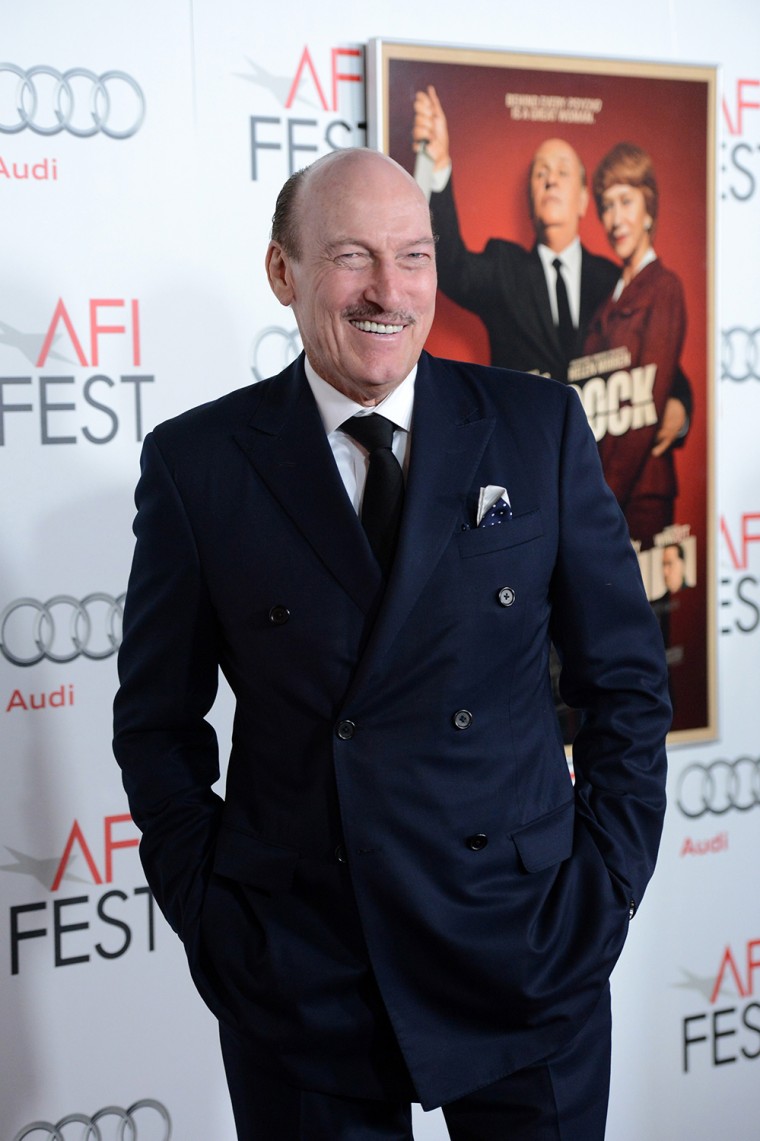 Ed Lauter, the always working character actor who played the butler/chauffeur of Berenice Bejo's character Peppy in the best-picture Oscar winner "The Artist," died Wednesday. He was 74.
Lauter discovered in May that he had contracted mesothelioma, a terminal form of cancer most commonly caused by exposure to asbestos, publicist Edward Lozzi told The Hollywood Reporter.
Lauter recently played a baseball scout opposite Clint Eastwood in "Trouble With the Curve" (2012) and had recurring roles on Showtime drama "Shameless" as Dick Healey and on USA Network's "Pysch" as Deputy Commissioner Ed Dykstra. Earlier, he recurred on "ER," playing Fire Captain Dannaker.
A native of Long Beach, N.Y., Lauter made his TV debut on a 1971 episode of "Mannix" and arrived on the big screen for the first time in the Western "Dirty Little Billy" (1972). One of those character actors whose name is unknown but is instantly recognizable, he is listed with an incredible 204 credits as an actor on IMDb.
In Alfred Hitchcock's final film, "Family Plot" (1976), the balding, angular Lauter played Maloney, the dangerous, blue-collar man who knows too much about dapper jewel thief and kidnapper Arthur Adamson (William Devane). Hitchcock cast Lauter after seeing him play Captain Wilhelm Knauer, the sadistic leader of the guards who go up against Burt Reynolds' convict football team, in the classic "The Longest Yard" (1974).
"Hitchcock came out of his screening room, walked back into the office and said, 'He's very good, isn't he?'" Lauter recalled in a 2003 interview. "[His assistant Peggy Anderson], thinking that he meant Burt Reynolds, said, 'Yes, he is.' "
"Hitchcock said, 'What's his name again?' Now, Peggy's lost; he doesn't know who Burt Reynolds is? Then, Hitchcock said, 'Ed something …' and when Peggy told him, 'Ed Lauter,' he said, 'Yes, we've got our Maloney.' He had actually told Peggy that he wasn't going to do the film unless he first cast Maloney, the antagonist."
PHOTOS: Hollywood's Notable Deaths of 2013
His film résumé also includes "The New Centurions" (1972), "The Last American Hero" (1973), "French Connection II" (1975), "King Kong" (1976), "Magic" (1978), "Cujo" (1983), "Lassiter" (1984), "Death Wish 3" (1985), "The Rocketeer" (1991), "Trial by Jury" (1994), "Leaving Las Vegas" (1995), "Mulholland Falls" (1995), "Seabiscuit" (2003), the 2005 remake of "The Longest Yard," "Seraphim Falls" (2006) and "The Number 23" (2007).
It only seems as if he was in every TV crime drama in history, with parts in "Cannon," "Ironside," "The Streets of San Francisco," "Kojak," "Baretta," "Police Story," "The Rockford Files," "Charlie's Angels," "Hawaii Five-0," "Simon & Simon," "Magnum, P.I.," "The A-Team," "Miami Vice," "Walker, Texas Ranger," "Homicide: Life on the Street," "NYPD Blue," "Cold Case" and "CSI."
Lauter, who went to college on a basketball scholarship at C.W. Post on Long Island and worked as a stand-up comic, made his Broadway debut in the original 1968 stage production of "The Great White Hope" starring JamesEarl Jones and Jane Alexander.
He has three movies in the can yet to be released: "The Town That Dreaded Sundown," "Becker's Farm" and "The Grave."
"He was a pal, not just a PR client," recalled Lozzi. "His former stand-up comedy days would always entertain us behind the scenes with his most incredible impersonations. He called me as Clint Eastwood from the set of "Trouble With the Curve" last year. We really thought it was Eastwood!"
Lauter also was known to do excellent impersonations of Burt Lancaster, George C. Scott,James Cagney and Humphrey Bogart.
The Ed Lauter Foundation and a scholarship fund is being established to honor his work, and the scholarship will be awarded annually to aspiring young actors. His family, which includes his wife of eight years, Mia, asks that donations be made to the foundation.
In the 2003 interview, Lauter recalled: "Someone once said to me, 'Eddie, you're a "turn" actor.' What's that? He said, 'That's when a story is going along and your character shows up and the story suddenly takes a major turn.' That's kind of neat."
Actors James Gandolfini, Annette Funicello and Cory Monteith are just three of the famous names we've lost in 2013.