"Dancing With the Stars" pro Valentin Chmerkovskiy is blogging about his experiences and thoughts on his fifth quest for the mirror ball trophy on TODAY.com throughout the season. The 14-time US champion in dance is paired with former "Saved by the Bell" star Elizabeth Berkley.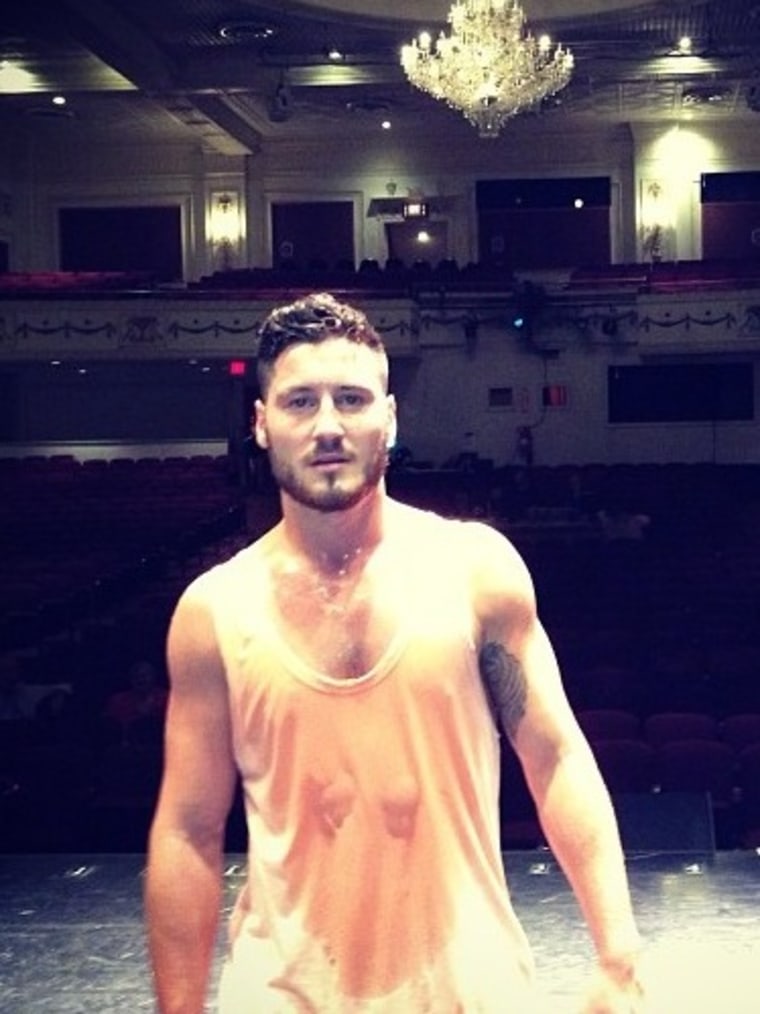 I didn't let it bother me when Tom Bergeron announced at the top of Monday's show that a woman had received the lowest number of votes and could be going home. But it affected me a little because it bothered Elizabeth, my partner.
She loves being here and was panicking because of the announcement. I told her that there were four other women here and not to worry about it. They weren't necessarily talking about you. It's not our concern because we can't control it. We can only control our routine and how we present ourselves in front of our audience.
I don't think telling the women they were in jeopardy at the start of the show was necessary. I'm not a stupid kid. I've been on the show for five seasons. That's not a lifetime, but it's enough for me to learn how this show works. There are certain strategies used to keep the viewers glued to their seats till the end of the show. I never take that out of the equation.
I was a little shocked by Mark and Christina's exit. I felt nervous when it was just the three of us up there waiting to learn which couple was leaving. But I knew that I had held nothing back, so I had no regrets. I poured my heart and soul into this. Why would I let getting voted off get me down as long as I know that I'd done everything whole-heartedly? I know Elizabeth has, too.
After we were called safe, I carried Elizabeth off stage because she was nervous and crying. She doesn't want this to end. She still felt a little shook up. I reminded her how excited she was to be on the show when it began two months ago. I told her not to get involved in the drama. Just enjoy – genuinely enjoy – and appreciate being here. I pointed to her husband in the audience and said worry about him and your baby at home. This is supposed to be fun. That helped put it all in perspective.
We're doing the cha-cha next week. I haven't had time to fully conceptualize the production. We had such a huge production in our last dance on Monday that next I want to just showcase a great dance, a great song and our strengths, which are Elizabeth and our chemistry. It'll be impressive because of the dancing, rather than the production.
We have Tuesdays off since there's no longer a results show, but having that extra day can be a double-edged sword. It gives you more time to overthink what you're doing. Now, Tuesdays are mostly about setting up the conversation about what we'll be doing. We do a lot of interviews and we consult with production and wardrobe.
Speaking of wardrobe, I've started a clothing line called Valentín. It's an urban street-wear couture brand. It's higher end, and it's about expressing myself and being creative. I'm not in my 30s yet, but as I get older, I realize it's time to do some self-analysis and figure out what I want to commit my life to. I want to start exploring things that I'm a passionate about in addition to dance. I feel this is the perfect time to explore that world. This is about fusing my worlds together.