A poster for the new film "Diana" is causing controversy after being displayed near the entrance to a Paris tunnel where the Princess of Wales was killed in a 1997 car crash.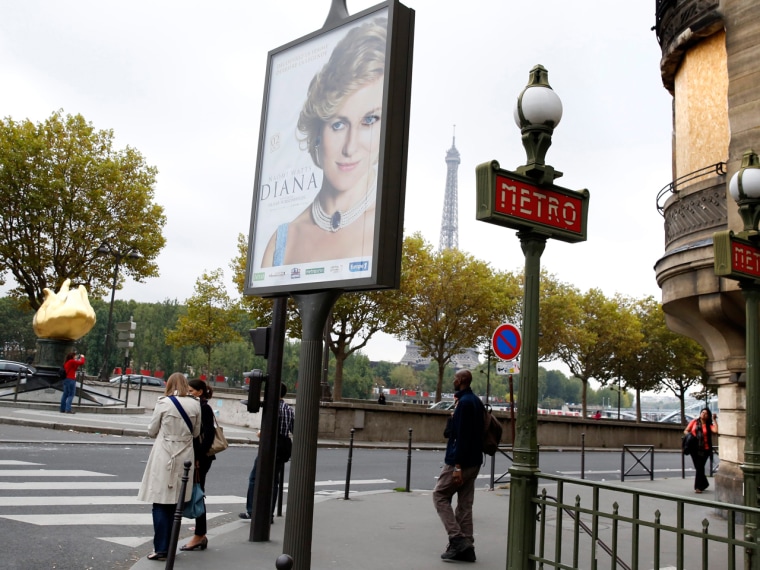 "Diana" stars actress Naomi Watts and tells the story of the last two years of the princess' life. Princess Diana died on Aug. 31, 1997, at age 36, after the Mercedes-Benz she was riding in hit a pillar at high speed in the Pont de l'Alma tunnel. Her boyfriend at the time, Dodi Fayed, and the driver of the car, Henri Paul, also died.
In the poster, Watts is shown in character as Diana. Measuring about 4 feet by 6 feet, the advertisement appears on a pole just across the street from the Flame of Liberty, which has become an unofficial memorial to the late princess.
At least one friend of Princess Diana is speaking out about the film and the ad's placement.
According to the Daily Mail, Rosa Monckton, a "trusted confidante of the princess," said, "I really don't have any words to describe how I feel about this cynical and shameless attempt to publicise a film that should never have been made. To have made a film so speculative and as this is disgusting enough, but to then advertise it on the spot at which she died is despicable.
"I cannot imagine that any company could stoop so low," Monckton said. "It is a terrible intrusion into her memory, not to mention the lives of her sons, whose feelings are often forgotten in these stories."
Watts has revealed that she's particularly anxious about how she'll be perceived for taking on such an iconic figure. In August, the 45-year-old British-Australian actress said she "might have to go into hiding."