David and Victoria Beckham are taking a romantic look down memory lane.
On Valentine's Day, they shared throwback photos of each other over the years. On David Beckham's Instagram account, he posted a sweet picture of him and his wife dining out when they were younger.
David Beckham, 47, captioned it, "Happy Valentines to my valentine. We Love You." He tagged Victoria Beckham and tagged or hashtagged their four kids, Brooklyn, 23, Romeo, 20, Cruz, 17, and Harper, 11, in the post.
In the comments section, Victoria Beckham wrote, "Happy Valentine's Day! I love u all so much too!!!" She added several heart emoji to the end of the caption.
Fans noticed how similar David Beckham looks to his oldest son in the photo.
"Brooklyn with blonde hair hahah," one person commented.
Another said, "Really looks like Brooklyn."
On Victoria Beckham's Instagram account, she shared two throwback photos of herself hugging her husband and captioned them, "26 years and still my Valentine, I love you so much @davidbeckham. Kisses," while tagging or hashtagging their kids in the post too.
Their romantic posts didn't end there. David Beckham also posted an old photo of him and Victoria Beckham together on his Instagram stories and he wrote "Girl power" and "Spice up your life" over the picture to reference his wife's former girl group, the Spice Girls.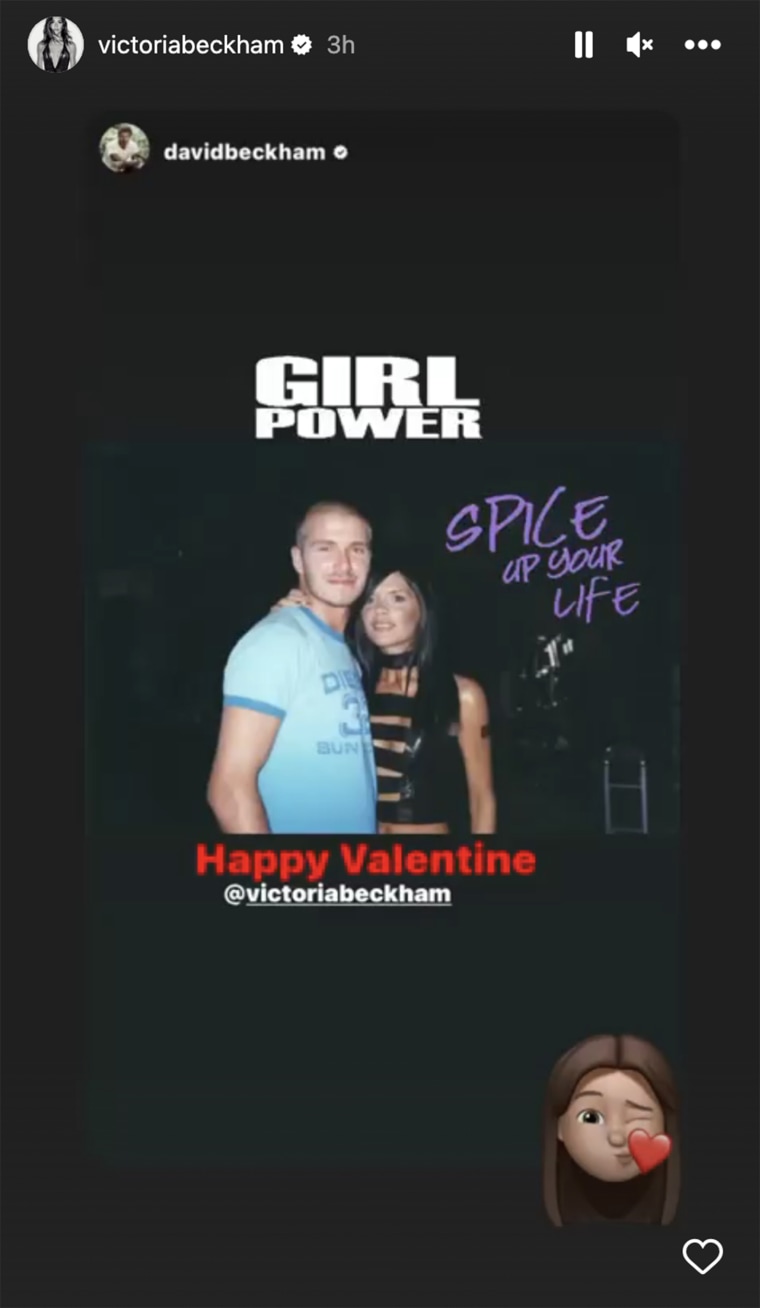 David and Victoria Beckham have been married since 1999 and in July 2022 celebrated their 23rd wedding anniversary.
"They say he isn't funny, they say I never smile, they said it wouldn't last 😂 Today we celebrate 23 years being married. David you are my everything, I love you so much!!!!" Victoria Beckham shared on Instagram at the time.
While appearing on the October 2018 cover of British Vogue, Victoria Beckham talked about her marriage to her hubby and said that they both prize family over anything else.
"We both realize that we are stronger together than we are as individuals," she said. "Would either of us be in the position that we are in now had we not met and been together all those years ago?
"It's all about the family unit," Victoria Beckham added. "We are much stronger the six of us, than we would be if we were individuals. We respect that family bond and that is key."