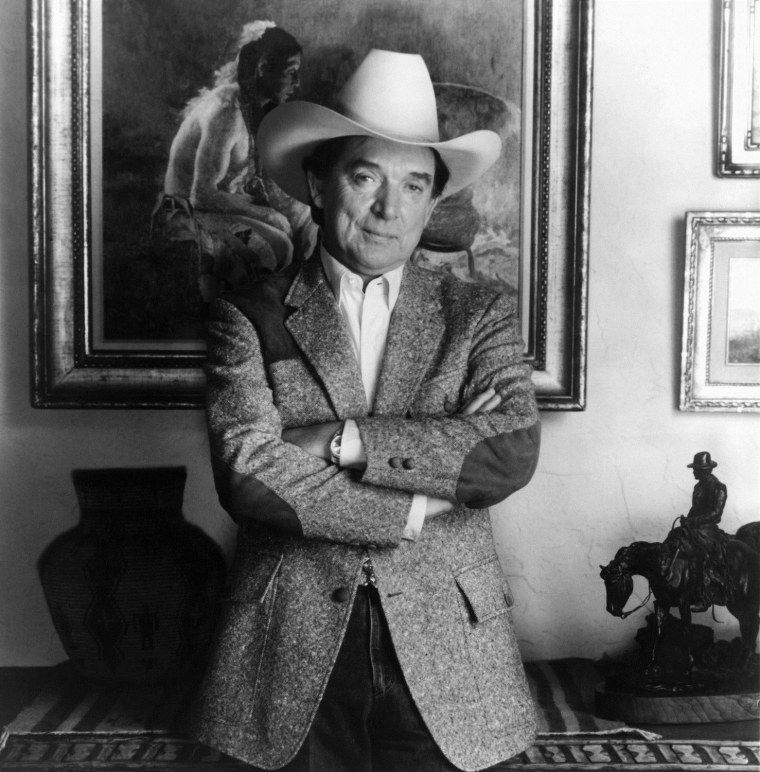 Ray Price, one of the greatest voices of country music, who revolutionized the genre with No. 1 hits like "Crazy Arms" and "City Lights," died at home in Mt. Pleasant, Texas Monday after a long battle with pancreatic cancer, his family said. He was 87.
"I just like what I've done and how it's worked out, and it's been great," Price told Rolling Stone earlier this month, in his final interview. "I haven't lost my voice, thank God for that."
Ray Price Looks Back at Epic Country Career
Price's mournful croon stayed with him even as he packed dance halls into his late eighties, impressing many of his peers. "The last time I worked with him, he walked up on that stage and sang hit after hit," says Loretta Lynn. "I looked at my friend and said, 'I didn't realize that many hits were there.' Forty something hits or more."
When Willie Nelson and Merle Haggard toured with Price on their "Last of the Breed" tour in 2007, they were blown away. "I told Willie when it was over, 'That old man gave us a goddamn singing lesson,'" Haggard told Rolling Stone recently. "He really did. He just sang so good. He sat there with the mic against his chest. And me and Willie are all over the microphone trying to find it, and he found it."
Price took his own approach to delivering a song. "For me, a song should be like a good book – it has to be read right, and they don't seem to do that anymore," he told Rolling Stone in a 2000 feature story. "There's no effort anymore to do anything different. It's all follow the leader."
Price was born on January 12, 1926 in a poor and tiny East Texas town called Peach, and grew up obsessed with the Western swing sounds of bands like Bob Wills and His Texas Playboys. He joined the Marines at 17 before making his first record in 1949 and signing with Columbia in 1951 when he was 25. As he mentioned in his recent interview, that was the year Price befriended Hank Williams at a Nashville radio station. An impressed Williams invited Price to a show in Indiana the following day and soon wrote "Weary Blues (From Waiting)" for Price, and helped him get signed to the Grand Ole Opry. The two lived together in Nashville for the last year of Williams' life.
When Williams died in 1953, Price began using Williams' band, the Drifting Cowboys, before forming his own group, the Cherokee Cowboys. Over the years, the group featured many future stars including Roger Miller, Johnny Paycheck and Willie Nelson, who played bass in Price's band in the early Sixties. A savvy businessman, Price also co-owned Nashville's Pamper Music publishing group, paying Nelson $50 a week as a songwriter early in his career.
"I've been lucky in a way – all of my boys were great players," Price said. "You can't be a great player if you don't have a great heart. If you ain't doing it for the people, you're doing it for something else."
Price was one of the first country artists to popularize drumming in the genre, scoring his first Number One country hit with 1956's "Crazy Arms," which featured the "Ray Price shuffle," a 4/4 rhythm with walking bass. "I'd played a lot of dances," Price said. "Sometimes when you're playing a lot, everyone will be dancing right in rhythm, so we'd just stop the music all of a sudden and you'd hear their feet shuffle. That kind of blew my head out. I went to the drummer and said, 'Can you give me a shuffle beat?' And it just worked out. Everyone picked up on it. I didn't have any idea what it would do, but it turned out. If there's one thing you can't take away from me, I've got that." Price was one of the first acts to bring a band with drums to the Grand Ole Opry.
Price spent his early career recording landmark albums (some of the genre's first concept albums) like 1957's "Sings Heart Songs" and 1963's "Night Life." In the Sixties, he found success with a more professional "countrypolitan" sound (as heard on 1967's "Danny Boy") and several albums with friend Willie Nelson."We're sort of like brothers in a way, we always help each other out when we can," Price said.
Price eventually left Nashville to return to his Texas roots. "I had my fill of Nashville several years ago," he said in 2000. "Not that I don't like Nashville, I just had a lot of bad things happen there. They treat me pretty nice, but it's sort of like being a stepchild. I get a bit of respect there now just because I'm so damn old that they have to do it." 
Two weeks ago, Price was looking forward to the release of his next album. "I think it's one of the greatest things I've ever recorded. The whole CD is twelve fantastic great songs. When it starts, everyone claims you can't stop listening to it. Everyone goes back and starts it over. And that's a good sign."
Asked to name his favorite recording of his career, Price chose Kris Kristofferson's "For the Good Times," which begins: "Don't look so sad, I know it's over / But life goes on and this old world will keep on turning / Let's just be glad, we had some time to spend together."