Celine Dion is far from over the loss of her spouse René Angélil.
On Tuesday night, when she returned to the Las Vegas stage for the first time since his death from cancer in January, Dion made sure everyone had a chance to mourn, and honor him, with her.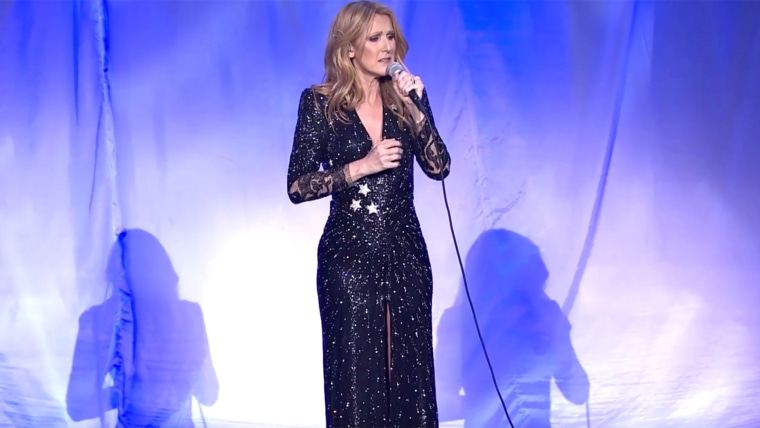 The singer live streamed the first 20 minutes of her show, which opened with a photo of Angélil and a quote from Dion: "I understood that my career was in a way his masterpiece, his song, his symphony. The idea of leaving it unfinished would have hurt him terribly. I realized that if he ever left us, I would have to continue without him, for him."
MORE: Celine Dion returns to Las Vegas stage for husband René Angélil's memorial
What followed was a series of photos of Angélil's life, and his life with Dion (he first met her when she was 12, and they were married for 21 years), followed by the singer's emergence on stage to a standing ovation and her emotional performance of "With One More Look At You/Watch Closely Now."
Struggling with tears, she addressed the audience extensively before returning to her music, noting that her husband frequently sat in the audience to be with her when she performed.
"Every time I close my eyes, I felt René on stage with me, whether he was seated in his seat right there, in the balcony, backstage or at home with the kids. He's always been on stage with me. And nothing will ever change that."
She added that she feels his presence when caring for their three children. "It is pretty amazing that since he is no longer physically with me he is even more present."
MORE: René Angélil's funeral to be held at Montreal church where he married Celine Dion
And she reflected on how he helped shape her as a musician. "René was my very best critic. He never told me what I wanted to hear, he told me what I needed to hear," she told the audience.
But first and foremost, he was her true love. "René is the only man that I have known all my life," she said. "He always made me feel that we were on our first date, isn't that amazing? Never talking bluntly, and always impressing himself in a soft and gentle way. We were one, and nothing has changed. We will always be one."
She then sang a few songs in French, and launched into hits like "Where Does My Heart Beat Now" and "Because You Loved Me" before the live stream ended.
But as Dion knows well, livestream or not, with or without Angélil, the show must go on.
Follow Randee Dawn on Twitter.