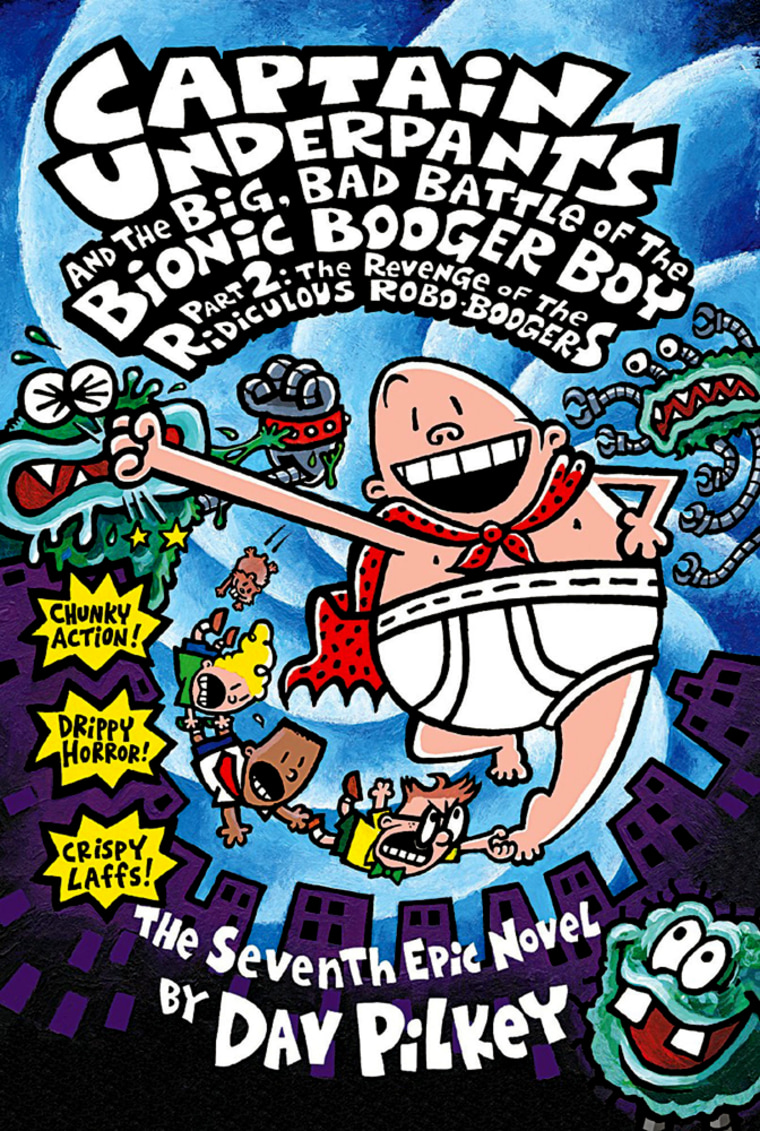 The potty humor of "Captain Underpants" children's books and the mature exploration of race and family violence by Nobel laureate Toni Morrison in "The Bluest Eye" would seem to have little in common.
But among some parents, educators and other members of the general public who worry about what books are stocked at their local libraries, the works fall into the same category — they're just too offensive, and should be restricted or removed from the shelves.
The American Library Association published its annual "State of the Libraries" report Sunday, which included its list of works most frequently "challenged" last year at schools and libraries.
Dav Pilkey's best-selling picture book series topped the list, just as his "Captain Underpants" did in 2012. The reasons cited included "offensive language" and material unsuited for its targeted age group.
"The Bluest Eye," Morrison's first novel, was runner-up, also criticized for language, along with violence and sexual content. Sherman Alexie's prize-winning "The Absolutely True Diary of a Part-Time Indian," a perennial on the list, was No. 3, for reasons including drug references, sexual content and racism.
Pilkey said in a statement issued by his publisher, Scholastic Inc., that he found it surprising "that a series with no sex, no nudity, no drugs, no profanity and no more violence than a Superman cartoon has caused such an uproar.
"Of course, only a tiny percentage of adults are complaining. Kids love the books, and fortunately most parents and educators do, too," he said.
E L James' mega-selling, ultra-explicit "Fifty Shades of Grey" was No. 4, followed by the violent world of Suzanne Collins' blockbuster "The Hunger Games."
Others in the top 10 were Tanya Lee Stone's "A Bad Boy Can Be Good for A Girl" (drugs, sex); John Green's "Looking for Alaska" (drugs, sex); Stephen Chbosky's "The Perks of Being a Wallflower" (drugs, homosexuality); Rudolfo Anaya's "Bless Me, Ultima" (Satanism, offensive language, sex); and Jeff Smith's "Bone" series (political viewpoint, racism, violence).
"The list shows the wide range of books that can get people rattled and touch upon their deepest fears and antagonisms," said Barbara Jones, who directs the library association's Office for Intellectual Freedom.
The office defines a challenge as a "formal, written complaint filed with a library or school requesting that a book or other material be restricted or removed because of its content or appropriateness." The office received 307 challenges last year, down from 464 in 2012 and far below the levels of the 1980s and '90s.
Exact numbers, including how many books were actually pulled, are hard to calculate. The association has long believed that for every complaint registered, four to five go unreported by libraries and that some librarians may restrict access in anticipation of objections. The list is based on press accounts and reports from librarians, teachers and "concerned individuals."
"The number is low this year," Jones said. "We'd like to think it's because people finally understand that pulling a book from their shelves isn't going to solve the problem they're worried about it. But it could be an anomaly."
Many of the books are cited for the very actions and attitudes they were trying to criticize, whether "The Bluest Eye" for violence or Alexie's novel for racism. It's a long tradition, Jones noted, dating back at least to the accusations of racism made against Mark Twain's satirical "The Adventures of Huckleberry Finn."
"People focus on a word, or a handful of words, and often lift them out of the context of the books," Jones said.
The list often reflects what's popular among kids and young adults at the time. Over the past decade, the "Harry Potter" books and the "Twilight" series have appeared in the top 10, and Jones thought that the new report would include Veronica Roth's "Divergent" books.
"We might be a bit behind on that trend," Jones said. "But as far as next year, yeah, we're waiting."