The People's Choice Awards kicked off Hollywood's awards season with a laid-back telecast Wednesday night from Los Angeles.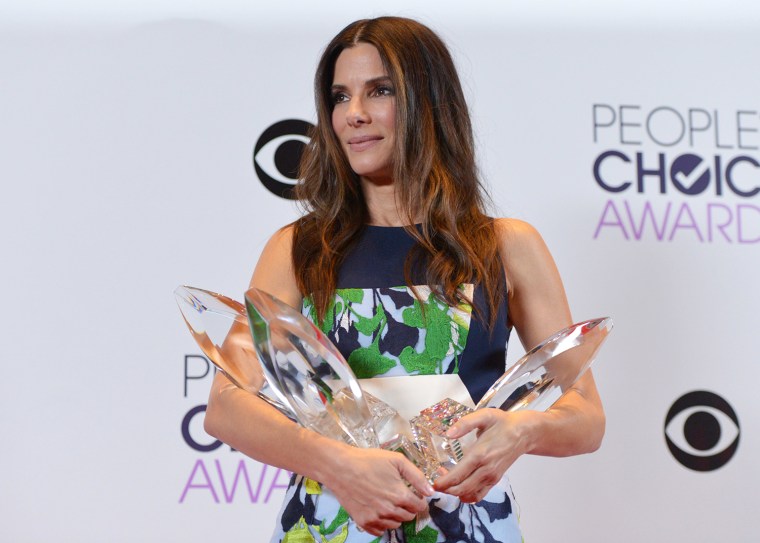 Sandra Bullock scooped up the night's first award, for favorite movie actress, and it was announced that she'd also won the awards for dramatic and comedic movie actress. Her astronauts-in-trouble film, "Gravity," won for favorite dramatic movie.

"Will & Grace" star Sean Hayes presented the award and joked that Bullock was his wife, a prank she played along with, beginning her speech with, "I'd like to thank my husband, Sean."
Later Bullock and movie co-star Melissa McCarthy returned to the stage to accept the favorite comedic movie award for "The Heat."
Justin Timberlake won the second award, favorite album for his "The 20/20 Experience," and he also played to the crowd with another celebrity. Talk-show host Ellen DeGeneres leaped out of her seat as if she were going to accept Timberlake's award, and he later said, "I would like to thank Ellen for all the personal inspiration, and the cookies."
DeGeneres got her turn next, winning her 14th People's Choice Award when she claimed the favorite daytime TV host honor. Queen Latifah took home the award for favorite new talk-show host.
Nina Dobrev and Ian Somerhalder of "The Vampire Diaries" won for favorite onscreen chemistry, and joked about their onscreen and offsceen romance while accepting the award.
Newlywed Kaley Cuoco won her first People's Choice Award when she took home the favorite comedic actress award for her work on "The Big Bang Theory."

"This is the second-best thing that happened to me all year, the first was marrying you," she told husband Ryan Sweeting, whom she wed on New Year's Eve.
"The Big Bang Theory" also won the award for favorite network TV drama. "Let's go, let's go, alcohol is waiting," chided star Kunal Nayyar as the large cast mounted the stage.
Chris Colfer won the favorite comedic actor award for "Glee," the second time he's taken home that honor.
Robert Downey Jr. won the favorite action movie star award, and his film, "Iron Man 3," won for favorite movie and favorite action movie."
"I am Iron Man, and this, this is for the people!" Downey said, hoisting his statuette.
Jessica Alba attends the People's Choice Awards, Justin Timberlake and Ellen DeGeneres hug it out, Chris Brown goes to court, and more.
"The Voice" won for favorite competition TV show, and the trophy was presented to producer Mark Burnett, who was in the control room producing the awards show itself.

A more surprising win came when Britney Spears won her first-ever People's Choice Award, winning favorite pop artist. "This is so cool!" she said in her acceptance speech. "This is awesome! I was not expecting this."
Sarah Michelle Gellar of "The Crazy Ones" won the award for favorite actress in a new TV series.
"The Good Wife" won for favorite network TV drama, and star Josh Charles won for favorite dramatic TV actor.
An emotional Jennifer Hudson was honored with the favorite humanitarian award for her work with the Julian D. King Gift Foundation, and took the stage with her sister, Julia. Julian King was their young nephew who was murdered in 2008 along with their mother and brother.
Kat Dennings and Beth Behrs of "Two Broke Girls" hosted the show.
The People's Choice Awards are determined by online voting.