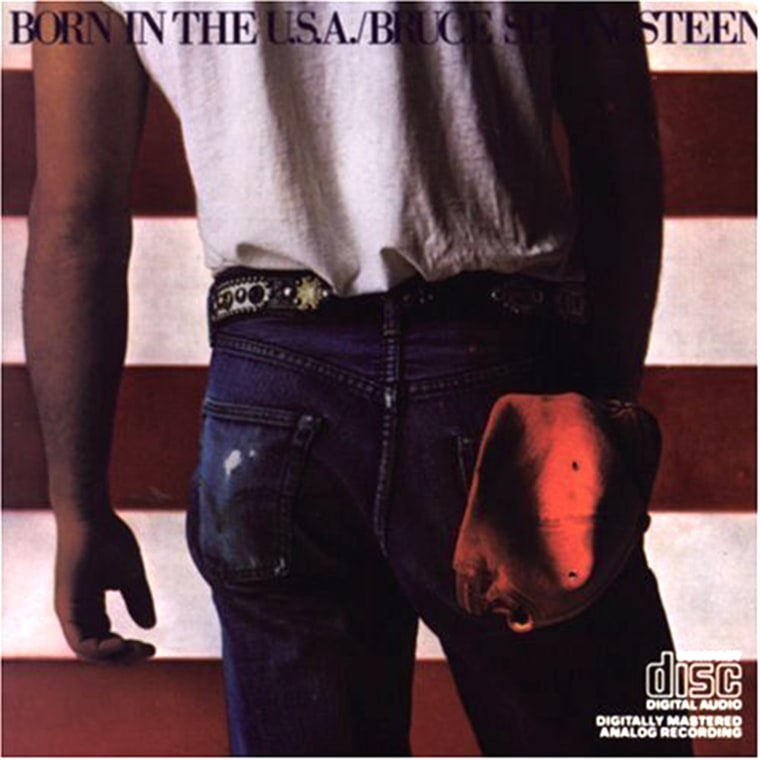 Bruce Springsteen has been The Boss since long before "Born in the U.S.A." was released on June 4, 1984. But it was that album, which would go on to sell 30 million copies and spawn seven top 10 singles, that made him America's pre-eminent rock icon, an arena-ready showstopper.
Prior to "Born in the U.S.A.," Springsteen had established himself as a songwriter whose stories and emotions ran deep — the album he recorded just before "Born," 1982's "Nebraska," was stripped-down and interior-looking. But "Born" was almost its exact opposite: Unabashedly positive pop-rock made for mid-80s radio. The album threw off hits one by one, from "Dancing in the Dark" to "I'm on Fire," "Glory Days" and the title tune.
But scratch beneath that positive surface, and there was still the thoughtful, questioning writer — the one whose poignant lyrics often got misunderstood amid his catchy choruses, driving guitar and intermittent sax solos (courtesy of the late, great Clarence Clemons, who played with Springsteen's E Street Band). "Glory Days" isn't just about reveling in how great things once were — it's about how they will "pass you by ... in the wink of a young girl's eye"; "Cover Me" warns that "the times are tough; they're just getting tougher.
And then there's that title track. With its repeated, hurled chorus of "Born in the U.S.A.! I was born in the U.S.A.!" it was easy to overlook that the first line is "Born down in a dead man's town; first hit I took is when I hit the ground." It's a searing social critique wrapped up in a patriotic anthem, and many swallowed it whole without parsing what he was really saying — including politicians who wanted to co-opt the singer and his song to show how much pride they had in their country.
Watch: Bruce Springsteen hits the stage with the Rolling Stones
Springsteen has always remained loyal to his New Jersey roots: We know what country he was born in, but his heart bleeds blue-collar Garden State all the way. In 2002, he took TODAY's Matt Lauer on a ride in a convertible (alas, not a "Pink Cadillac") around Asbury Park, which was slowly undergoing an economic resurgence. The pair dropped in on an antique store, a tavern, a mom-and-pop restaurant, and even an independent art gallery; everywhere, Springsteen was greeted like an unofficial mayor. 
"I don't care how many years you're in the business, Bruce — that's cool," Lauer said of the star-worthy welcome the rocker got at every stop.
Even Springsteen himself seemed taken aback by the crowds he drew in the town at the time.
Check out TODAY anchors' favorite old-school albums, including "Born in the U.S.A."
"There was a few more people there than I expected," he admitted after their trip to the tavern, where he met cheering, bandanna-clad fans. "Wow."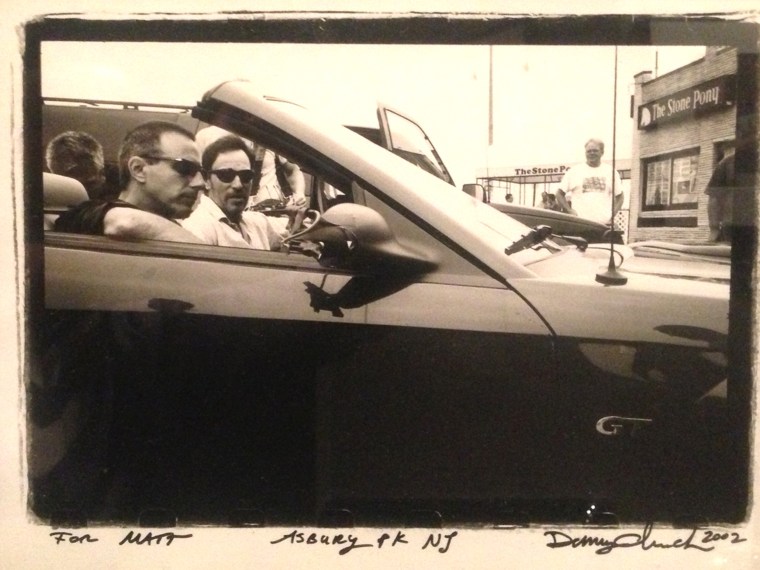 Since "Born in the U.S.A.," Springsteen has become known for many things: Embracing the political activism he once shunned; his lengthy live performances; his marriage to band member Patti Scialfa; and of course, his continued creation of muscular-yet-emotional rock music. He may never have had a success quite as big and enduring as "Born in the U.S.A." since then, but on a number of levels, that's probably okay with The Boss. 

"I'm still a pretender," he told NPR in January. "But I'm getting better at it, and my voice has actually gotten better."
From 1973's "Greetings from Asbury Park" to his newest album, Bruce Springsteen and the E Street Band have continued to define American rock and roll.
Follow Randee Dawn on Google+.