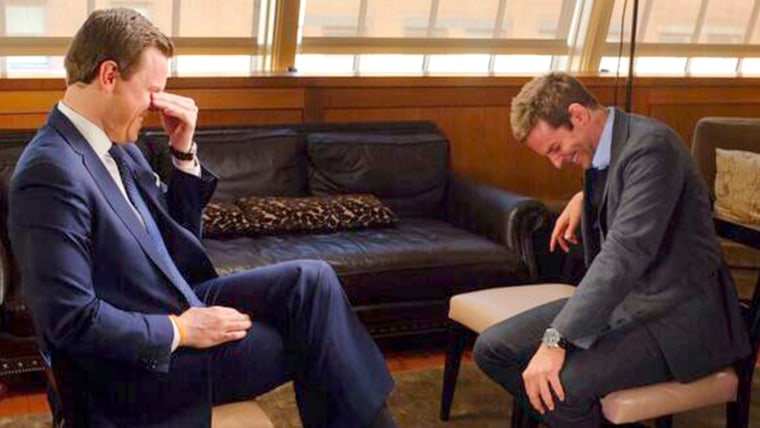 Bradley Cooper is all business in "American Hustle," the big screen crime dramedy based on the 1970s ABSCAM bribery scandal. But when he sat down with TODAY's Willie Geist to talk about his Golden Globe nominated work in the film, Cooper couldn't stop laughing.

As Geist asked the questions, the giggles just kept coming, but in time, Cooper settled in and found a calm moment to talk about his work — in particular, the fast track that saw him go straight from last year's Academy Awards, where he was nominated for his part in "Silver Linings Playbook," to his role in "Hustle."
"Yeah, we flew out the next day to Boston and started pre-production, then we were shooting it two and a half weeks later," he revealed. "Everything was sort of condensed, especially the editing process."
Find out if the whirlwind production ends in a Golden Globe award for Cooper at Sunday night's ceremony. The Golden Globe Awards airs Jan. 12 at 8 p.m. on NBC. And see more of the interview with Cooper and hear from other stars, including Brad Pitt and Justin Timberlake, Friday night on "Going for Gold," a star-studded special hosted by Matt Lauer, at 8 p.m. on NBC.
Related: Bradley Cooper, Willie Geist chat in French, women swoon