Although Jim Parsons is used to sporting T-shirts featuring robots and scientific equations for his role as nerdy Dr. Sheldon Cooper on "The Big Bang Theory," the actor was willing to strip down to a corset and fishnets — in the name of sweet charity.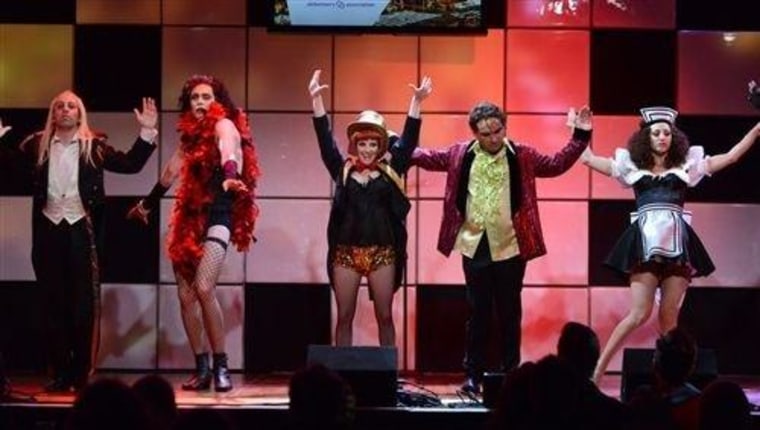 Parsons and the rest of the cast of the hit CBS comedy dressed up as characters from the cult classic "The Rocky Horror Picture Show" Wednesday to perform the play's signature musical number, "The Time Warp," during the 21st annual "A Night at Sardi's" awards dinner and celebrity musical review. Stars and entertainment industry leaders gather each year and perform musical numbers from Broadway shows to raise money for the Alzheimer's Association.
"This is the fifth year we, as the 'Big Bang' cast, have come here to do a number to keep bringing attention to this cause," Parsons told "Entertainment Tonight" that evening. He played "sweet transvestite" Dr. Frank-N-Furter during the performance. "There is no cure yet and it's just very important to keep attention on it until there is one.
"None of us sing very well, and it's never necessarily good what we do, but, like a train wreck, you can't take your eyes off of it so there's the attention."
Joining Parsons on stage were Kaley Cuoco as Magenta the maid, Simon Helberg as servant Riff Raff, Johnny Galecki as Brad Majors, Melissa Rauch as tap-dancing Columbia, and Kunal Nayyar as biker Eddie.
"It's a great cause. It's very important to us and it's become more important over the years and it's an honor that they keep asking us back," Cuoco told "ET" before the group's performance, adding that, "It's going to be scary. It's going to be a horror. Terrifyingly bad. But we'll have fun!"
Last year, the "Big Bang" cast performed "Let the Sunshine In" from the musical "Hair!" at the event.
According to the Alzheimer's Association, the "Night at Sardi's" events have raised more than $21 million to date. 
What do you think of the cast's "Time Warp"? Tell us on our Facebook page!
Related content:
More in The Clicker: