Even the most casual fan of the 1985 cult classic "The Goonies" knows Goonies never say die, but what deeper lessons can be learned from the movie?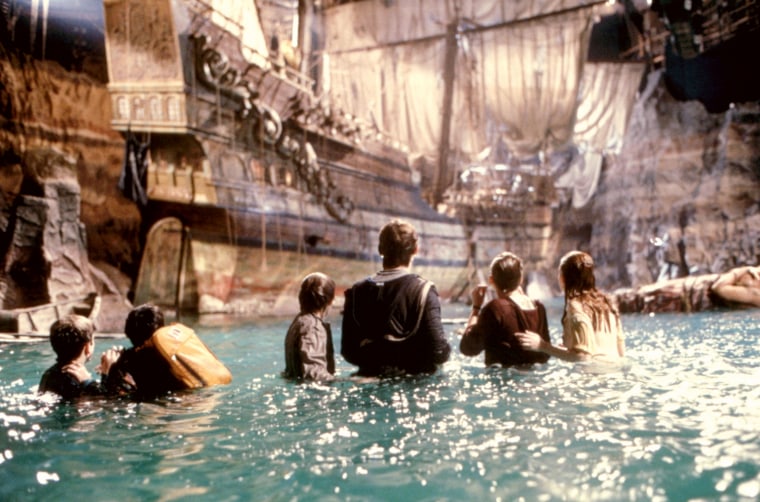 Following years of research (mostly just rewatching it on cable), TODAY.com finally can release its findings, just in time for fans who will spend the weekend celebrating the film's 30th anniversary.
1. Josh Brolin can still rock a red bandana.
When the Academy Award nominee — who, in his first major role, played Mikey's older brother, Brand — visited "The Tonight Show Starring Jimmy Fallon" in August, he mulled the positives and negatives of being associated with a beloved movie. "You're walking down the street, like 20 years later," he said, "and they go like, ''Goonies!' Dude! Are you still acting?'" Although the prospects of a sequel now appear less likely than they were when Brolin hung out with Fallon last summer, Brolin said he'd be on board — giddily sporting Brand's signature red bandana and miming the use of a walker to convey the advanced age of his character. In a show of solidarity, Fallon modeled his own red bandana, but admitted, "I look like a guy who's trying out for 'Fame.'"
2. While the Goonies are "Good Enough" for the title of Cyndi Lauper's soundtrack contribution, they're not quite good enough for her lyrics.
It's hard not to love Cyndi Lauper. The Grammy-winning singer-songwriter's takes on "Girls Just Wanna Have Fun," "Time After Time" and "All Through the Night" are distinctly '80s, yet somehow timeless, much like her unique sense of style. Perhaps the lone Lauper lament among "Goonies" fans is that her anthemic contribution to the "Goonies" soundtrack, "The Goonies 'R' Good Enough," doesn't even mention the Goonies in the lyrics. Like, at all. Even the music video, which replicates the Goonies' pirate-ship adventure, casts some of the then-WWF's greatest wrestling stars in lieu of the Goons. Since they went that route, would it have been too much to ask to have Sloth take on the Iron Sheik at Nassau Colosseum?
3. Cold-hearted criminals apparently make great therapists.
Who knew the prospect of getting a hand frapéed by a blender could lead to a catharsis of epic proportions? All the Fratelli goons were missing were a couch and a box of tissues, and Chunk could have had all kinds of therapeutic breakthroughs. I'd like to think that, after time served and some soul-searching, Joe Pantoliano's "Goonies" character studied psychology, opted to be more like Dr. Jennifer Melfi than Ralphie Cifaretto, and helped patients find the treasure from within.
4. Even your most intense school performance was never as nerve-wracking as Andy's high-stakes organ recital.
So, you played an errant B-flat on your recorder in the middle of "Hot Cross Buns" at your second-grade Winter Concert, and moped about it all the way home? Big deal. Be glad you weren't thrust in front of 88 bony keys, whose wrong notes could mean the demise of Mouth and the rest of your crew. After all, if you weren't able to figure out that the note on the treasure map was a B-flat, to paraphrase Mikey, you'd all "B flat!'" (That said, Andy never should have worried about not being able to tell the difference between A-sharp and B-flat, because they're actually the same note. But, hey, she was panicked, and "Hey, you guys," it's only a movie.)
5. We've all been Sloth when that literal or figurative candy bar is just out of reach.
It's all one big metaphor, man. The chains are our diets, our business meetings, our errands, society — everything that's getting in the way of whatever sweet things we crave. Sometimes, we have to break those chains to get to the rich, chewy nougat of life. Or, y'know, maybe the whole scene was just product placement for Baby Ruth. It's all open to interpretation.
Follow TODAY.com writer Chris Serico on Twitter.